The Bold and the Beautiful Spoilers: Taylor Believes Sheila Danger Can Be Controlled, Is Steffy's Mom Right?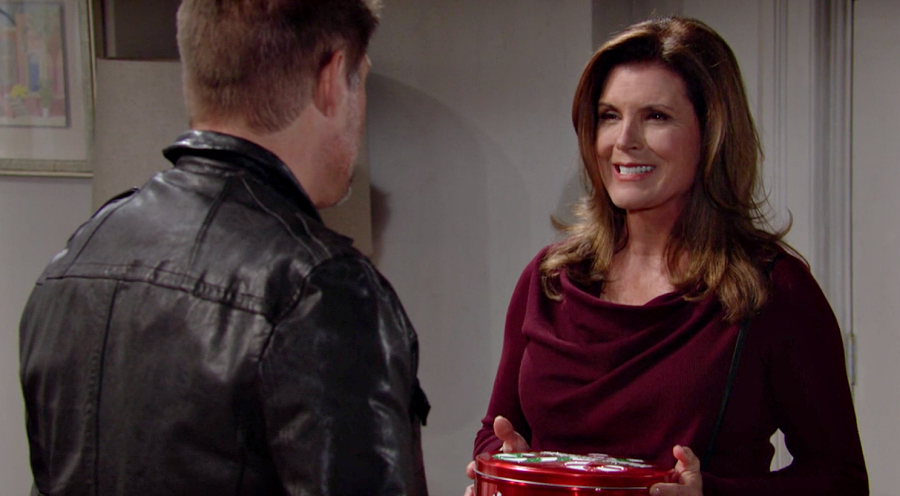 The Bold and the Beautiful spoilers document that Sheila Carter (Kimberlin Brown) was thrilled to get a video callback from her son. That element of modern technology was welcomed by B&B's arguable greatest of all-time villain.
She did not anticipate that Steffy Forrester Finnegan's (Jacqueline MacInnes Wood) cold heart would warm to her so quickly. But Sheila's assessment of Steffy's outlook was enlightened by what her son said, with the included Christmas Eve offer.
John Finn Finnegan (Tanner Novlan) dutifully abided by the wishes of the woman who gave birth to their son, Hayes Forrester Finnegan (Samantha Worden and Piper Harriet), when initially telling the woman (Sheila) who gave birth to him that her Christmas request was denied. But Taylor Hayes' (Krista Allen) has a plan that one of her fellow grandmothers may not like.
Bold And The Beautiful Spoilers – Analysis Provided Without Request
Taylor's recent return from African includes a new outlook on life. The famous psychiatrist healed and is open to considering whether Sheila has also.
A recent conversation with Brooke Logan Forrester (Katherine Kelly Lang) confirmed that Taylor has not only dealt with the past but intends to apply what she has learned. Sheila represents a different type of challenge.
Danger could lie ahead. But Taylor wants to give Sheila a controlled opportunity at the cliff house Christmas Eve party.
Bold And The Beautiful Spoilers – Steffy Forrester Finnegan Stunned Into Agreement
Steffy was floored that her mother, who was shot by Sheila in daytime days gone by, would argue in favor of Sheila's request. But Steffy understood Taylor's logic and agreed to do it for Finn.
Wood's character needed someone to balance her naturally panicked thoughts. Taylor is the force she needs.
Steffy may be on a path to some form of normalization with her mother-in-law. Since this is soap, all will not go smoothly. But the opportunities for great scenes abound from here to there.
Bold And The Beautiful Spoilers – Sheila Carter Is Grateful And Aware
Sheila is thrilled to attend the Christmas event. Seeing Finn and getting to spend time with Hayes are the only gifts she wanted this year.
However, Sheila will be aware that the invitation represents a test. It feels like Taylor's observations will go well beyond December, considering Brown was written back into the show and Allen has become the Taylor recast.
Who knows, maybe in addition to reaching a kind-of truce with Brooke, Taylor will also find some common ground with Sheila? For example, both characters shot other people and are not in jail.
This site is a leading source for everything linked to The Bold and the Beautiful. Check back to Soap Spoilers regularly for B&B spoilers and news!