The Young and the Restless Spoilers: Are Abby and Dominic Enough For Chance – Will He Abandon Wife & Child?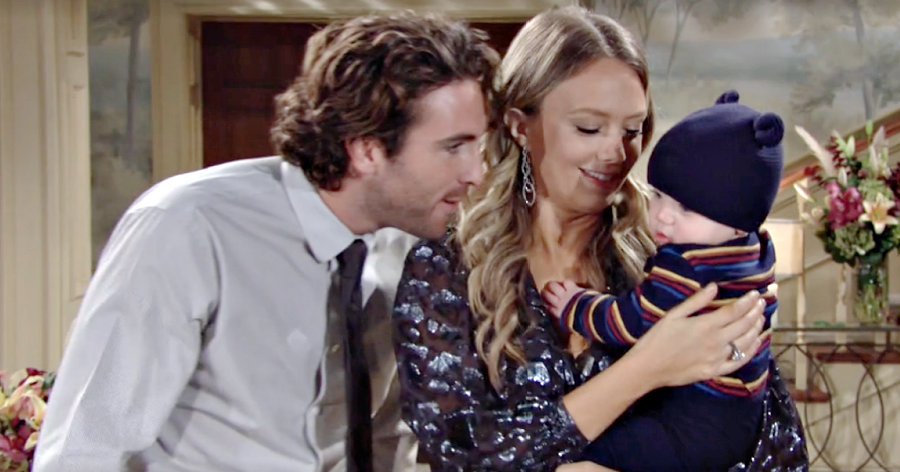 The Young and the Restless spoilers document that Chance Chancellor (Conner Floyd) is having a hard time, as he told the biological father, Devon Hamilton, (Bryton James) of his son. The stability Floyd's character is seeking likely will not be easily secured.
Abby Newman Abbott Chancellor (Melissa Ordway) is fully supportive of the husband she found in Spain and convinced to come home. She, along with Dominic Newman Abbott Chancellor (no baby actor's name known for this role), provides Chance with a home life that many in Genoa City, Wisconsin would envy.
However, Chance was deeply impacted by the loss of his colleagues. The stress on his mind is too much. Mental health treatment, in the form of talk-it-out therapy and possibly, medication seems like the obvious response. Yet, inexplicably, Chance does not seem to be in touch with any doctor.
Young And The Restless Spoilers – Chance and Abby's Path Forward Is Murky
This couple is head over heels in love with each other. Absence made each of their hearts grow fonder.
While Chance was saving another part of the world, Abby bravely waited for his return. That comeback proved magical, and the celebration for him at The Grand Phoenix was deserved.
But now that the expected responses have passed, it is fair to ask what comes next for this family? The path forward feels murky.
Young And The Restless Spoilers – Connor Floyd, In Comparison
Donny Boaz (Chance) is in his early 40s. Ordway is in her late 30s. Floyd is in his late 20s.
While Boaz and Ordway visual matched, there is a difference when comparing Floyd and Boaz. Floyd projects through the screen as much younger.
So, it is reasonable to believe that TPTB wanted a different dynamic between Abby and Chance. The recast attempts to see if that can happen.
Boaz is a solid actor who had good chemistry with Ordway. Time will reveal if Floyd establishes the same with his on-screen wife
Young And The Restless Spoilers – Getting Down To Business And Fatherhood
Chabs could eventually have a child that is Chance's biological offspring. Abby and Chance's physical issues can be resolved through a few strokes of the writing staff's keyboards.
So, a coming Chabs' pregnancy would, of course, imply that this couple will endure. That outcome does not have to happen for Chance and Abby to survive, but it would provide a plausible plot bridge that would at least last nine months to a year or much longer.
As for Chance's profession, it seems unwise for him to return to detective work right now. So, possibly a corporate position or volunteer efforts can fill his time, create a routine, and help the healing process.
This site is a leading source for everything linked to The Young and the Restless. Soap Spoilers has the hottest Y&R spoilers and news!