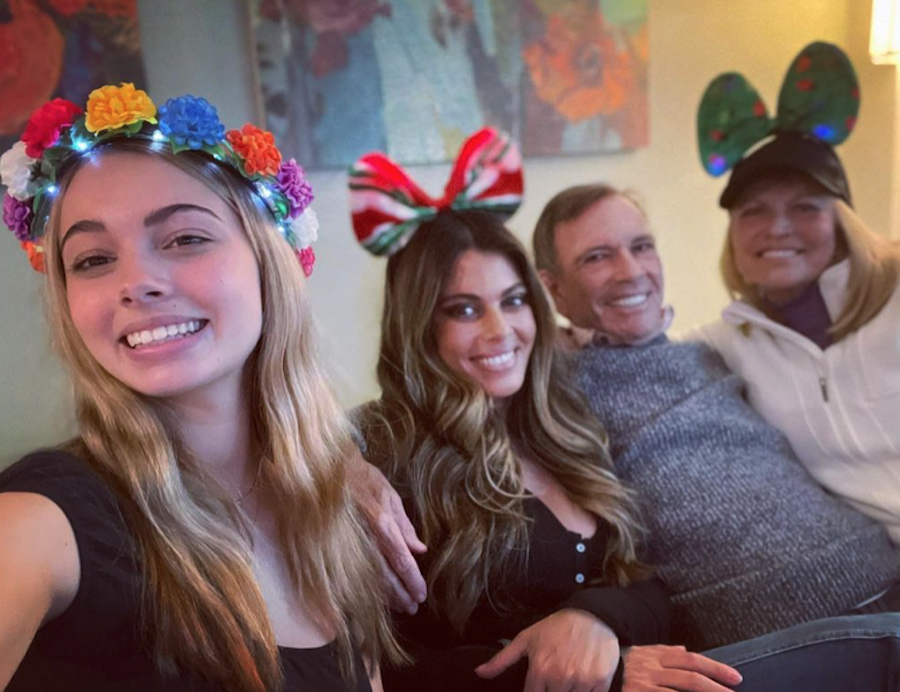 Lindsay Hartley, who is best known for her role on Passions and for more recently guest starring on General Hospital, has shared some sad personal news. The actress says that her mother Wendy Korman's cancer has spread. Keep reading below for everything you need to know.
Lindsay Hartley Says That Her Mother's Cancer Has Spread
Sharing a photo of her parents along with her daughter, Isabella Hartley, Lindsay began her post by saying, "One year and 1/2 ago, my mom was diagnosed with stage 4 colon cancer. She has been spending every other week getting treatment at City of Hope in Duarte. This was taken last Christmas at the hotel on their property. My daughter thought it would be fun to all wear light up headbands for the early light show we were all going to see that night. My mom was too tired so we just lit up our headbands and had our own light show."
She continued, "Her cancer has spread to a membrane under her lung and just over a week ago, COH said there is nothing more they can do for her. My dad is searching for other places to find treatment right now. My mom is an inspiration, a fighter, and so strong. I am grateful for her and her time. I am also grateful for my dad who relentlessly pushes forward and encourages my mom constantly to live and not give up. And as for Isabella…well, she is my everything."
Lindsay Is Asking For Strength, Prayers And Healing
Many of Lindsay's fans and social media followers have commented on her photo with, "Your Mum is a beautiful and inspirational lady who is incredibly courageous and a fighter Lindsay. Sending all my well wishes to you and your family," along with, "Take the pictures and videos .. because when she is gone you will still what to here here say she loves you I miss my mom today even more then yesterday I hate cancer."
Another fan wrote, "What beautiful words that both touched and broke my heart. Please accept my sincere best wishes and hope for all of you, What a beautiful mama you have. Cherish all the wonderful past, present, and future moments together. May your memory bank be overflowing."
With that said, General Hospital fans will have to tune in to find out what will happen next! Watch this space. Meanwhile, let us know what you think by leaving us a line with your thoughts in our comments section below. General Hospital airs weekdays on the ABC network. Check your local listings for times.
Be sure to catch up with everything on GH right now. Come back here often for General Hospital spoilers, news and updates.