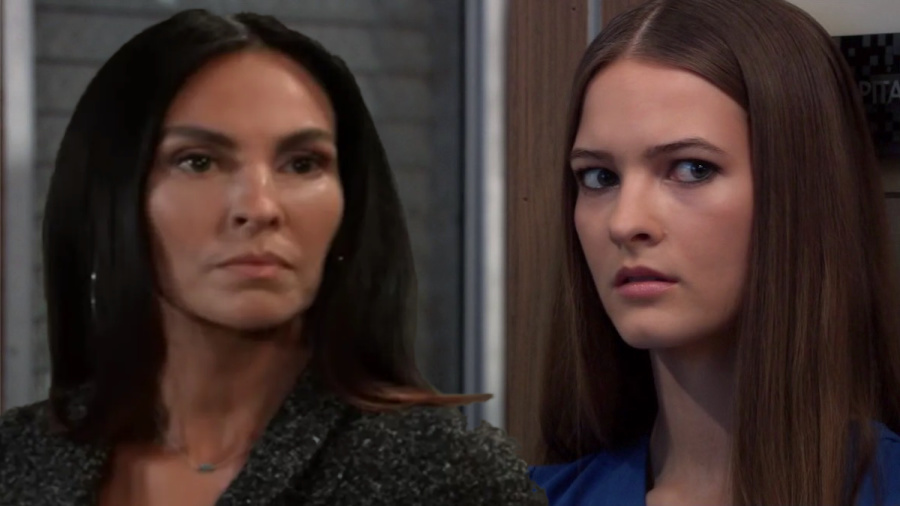 General Hospital spoilers and updates tease that Harmony Miller (Inga Cadranel) will find herself in a dangerous situation when she gets in the way of Esme Prince (Avery Kristen Pohl) and Ryan Chamberlain's (Jon Lindstrom). What do the pair have in store for her? What kind of danger will she fall into?
Harmony has always believed that Esme is nothing but trouble since the day their paths first crossed. She even warned Alexis Davis (Nancy Lee Grant) that Esme is nothing but trouble. She also believed Spencer Cassadine (Nicholas Chaver) doesn't need to have Esme in his life.
Fans found out later on that Esme and Ryan were connected. Ryan was actually using her to do his bidding. There was a scene when Esme called Ryan by name and told him that their plan had been derailed. But she also promised that she'll take care of it for him.
Viewers also watched Esme draw blood as she clutched her fingernails during her confrontation with Trina Robinson (Sydney Mikayla). Harmony has been warning people about Esme. Will she discover something that will put her in harm's way? If yes, what will Esme and Ryan do to her? Will she be the first casualty of their unusual alliance?
General Hospital – Britt Westbourne and Liesl O'Brecht Prepare to Kill Peter
Britt Westbourne (Kelly Thiebaud) and Liesl Obrecht (Kathleen Gati) will be all set to kill Peter August (Wes Ramsey) no matter what. But, Peter's not going down without a fight. He'll activate Drew Cain's (Cameron Mathison) killer programming and he'll surely mess up Britt and Liesl's plans.
If there's someone who can deactivate Drew and help him return to reality, it's Jason Morgan (Steve Burton). But it'll be hard for him to do that if he's also fighting for his life.
General Hospital – Sasha Gilmore Escapes With Brando Corbin's Help
Thanks to Brando Corbin (Johnny Wactor), Sasha Gilmore (Sofia Mattsson) will manage to escape through the gallery's back room. Spoilers hint that she'll go through difficult labor before she gives birth to her child.
Olivia and Ned Searches for Leo
Ned Quartermaine (Wally Kurth) and Olivia Quartermaine (Lisa LoCicero) will look for Leo Falconeri (Easton Rocket Sweda). But it won't be easy.
Meanwhile, Harrison Chase (Josh Swickard) still continues to wonder why it seems like Brook Lynn Quartermaine (Amanda Setton) is still lying about "Bailey Quartermaine" and Louise August (Harper and Scarlett Bloom). Will he figure out her secret soon?
Be sure to catch up on everything happening with General Hospital right now. Come back here often for General Hospital spoilers, news, and updates.