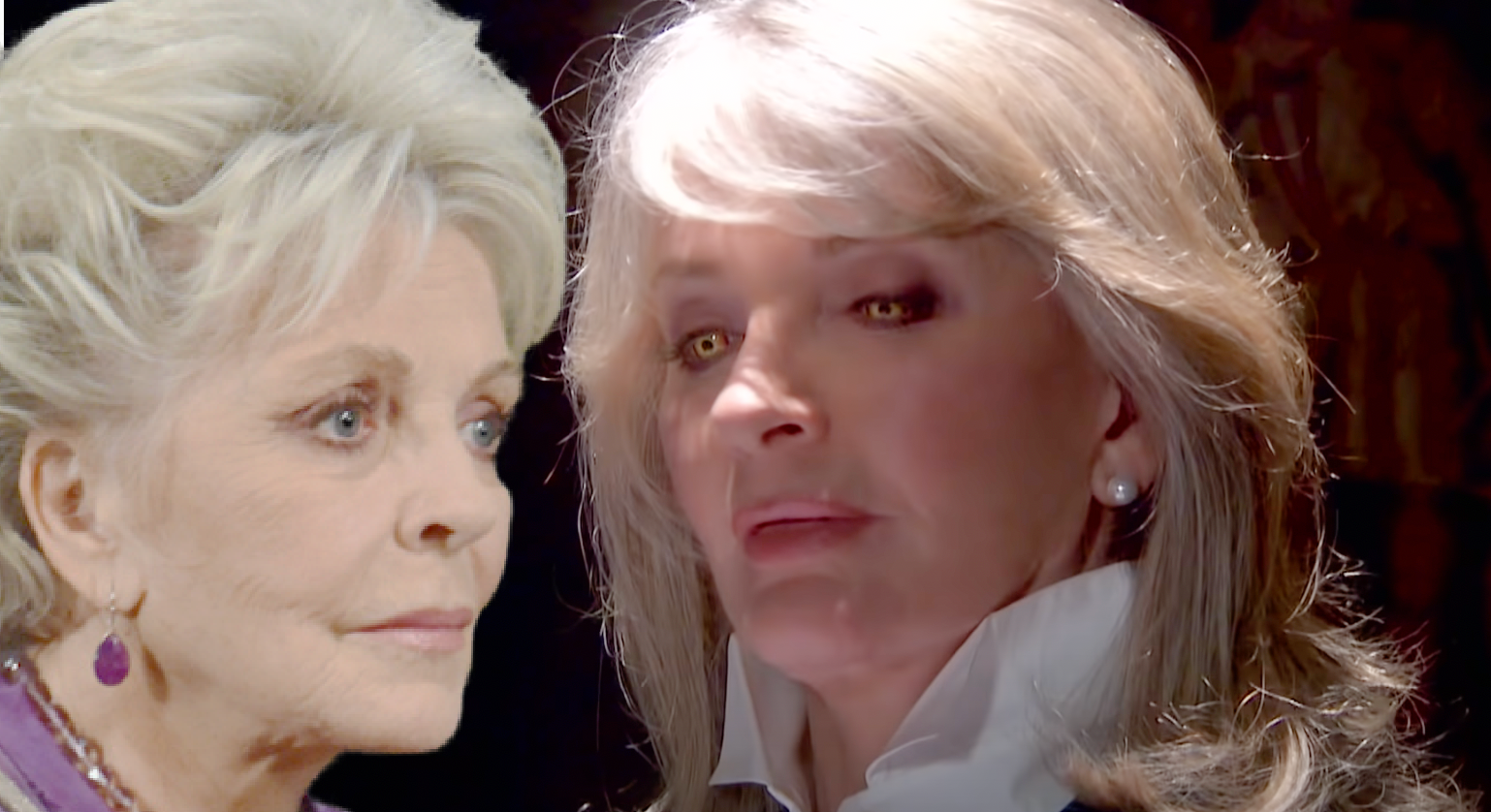 Days of Our Lives spoilers reveal that Belle Brady (Martha Madison) will take Julie Williams (Susan Seaforth Hayes) as a client. Julie needs to talk to Doug Williams (Bill Hayes) but Marlena Evans (Deidre Hall) is blocking it. Belle must win because during the week of November 22, Julie and "MarDevil" have a vicious showdown.
Marlena Evans' Lies
DOOL spoilers reveal that the devil possessed Doug first. In order to save Doug, Marlena had to invite Satan back into her body. Despite Marlena's wildly out-of-character behavior, very few people have caught on to the truth. Then, "MarDevil" tried to threaten Doug to keep quiet and even went as far as to knock Julie unconscious.
Days Of Our Lives Spoilers: Silencing Doug Williams
When Doug refused to stay silent, the devil took drastic action. Marlena blamed Julie being knocked out cold on Doug. The psychiatrist recommended that Doug be admitted into Bayview. In order to keep Doug from telling anyone about the possession, Marlena banned visitors and restricted any kind of communication with the exception of medical staff.
Hiring Belle Brady
Days of Our Lives spoilers reveal that Julie is getting more desperate and fed up with Marlena's excuses. Even Eli Grant (Lamon Archey) is having trouble getting access to Marlena despite him having a police badge. Next, Belle will consider going up against her own mother. Belle decides to go ahead and do it. During the week of November 15, Belle helps Julie get access to Doug.
When Doug and Julie reunite, there will be only one thing on the patient's mind. Doug needs to warn Julie about Marlena's demonic possession. When Julie learns the devilish truth, she will be horrified. At the same time, everything will begin to make sense.
Days of Our Lives Spoilers: Vicious Showdown
During the week of November 22, Julie and Marlena will have a vicious showdown. Julie will be furious that the devil has taken over Marlena's body once again. However, we know that the possession story doesn't end until the Christmas holidays. So, Julie must either not be believed by others, or Marlena makes sure the Salemite isn't able to tell anyone the truth.
There are only so many people Marlena can throw in the DiMera crypt, though. How will Marlena be saved from the devil this time, and what about everyone else in Salem? How much more damage is the evil entity going to do before being stopped? Who will be the hero this time? Tell us your theories and remember to keep watching the NBC soap to find out what happens with this storyline.
Be sure to catch up on everything happening with DOOL right now. Come back often for Days of Our Lives spoilers, news and updates.