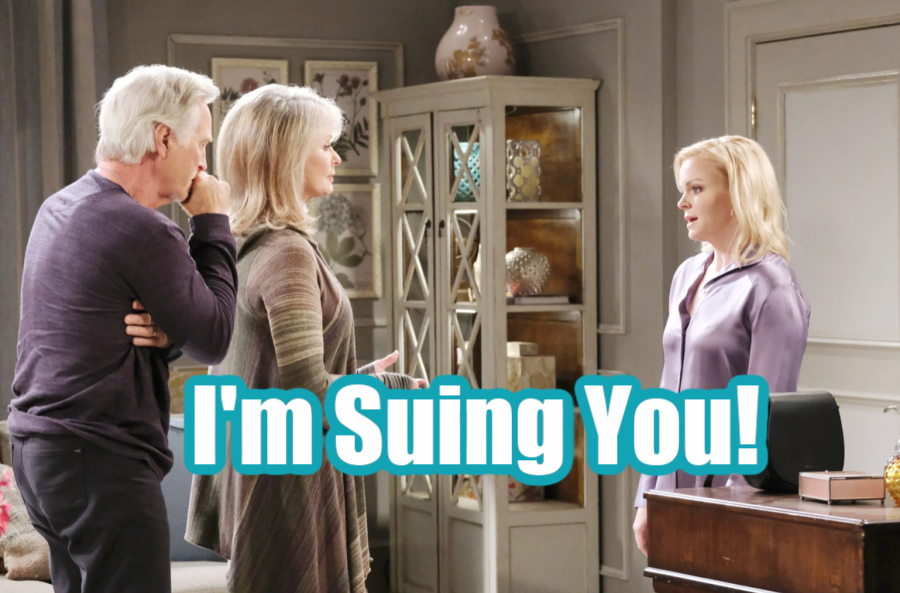 Days of Our Lives (DOOL) spoilers reveal that Belle Brady (Martha Madison) considers battling her own mother. It is also teased that Belle helps Julie Williams (Susan Seaforth Hayes) with Doug Williams' (Bill Hayes) situation. Could Belle force Bayview to reunite Doug and Julie when she sues the psychiatric hospital and Marlena Evans' (Deidre Hall)?
Days Of Our Lives – Julie Williams' Desperation
DOOL spoilers reveal that Julie was devastated when Marlena suggested that Doug be admitted to Bayview. However, everyone was stunned when Marlena ordered that Doug not be allowed contact with anyone but the medical staff. While visits might have been understood considering Marlena's false claims, Julie can't even talk to her own husband on the phone.
Julie was patient, thinking that after a few days or even a week, she would be allowed to visit. However, it has been several weeks now and Marlena refuses to change her orders to the staff at Bayview.
DOOL Spoilers: Eli Grant's Frustration
Eli Grant (Lamon Archey) tried to help by using his badge to get Doug's statement. Eli was sure that he would be able to get in, but Marlena even intercepted that plan. Lately, Eli has been busy with Carmine Merlino's (Richie Stephens) murder investigation, checking the cemetery for evidence of zombies and other criminal cases.
So, he hasn't had time to go back to Bayview, but that will change soon. Eli promises Julie that he's going to get her in to see Doug.
Fighting Marlena Evans
Days of Our Lives spoilers reveal that Belle considers going up against her mother. At first, it was speculated that Belle might figure out that Marlena is possessed by the devil. That still might be true, but new information suggests that the spoiler has to do with Doug's psychiatric imprisonment.
Days of Our Lives Spoilers: Belle Brady's Battle
It is teased that during the week of November 15, Belle will help Julie in her fight to see Doug. So, it sounds like a legal battle is looming and for good reason. While Doug might not get released right away, Marlena would have to prove that Doug is too violent for visitors. However, fans know that Doug isn't violent at all and that it was actually Marlena who attacked Julie.
Once Doug and Julie are reunited, then the truth might come out. The only way Marlena would be able to stop it is by sedating the patient. Perhaps Marlena's ethics will come into question and another doctor will be put in charge of Doug's care. We will have to keep watching the NBC soap to find out!
Be sure to catch up on everything happening with DOOL right now. Come back often for Days of Our Lives spoilers, news and updates.