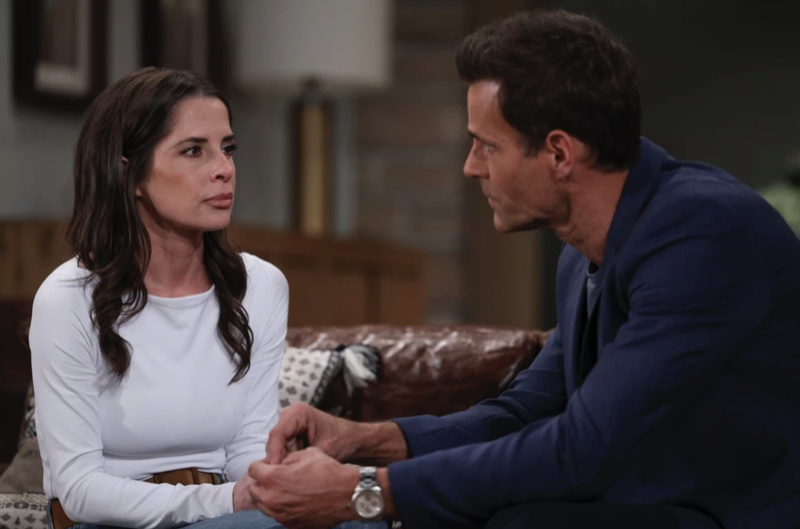 General Hospital spoilers and updates tease Sam McCall (Kelly Monaco) as well as her daughter Scout Cain (Cosette Abinante) will be overjoyed when Drew Cain (Cameron Mathison) shows up.
General Hospital Spoilers Highlights
Sam had just checked with Carly Spencer (Laura Wright) earlier that evening and she hadn't heard anything new about Drew, so it's a pleasant surprise indeed!
General Hospital Spoilers: Unexpected Release
Of course, Drew went looking for Carly first at Kelly's, which she had just closed after the big Halloween event she had for families and their kids.
ALSO READ: GH Weekly Spoilers Update: Drew's Trauma, Sam's Reunion, Charlotte's Fate
She could hardly believe her eyes and he had no idea why he'd been released from Pentonville, and she told him what Alexis Davis (Nancy Lee Grahn) had done.
He'll go to thank her later, but the next thing on the agenda after spending time with Carly is to go to Sam's and Dante Falconeri's (Dominic Zamprogna) place to see Scout.
Sam and Dante had just had a disturbing experience finding out from Danny Morgan (Asher Antonyzyn) that Charlotte Cassadine (Scarlett Fernandez) had disappeared and Jake Webber (Hudson West) went looking. When Drew arrives, Dante has gone to investigate the incident and Scout's asleep in bed.
GH Spoilers: Scout Cain Saved Her Chocolate Candy For Daddy!
Drew finds out Scout saved all her chocolate Halloween candy from earlier for him, and they have a chocolate snack together. Sam doesn't update him on what's going on with Charlotte, but finding out she was into Tarot cards like he was controlled with gave her and Dante pause.
ALSO READ: General Hospital News: Kirsten Storms' Wardrobe Is Irking Fans
Today is for them to celebrate Drew's early release from Pentonville and reconnect as a family, and Drew and Scout spend the day together.
Sam had been as worried as Carly had about Drew having been beaten within an inch of his life, and returning to Pentonville, even though he was in solitary.
They thought they lost him for so many years and if Sam hadn't believed it was him on that phone call, he wouldn't have returned to Port Charles.
General Hospital Spoilers: Daddy And Daughter Day
Drew even takes Scout along when he goes to "The Invader" to see Alexis and thank her for what she did with the power of the press.
ALSO READ: General Hospital Alum John Stamos Yelled At Elizabeth Taylor On Set!
The fear of exposure of his expensive trips and taking bribes forced Judge Albert Kim (Kurt Yue) to commute Drew's sentence.
Drew would have rights to appeal that the whole incident be stricken from public record and he be exonerated, but Alexis said his having taken a plea bargain would complicate that.
Drew doesn't even care that he has a short prison record for insider trading-he's just glad to be out of Pentonville, where he shouldn't have been placed anyway. He'd understood it would have been a white collar prison!
Be sure to catch up on everything happening with GH right now. Come back here often for General Hospital spoilers, news, and updates.
FAQs