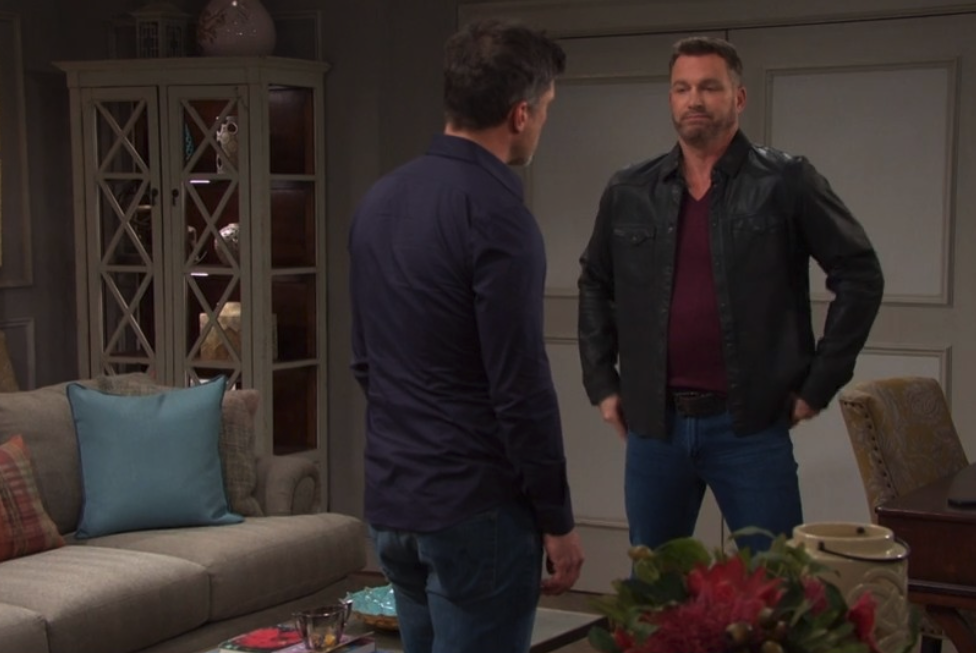 While there's no doubt that a lot of the male actors on Days of Our Lives are certainly as fashionable as their female counterparts, something just doesn't make sense here. Sure, Brady Black is very hot, but we don't need him to be both hot and sweaty, right? Well, DOOL fans have noticed yet another huge error in the show and this time they are pointing their fingers at the wardrobe department. Keep reading below for everything you need to know.
Days of Our Lives Spoilers: Fans Spot Another Huge Error In The Show
In the latest Days of Our Lives episode, Eric Brady tells Brady Black, "You gave her ammunition to go after you. Hey, I get it. I get why you did it. You were worried about your kid. You were terrified that you might not ever see her again. And I understand that now more than ever."
And while there's nothing wrong with what was said, it's what the men were wearing that has everyone scratching their heads. Many people can't help but wonder why Brady is wearing a leather jacket in the dead heat of summer! You'd think that the wardrobe department would at least get that right, or no?
Of course, many Days of Our Lives fans have commented on the matter with, "Didn't realize July is leather jacket weather," along with, "Isn't it insane? This wardrobe department is terrible. They need to get their wardrobe and seasons in check."
Days of Our Lives Spoilers: The Wardrobe Department Missed The Mark
Another fan wrote, "They look terrible here. And why did my addled mind think Eric was a cop? But I will add that these two have great chemistry on screen. Just take that damn jacket off! Or better yet just put them in a pool so we can see both of them in speedos. That would be more season appropriate."
With that said, Days of Our Lives fans will have to tune in to find out what will happen next! In the meantime, let us know what you think by leaving us a line with your thoughts in our comments section below. Days of Our Lives airs weekdays on the Peacock network. Check your local listings for times.
Be sure to catch up with everything on DOOL right now. Come back here often for Days of Our Lives spoilers, news and updates.