General Hospital Spoilers: Will Avery Overhear Ava And Nina, And Rat Out Nina To Sonny?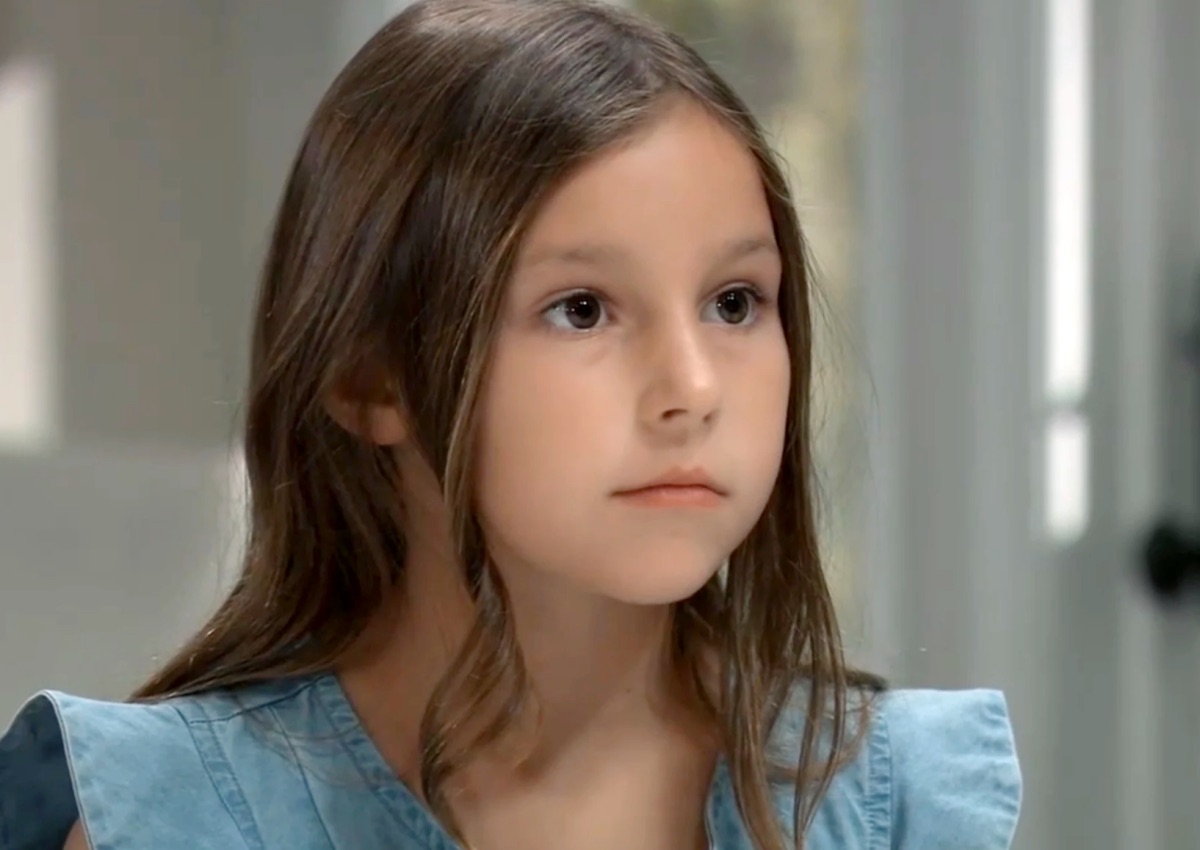 General Hospital spoilers and rumors tease that Avery Jerome-Corinthos (Ava and Grace Scarola) could overhear Ava Jerome (Maura West) and Nina Reeves (Cynthia Watros) and rat Nina out! Avery is close to both her father Sonny Corinthos (Maurice Benard) and former stepmother Carly Spencer (Laura Wright) and might rat Nina out as the SEC whistleblower to both of them!
General Hospital Spoilers: Avery Jerome-Corinthos Likes To Spread The News
Avery spotted Nina's gigantic engagement ring first thing and pointed it out to Ava before Sonny and Nina could even properly announce it. Ava joked how Avery liked to spread the news, and indeed, she spread the news about finding half of Nina's half-heart necklace that belonged to Nelle Benson (Chloe Lanier). She showed it to Carly who went to extraordinary lengths to conceal it from Nina-she didn't want her to know the girl who fell off the cliff was her daughter.
Carly may have meant well, but she did overstep-it should have been Nina's decision to have accepted or rejected Nelle. Besides, she and Jasper Jacks (Ingo Rademacher) were afraid Nina would accuse them of murdering Nelle if she knew.
GH Spoilers: She Loves Her Mom And Nina Reeves But She Loves Carly Spencer Too
Avery loves her mom and she loves Nina, but she loves Carly too – and her little sister Donna Corinthos (Scarlett Spears). She had lived with Carly when she and Sonny were together for quite a long time, all through when Sonny went missing and when Ava was being gaslighted. Esmé Prince (Avery Kristen Pohl) and Spencer Cassadine (Nicholas Alexander Chavez) had been making Nikolas Cassadine (Adam Huss) and Ava believe Ryan Chamberlain (Jon Lindstrom) was harassing them. It turned out to be partly true since Ryan was behind Esmé's motivations-so Avery got attached to Carly and Donna and her loyalties may be split between Carly and Nina!
General Hospital Spoilers: Will Avery Overhear Ava And Nina, And Rat Out Nina To Sonny?
General Hospital Spoilers: Whistleblower On The Whistleblower?
Avery may not understand a lot of what her mother is trying to talk Nina out of but she does understand that Nina called and made trouble for Carly. She understands perfectly Nina wanting to make Carly pay for something and wanting her to go to prison along with Drew Cain (Cameron Mathison). Avery knows something is very wrong with that and no one would be surprised if she told what she heard to Carly and to Sonny.
Avery could very well become the whistleblower that exposes the whistleblower, because even if she loves Nina she also knows she's wrong. When Avery does wrong she's punished, and so should Nina be for doing wrong!
Be sure to catch up on everything happening with GH right now. Come back here often for General Hospital spoilers, news, and updates.