General Hospital Spoilers UPDATE Friday, May 5: Shocks, Survival, And Strikes!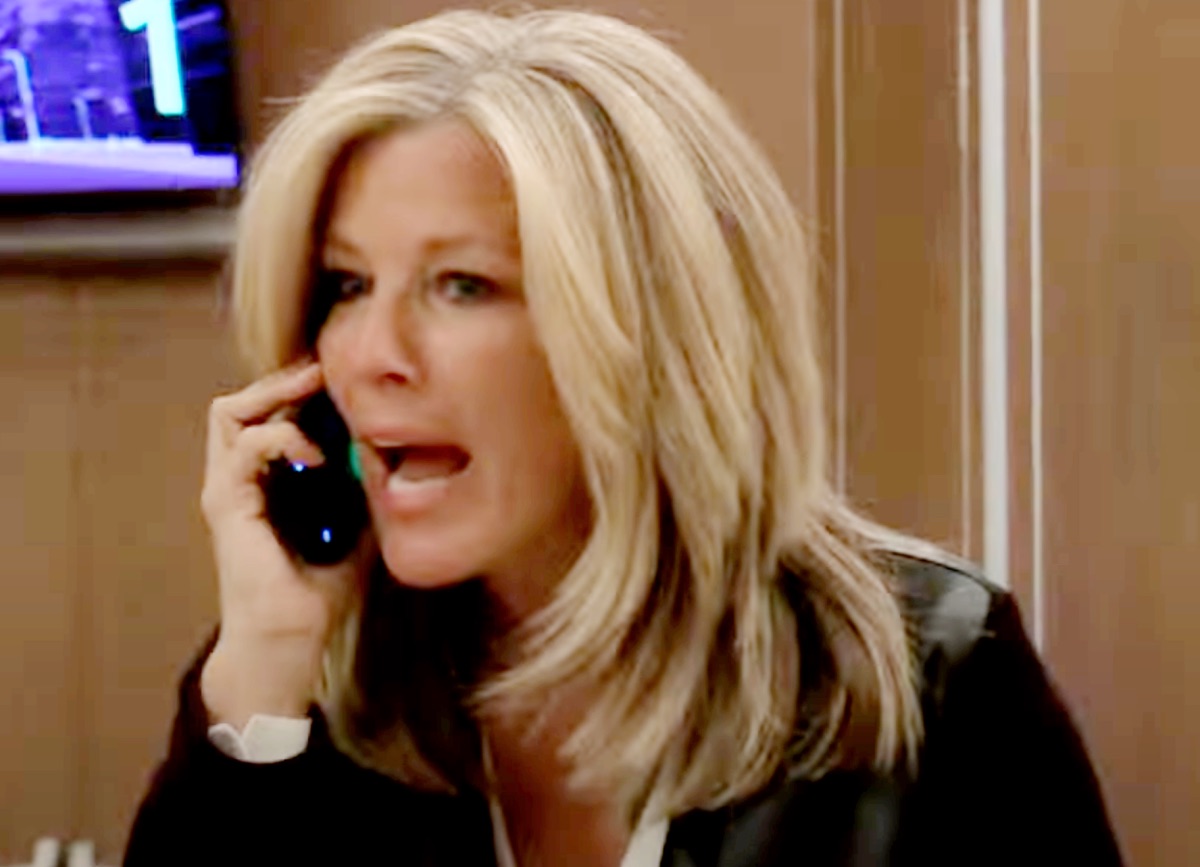 General Hospital spoilers and updates for Friday, May 5 tease shocks, survival and strikes! Carly Spencer (Laura Wright) is shocked, Valentin Cassadine (James Patrick Stuart) struggles to survive, and Jordan Ashford (Tanisha Harper) warns of drone strikes.
General Hospital Spoilers: Shocking News
At General Hospital, Carly is shocked by a phone call as Josslyn Jacks (Eden McCoy) stands behind her. Carly nearly shouts as she says "what happened"? to whoever's on the other end of the line. She may be getting an update call about Drew Cain (Cameron Mathison) and Liesl Obrecht (Kathleen Gati) in Greenland. Trina Robinson (Tabyana Ali) had called Jordan on a satellite phone from the Haunted Star, but she doesn't know a whole lot more than Carly does.
Possibly Carly has been called by someone else, possibly her bank to update her that all her personal accounts are frozen? She should have figured that one out when she couldn't pay for pie and coffee at Kelly's!
GH Spoilers: Shocking Requests
It's a more pleasant type of shock for Nina Reeves (Cynthia Watros) who's just arrived to the hospital with Sonny Corinthos (Maurice Benard). Dex Heller (Evan Hofer) had learned from Josslyn that Willow had collapsed and was at GH and Sonny and Nina rushed over. Nina's worried about Willow but she's pleasantly shocked when Michael tells her she wants to see her. She should know better than get her hopes up too much, but at least she wants to talk to her.
General Hospital Spoilers: Willow Corinthos' Request, Nina Reeves' Promise
When Nina gets in the room, Willow says she wants her to do something for her. Nina promises she will, still hoping against hope that Drew will bring back Liesl in time for the transplant. It's going to be very close since Willow's blood is not clotting and her lymph glands are putting pressure on her internal organs.
Nina and Willow's other loved ones are likely afraid that even if Liesl does return, Willow's body may not be able to withstand the procedure. However, Willow did tell Michael that she intends to fight!
GH Spoilers: Survival
Back at the bunker in Greenland, a frantic Anna Devane (Finola Hughes) watches Valentin struggle to survive after being injected with the deadly pathogen. He's been hallucinating Helena Cassadine (Constance Towers) ready to take him to hell, bleeding from the nose, running a high fever and burning. Victor Cassadine (Charles Shaughnessy) rushed Liesl out of the bunker, not allowing her to give Valentin the antidote. Anna, frantic to save her lover's life, shouts through the window "this is not how you die!"
General Hospital Spoilers: Trina Robinson Refuses To Leave
Back on the Haunted Star, Spencer Cassadine (Nicholas Alexander Chavez) holds his baby brother, Ace Prince-Cassadine (Joey and Jay Clay) as Trina refuses to leave. He wants Trina to take the baby and get to the seaplane waiting off the coast of the island, while he wants to help save his grandmother, Laura Collins (Genie Francis). Trina doesn't want to leave, but it's dangerous if she stays-and she and the baby must be safe.
Curtis Ashford (Donnell Turner) wanted them all to go to the seaplane while he went looking for Laura, Drew and Valentin. Will Trina take the baby and go, or will she insist on staying with Spencer and holding Ace?
GH Spoilers: Desperate Escapes
On the surface of the island, Victor has taken off with Liesl, and the canister containing more of the pathogen. Whatever Laura grabbed and broke inside the bunker apparently wasn't the pathogen-hopefully, it wasn't the antidote! But as he tries to flee with a gun to Liesl's back, he's caught off guard by Holly Sutton (Emma Samms).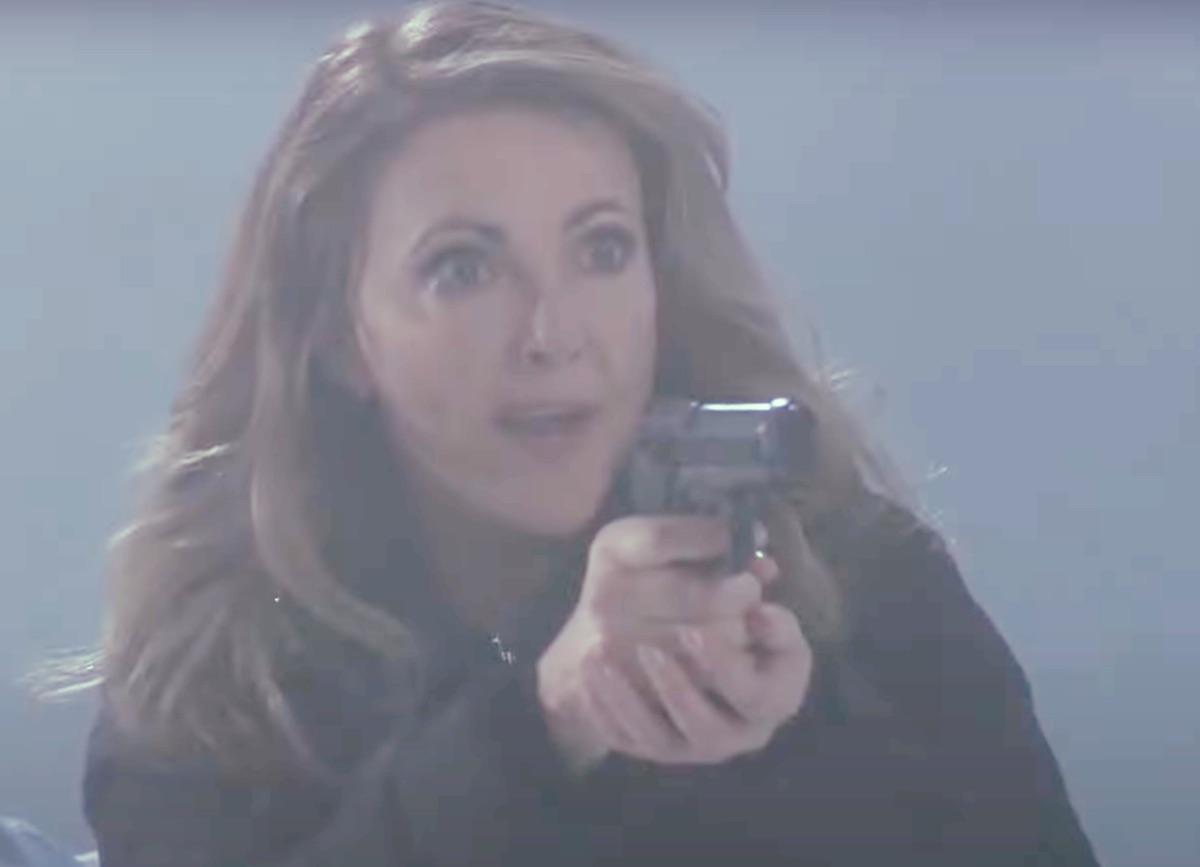 Holly also has a gun and it's trained on Victor, as he holds up the canister in the air and warns if anything happens to him, they all die! Not if Holly and Liesl, who smiled at the appearance of Holly, have anything to do with it!
General Hospital Spoilers: Drone Strikes?!
Back in Port Charles, Jordan's on the phone as a concerned Felicia Scorpio, (Kristina Wagner) Robert Scorpio (Tristan Rogers) and Portia Robinson (Brook Kerr) look on. Jordan has some very bad news to give Curtis and Laura in Greenland , who are horrified at what they are hearing. Jordan tells them that the WSB has ordered a drone strike on the island, which could mean very bad news not only for those there but for the world!
Curtis and Jordan shout "what"?! in unison because this really complicates things! Not only does Victor have a pathogen but he has something like the weather machine Mikkos Cassadine (John Colicos) had turned on!
GH Spoilers: Epic Failure
Back to Holly, Victor and Liesl, Holly taunts Victor, still pointing her gun and telling him he failed again! Victor figured that she'd faked her death since the Ice Princess necklace wasn't really burned up. But he likely didn't figure to encounter her there as he continues to hold a gun in Liesl's back and the canister with the pathogen in the air! Will the two women together be able to take down the aging Cassadine, even if he has a gun?
Be sure to catch up on everything happening with GH right now. Come back here often for General Hospital spoilers, news, and updates.