General Hospital Spoilers: Threats, Bad Business and High-Stakes Courtroom Drama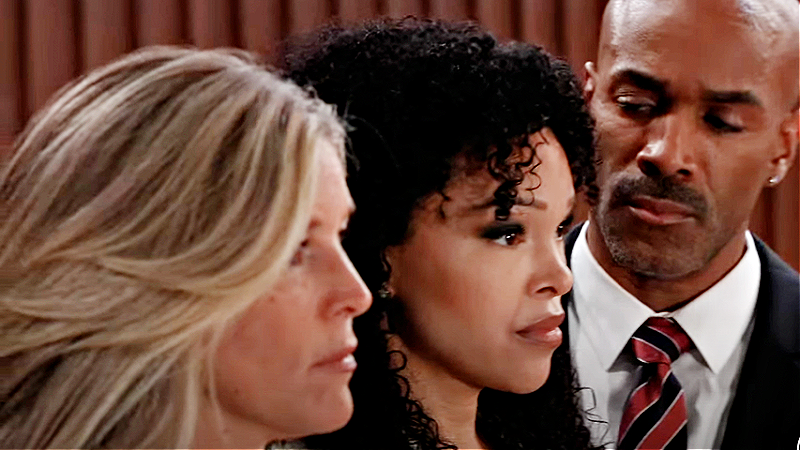 General Hospital spoilers for July 11-15, 2022, reveal a week of danger, threats, bad business moves, and the start of high-stakes courtroom drama.
General Hospital Spoilers: Operation Save Trina Is On
Trina Robinson (Tabyana Ali) decides to get rid of Scott Baldwin (Kin Shriner) as her lawyer cause it seems Diane Miller (Carolyn Hennesy) has the case now and Trina needs to decide what to do. She finally tells Josslyn Jacks (Eden McCoy) that she has an alibi for the time the sex tape was released onto the web. Still, if she tells anyone what it is, Spencer Cassadine (Nicholas Alexander Chavez) would have to go back to jail.
Josslyn urges her to tell the truth, but she can't seem to go through with it. She doesn't want to see Spencer back at Spring Ridge and that's that. At least Spencer is on the case and trying to bring down Esme Prince (Avery Kristen Pohl). The problem is Esme keeps complicating things because she seems to be obsessed with Nikolas Cassadine (Marcus Coloma) and Ava Jerome (Maura West).
Carly Is Happy, And Then She Is Not
Still smarting over losing her half of the Metro Court because she decided to engage in some insider trading, Carly Corinthos (Laura Wright) at least gets some good news when she learns Willow Tait (Katelyn MacMullen) is pregnant and she's going to be a grandmother again. How glorious for her with one more child to stake a claim in, as Carly is apt to do.
Then, her world comes crashing down when she learns the hated Nina Reeves (Cynthia Watros) bought her half of the hotel. And when Nina wants to even gift it to her. Carly can barely believe it. This woman wants to give her the hotel. Why? So she doesn't take Sonny Corinthos' (Maurice Benard) money, or at least that's the reason in Carly's mind. So, she says no. Well, your loss, Carly.
"Esme will regret the day she ever messed with our kids." #GH pic.twitter.com/AVsUcnrrAl

— General Hospital (@GeneralHospital) July 11, 2022
Other Port Charles Action
Valentin Cassadine's (James Patrick Stuart) failure to poison Larua Collins (Genie Francis) has Victor Cassadine (Charles Shaughnessy) enraged. He is determined to at the very least get her out of Port Charles, so that means something has to happen to Lesley Webber (Denise Alexander). Uh-oh.
Brando Corbin (Johnny Wactor) is forced to make some decisions when it comes to Sasha Gilmore Corbin's (Sofia Mattsson) well-being. But we trust he will do the right thing. Finally, Austin Holt (Roger Howarth) and Maxie Jones (Kirsten Storms) try to have a romantic picnic, but both Britt Westbourne and Damian Spinelli get in the way. Stay tuned to General Hospital weekdays to see how these stories play out.