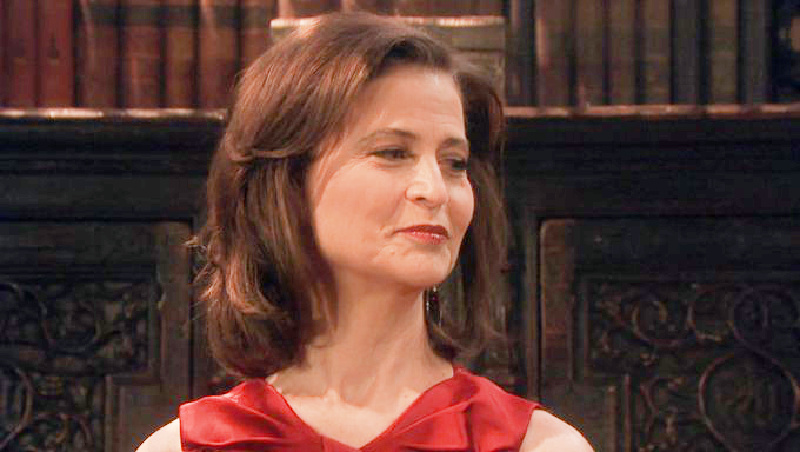 Days of Our Lives fans who have been watching the soap for decades were shocked at the end of the first episode of Days of Our Lives: Beyond Salem, Chapter 2 when Megan Hathaway made an appearance and revealed that nearly 40 years later, she is still searching for those elusive prisms for power. But just who is Megan Hathaway?
Another DOOL DiMera Daughter Explained
Megan Hathaway was the second of the heretofore-unheard-of children who belonged to Stefano DiMera (Joseph Mascolo), with the first being Renee Dumonde (Philece Sampler), a character we got to know through Sarah Horton (Linsey Godfrey) earlier this year. Megan had apparently been raised by a man named Max Hathaway, but she was eventually revealed to be Stefano's child, as so many other characters have been revealed to be in the ensuing decades.
She also grew up in Salem and dated Bo Brady (Peter Reckell) when they were young. She even tried to pass off a little boy as belonging to her and Bo, but that jig was up quick when Bo realized that child didn't belong to him.
Megan was one of Hope Williams Brady's (Kristian Alfonso)worst enemies for a short time as they fought over Bo while Hope was still in a sham of a marriage to Larry Welch (Andrew Massett), and then Megan died in a most unusual way. She was electrocuted while she should have been relaxing in a hot tub by none other than Larry himself after a fight.
TBT @nbcdays 30 YRS AGO! Who remembers Megan Hathaway & evil Nurse Honeycutt? @DaysofourLives @KJAlfonso #Days #DOOL pic.twitter.com/LKiugmweMm

— Michael Logan (@TVGMLogan) March 7, 2014
Megan Meant To Kill Hope
Megan is the woman who allegedly ended her own life because she had rigged that hot tub to kill Hope, making Bo a free man. She was convinced as long as Hope wasn't around, she and Bo could be together as she had always dreamed of. However, when she and Larry got into a fight, he knocked Megan into the tub and that was the end of her…until now.
Since Stefano made a habit of coming back from the dead over and over again, Miranda Wilson, who played Megan under the name Cheryl Ann Wilson, has been lobbying for the character to return to the DAYS fold for years and finally got her wish in Beyond Salem. The mini-series does indeed use DOOL history, which is a treat for fans everywhere. Tune in to Days of Our Lives: Beyond Salem streaming on Peacock all week.