General Hospital POLL: Fans Think Sonny Has Better Chemistry With Nina Than Carly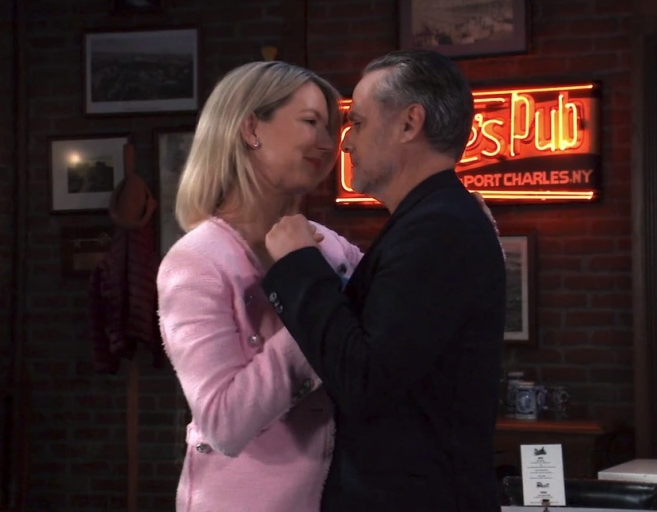 General Hospital spoilers say that when it comes to Sonny Corinthos (Maurce Benard) and his love life, a lot of people think it's time for him to throw out the old and start fresh with the new. Now, that doesn't mean he won't ever go back to his ex-wife Carly Corinthos (Laura Wright), but at the time time fans sure are loving his romance with Nina Reeves (Cynthia Watros) and the direction that their relationship is going in. Here's what you need to know.
General Hospital POLL: Fans Think Sonny Has Better Chemistry With Nina Than Carly
Sonny and Nina's relationship has been a controversial one, but also a "slow, nice burn" according to a lot of General Hospital fans. And seeing where Sonny is in his life right now, this might be exactly what he needs, too.
Many General Hospital fans took to their Twitter accounts to weigh in on the Sonny and Nina or Sonny and Carly debate and it seems like more and more viewers are warming up to the idea that Sonny and Nina might become the new power couple in Port Charles. While a lot of Carly fans don't see it this same way, some comments have included, "I am enjoying them together. As I liked Sonny and Carly together, sometimes shows just need a breath of fresh air. I'm loving Sonny with Nina and Carly on her own being independent," along with, "Ok, I can't lie. I am loving Sonny and Nina today. LOVING IT. Very good chemistry! The slow burn between these two keeps me interested and wanting more."
General Hospital POLL: Is Carly Now Just History?
Another General Hospital fan wrote, "I love the lovely romance between Sonny and Nina, love the slow dancing in the empty club, I hope they can continue to explore the relationship like this. I love romance. I'm sorry that Carly is no longer in the picture but sometimes that's just the way life goes. It's time for everyone to accept that Sonny is now in the next chapter of his life and that Nina is in it instead."
With that said, fans will have to tune in each and every day to find out what will happen next! Meanwhile, let us know what you think by leaving us a line with your thoughts in our comments section below. General Hospital airs weekdays on the ABC network. Check your local listings for times.
Be sure to catch up with everything on GH right now. Come back here often for General Hospital spoilers, news and updates.