Prince William And Kate Middleton Make The Most Out Of Their Trip To Belize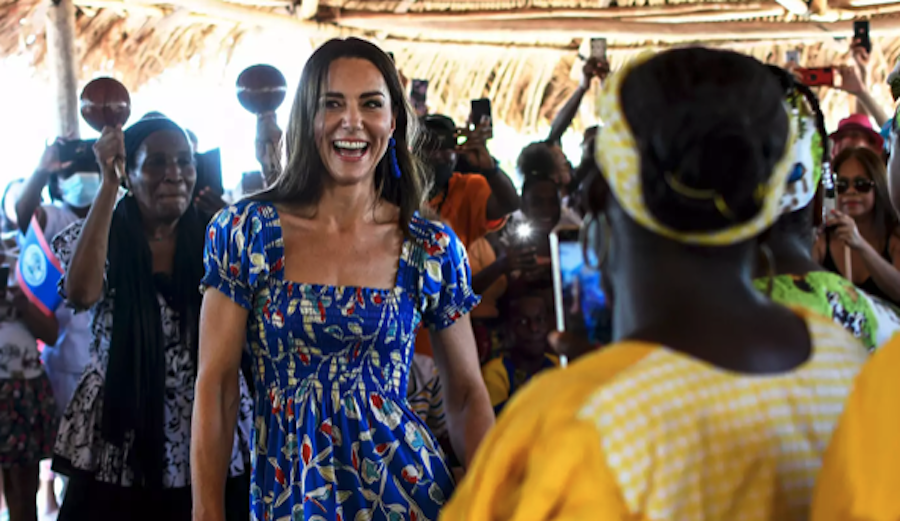 Protest? What protest? Prince William and Kate Middleton seemed to make the most out of their trip to Belize by ignoring the controversy that forced them to cancel their first engagement in the country. As royal fans know by now, the Duke and Duchess of Cambridge canceled a trip to a farm in Belize because local villagers staged a protest against them. Instead, they showed off their dance moves during a trip to the beach-front village of Hopkins in Belize on their first full day in the country. Here's what you need to know.
British Royal News: Prince William And Kate Middleton Make The Most Out Of Their Trip To Belize
During the visit, William and Kate participated in all of the fun by proving that royals can dance, too. They danced the local "punta" and sampled the Hudutu broth-style meal as they immersed themselves in the local culture. If that weren't enough, William danced with 57-year-old local woman, Laura Cacho.
"They are an amazing couple and we would love them to come any time with their children Charlotte, George and Louis," Cacho told People in an interview. "They really know how to dance. They took the culture from me and I didn't need to teach them. They're so good at it. They were excellent."
However, people in one nearby village said they were upset that they were not consulted about William and Kate's visit to their cacao farm. "Due to sensitive issues involving the community in Indian Creek, the visit has been moved to a different location," a royal source told the media.
Local Sebastian Shol, who joined the protest, told the Daily Mail in an interview, "We don't want them to land on our land, that's the message that we want to send. They could land anywhere but not on our land."
Of the couple's trip to Belize, Cacho added to People, "Their visit is going to bring unity, especially after COVID — it's a blessing for the economy to have them here."
British Royal News: What's Next For The Cambridges?
So far both Prince William and Kate Middleton have made no comments about the matter.
In the meantime, let us know what you think with your thoughts in our comments section again. Be sure to catch up with everything on the British Royal Family right now. Come back here often for the British Royal Family news and updates.