Days of Our Lives Spoilers: Victoria Konefal And Lindsay Arnold Open Up About Their On-Screen Drama And Off-Screen Relationship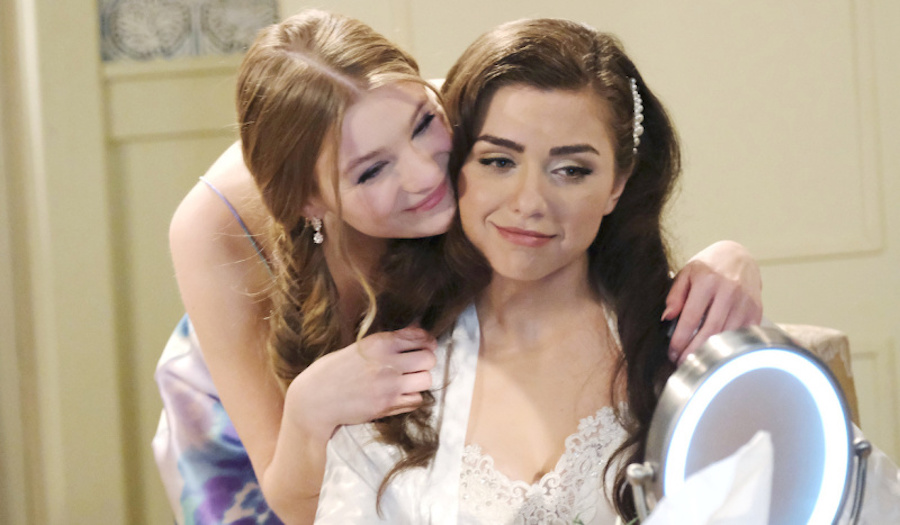 Days of Our Lives spoilers say that these two are certainly two peas in a pod, even though it might not always seem that way, especially in front of the cameras in this fictional town of Salem. Of course, we are talking about Victoria Konefal and Lindsay Arnold, who both recently opened up about their characters, Allie and Ciara, and their on-screen relationship as well as the two actresses' off-screen love for one another. Here's what they have to say.
Days of Our Lives Spoilers: Victoria Konefal And Lindsay Arnold Open Up About Their On-Screen Drama And Off-Screen Relationship
While speaking in an interview with Soap Opera Digest, when asked what initially drew Allie and Ciara together as friends, Lindsay said, "Allie taking the risk of helping Ben kidnap Ciara on her wedding day and being very open and honest about expressing her worries to Ciara. She was very open about [sharing] that she didn't think Ciara was making the right choice marrying Theo. That honesty and tough love kind of brought them together."
Victoria then put it this way, ""Allie and Ciara had just started hanging out around that time [of Ciara's wedding to Theo]. Because Claire ended up backing out of being her maid of honor, Ciara asked Allie at the last minute. That may have added to the start of their friendship, but I think they really bonded when motherhood was involved. A lot of their friendship stems from Ciara confiding in Allie about motherhood. When Ciara was considering the idea of having a baby, she would powwow with Allie and talk about what it's like to be a mother."
Days of Our Lives Spoilers: Allie And Ciara Have Each Other's Backs
When asked what has been some of her favorite Allie and Ciara memories, Lindsay offered, "We had some really fun scenes at the little bar in town. It was Allie, Ciara, Ben and Tripp. The boys were off talking about stuff, and the girls were in the corner. It was very gossipy, and Ciara was opening up about her worries about trying to have a baby and where Ben's headspace was at. It was a really productive conversation. The scenes were very intimate and sweet to film."
Victoria continued, "The scenes where they were initially talking about Ben in Julie's Place. Those were pretty cute. It was one of the first times they had one-on-one time. There was also a scene outside of the bakery where Ciara told Allie she was pregnant. There was so much genuine pure joy in that moment. It was very realistic, lighthearted girl talk."
In the meantime, let us know what you think by leaving us a line with your thoughts in our comments section below. Days of Our Lives airs weekdays on the NBC network. Check your local listings for times.
Be sure to catch up with everything on DOOL right now. Come back here often for Days of Our Lives spoilers, news and updates.