Days Of Our Lives Spoilers: Carson Boatman Teases Johnny's Devilish Future!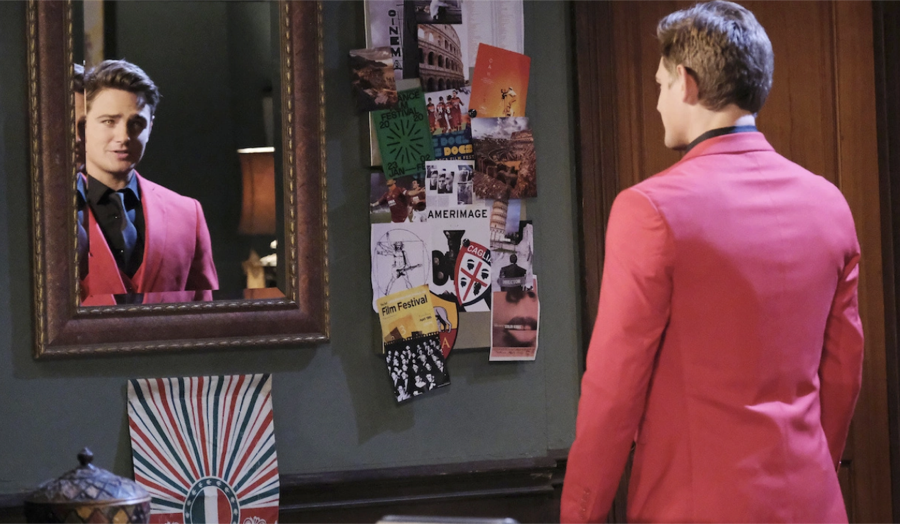 Days Of Our Lives spoilers hint that the devil has not finished with Salem. And for DOOL star Carson Boatman, that means portraying the devilish side of his character Johnny DiMera. Boatman just teased what awaits Johnny on upcoming episodes. But he didn't stop there. 
Find out what Carson also revealed about working with legends ranging from Deidre Hall to Alison Sweeney. And if you're curious about how Boatman auditioned for his role, you'll definitely want to keep reading to learn about the process! 
Days Of Our Lives Carson Boatman Reveals DOOL Audition Process
 For Carson Boatman, auditioning for Days Of Our Lives provided the actor with more stress than the producers realized, he confessed to TV Source magazine. And that's because Boatman actually got sick with COVID-19. But he refused to let his illness prevent him from the opportunity to audition. 
"So, I get this audition feeling sick, trying my best and I end up getting a callback which was amazing. Did a callback with the producers, still sick and I was just like, 'Just fake it. You can fake it for 10 minutes, Carson. Come on. Just do it,'" recalled Boatman. 
As Days Of Our Lives viewers know, Carson persuaded the producers that he matched their vision for Johnny DiMera. So he flew from Nashville to Los Angeles, did the screen test, headed back home, and got the good news. And Boatman confessed that he felt so thrilled that he cried, describing the phone call as "life changing."
Days Of Our Lives Star Carson Boatman Talks Working With Deidre Hall
Carson also shared how he felt during his first days on the set of Days Of Our Lives. And he definitely didn't take the opportunity for granted. For instance, Boatman devoted himself to learning all that he could about his character.
"I felt that obligation to learn about the history of the character and what he's been through and also just the history of the entire show. But I never felt afraid of it or pressure from it. I just loved and still love everything about it, every second of – again, it's like I don't have words because I feel so blessed and so thankful," gushed the DOOL actor.
And Carson also appreciates working with legends like Deidre Hall (Dr. Marlena Evans). But he admitted that picking up the devil's possession presented challenges. "The only conclusion I've come to on how to follow arguably the most legendary, iconic figure in soap operas is to do it completely different from her," shared Boatman. As a result, Carson has sought to show Johnny's inner devil in a way that seems authentic to his character.
In addition, the DOOL actor talked about his appreciation for another DOOL legend, Alison Sweeney. "It was very surreal and very nerve-wracking working with her," he admitted. "But she is a lovely human. I've worked with her many times since and it's always a lot of fun."
Days Of Our Lives Spoilers: What's Next For Johnny?
Carson teased Johnny's future with the devil by hinting at "sly tricks" as well as his character's future with Chanel. "Looking at it from an outside perspective – and this is not trying to influence writing or anything else – but from my standpoint, obviously things have just ended with Johnny and Chanel because of his minor mishap," he pointed out. But Boatman hopes that when and if Johnny becomes freed from the devil, the two could end up together.
And he also offered a surprising twist for his wish list for Johnny's future. "If somehow Johnny becomes the head of Dimera and then a new young Kiriakis counterpart of Johnny will be running Titan," suggested Boatman. "I'd love to see a Titan/Dimera head-to-head something. A territory war or something like that."
Tell us what you think. Do you agree with Carson that ideally, Johnny will reconcile with Chanel? And what do you think of his dream vision for Johnny's future? After you've shared your views, check back on our site for more Days Of Our Lives news!