The Young and the Restless POLL: Should Devon Get Custody Of Baby Dominic?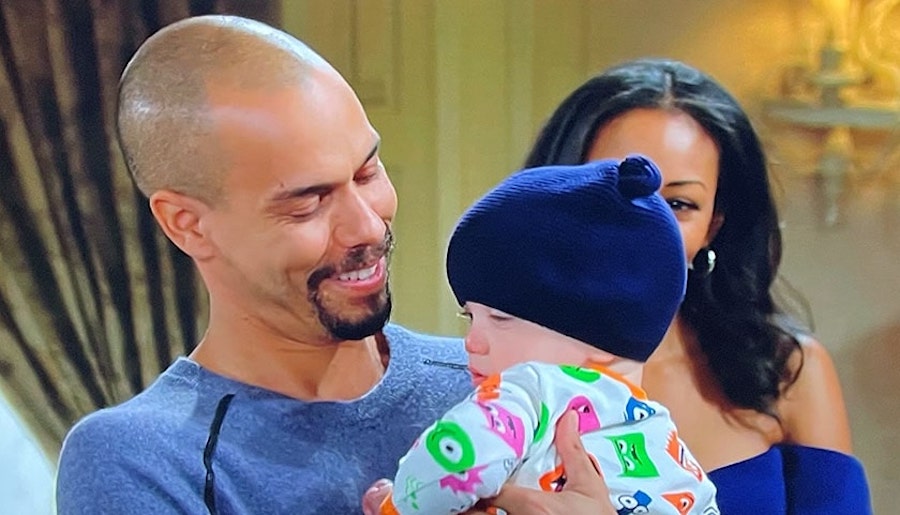 The Young and the Restless spoilers say that while Baby Dominic is surrounded by a whole lot of love in his life, some people think that they love him more than others. Sure, Abby Newman (Melissa Ordway) and Chance Chancellor (Conner Floyd) assumed that after their baby was born, they would be the primary parents in Dominic's life and no one else. However, Abby's sperm donor Devon Hamilton (Bryton James) wants in on the parenting action and in fact has even threatened to take Abby to court in order to have more unsupervised time with the little tot. This, of course, has prompted a lot of fans to ask: who should have primary custody of Baby Dominic? Here's what you need to know!
The Young and the Restless POLL: Should Devon Get Custody Of Baby Dominic?
Devon wants to be have a bigger role in Dominic's life and not just because he feels a strong bond with the young baby, but also because he believes that Chance isn't doing much of a job bonding with his child. In fact, Devon has seen it with his very own eyes.
Needless to say, Abby is none too pleased and quite hurt when Devon takes legal action to obtain shared custody of Dominic. Of course, Devon believes that he was being reasonable when he just wanted to have more unsupervised visits with the baby, but Abby opposed to that and refused to amend their contract. This has Devon now taking their battle to court.
And while this certainly is an unconventional arrangement for everyone involved, a lot of fans believe that it's Devon who should be taking care of Dominic, and not Abby. After all, Abby has a lot on her plate with her husband's PTSD. But could this be a situation in which Dominic gets the love of three different parents in his life? While that sounds like a possibility, it will only work if everyone agrees to the exact same terms that will help benefit the baby in the long run. Do you agree?
The Young and the Restless POLL: Should Devon Be The Primary Parent?
In the meantime, let us know what you think by leaving us a line with your thoughts in our comments section below. The Young and the Restless airs weekdays on the CBS network. Check your local listings for times.
Be sure to catch up with everything on Y&R right now. Come back here often for The Young and the Restless spoilers, news and updates.