The Young and the Restless Spoilers: Sally Drives Chelsea Away From Adam And Newman Media?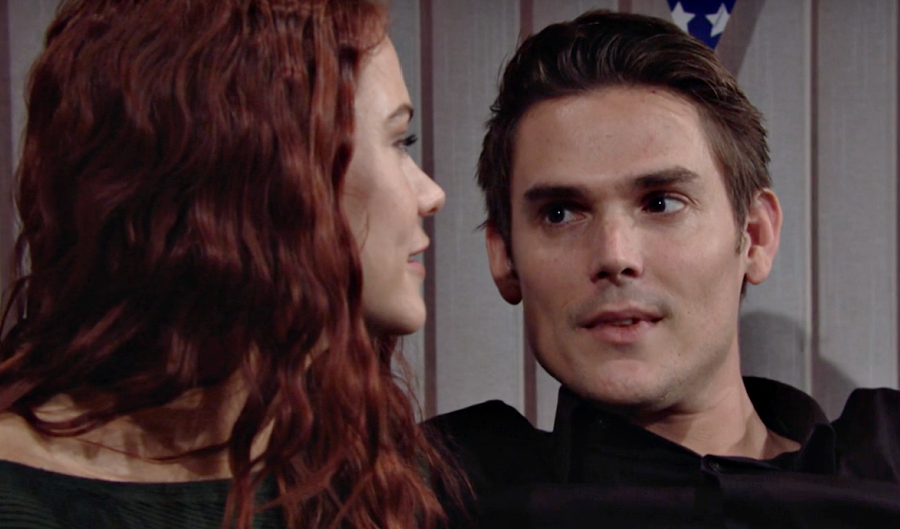 The Young and the Restless spoilers document that Sally Spectra (Courtney Hope) knows that Chelsea Lawson (Melissa Claire Egan) is at a disadvantage. While Adam Newman (Mark Grossman) still cares about Chelsea, he is no longer in love with her. Sally holds Adam's interest now.
After returning from Minnesota, Chelsea saw that Sally represented two-pronged trouble. Their face-to-face conversations have not been productive, with Sally's arrogant demeanor stemming from the vibes Adam has given off.
Adam sees Chelsea as the mother of his child. Sally is his budding romantic interest.
Young And The Restless Spoilers – Adam Newman Reprimands Employee
Adam told Sally to knock it off after Chelsea left his office. Both ladies had another off-balance interaction that used their business link as a cover.
Chelsea revealed her true feelings to Adam heading into New Year's Eve. He did not expect her to suggest a further reconciliation attempt, which upset her.
Sally is now Chelsea's target because she recognizes that Adam is fond of Hope's character. The Newman Media work atmosphere has become counterproductive, and that dynamic needs to change.
Young And The Restless Spoilers – Sally Spectra Has No Reason To Stop
Why follow Chelsea's advice? Doing so would steer Sally away from Adam, and he is the man she is aiming for.
Sally was shunned by those she knew in Los Angeles, California. That was not the fault of the Spencer or Forrester families.
However, Sally did acknowledge that she burned soapy bridges, needed to leave The Bold and the Beautiful, and crossed over to Y&R.
Another cool wink at the fans happened when Sally was deemed strong enough to be written into Genoa City, Wisconsin. Hope's terrific performances projected the type of talent that could sustain itself on the sister show.
TPTB have been proven right, as Sally has stirred up GC, with the projected Adam pairing presenting great creative opportunities for the actors and this iconic soap's audience.
Young And The Restless Spoilers – Chelsea Lawson Is No Quitter
Chelsea sees what is in front of her. If Adam no longer has deep feelings for Chelsea, she will move on.
Connor Newman (Judah Mackey) is the main focus of Chelsea's personal life. Professionally, she is in the prime of her career.
Whether Chelsea's time is well-spent bickering with Sally under Adam's domain is not the question.
Chelsea can find another love and another employer where her talent is not overshadowed by her ex-husband's potential next wife.
Soap Spoilers is a leading source for everything linked to The Young and the Restless. Check back regularly for Y&R spoilers and news!