The Bold and the Beautiful Spoilers: Wednesday, December 29 – Sheila's Ambush Shocks Taylor – Brooke's Rowdy Celebration Begins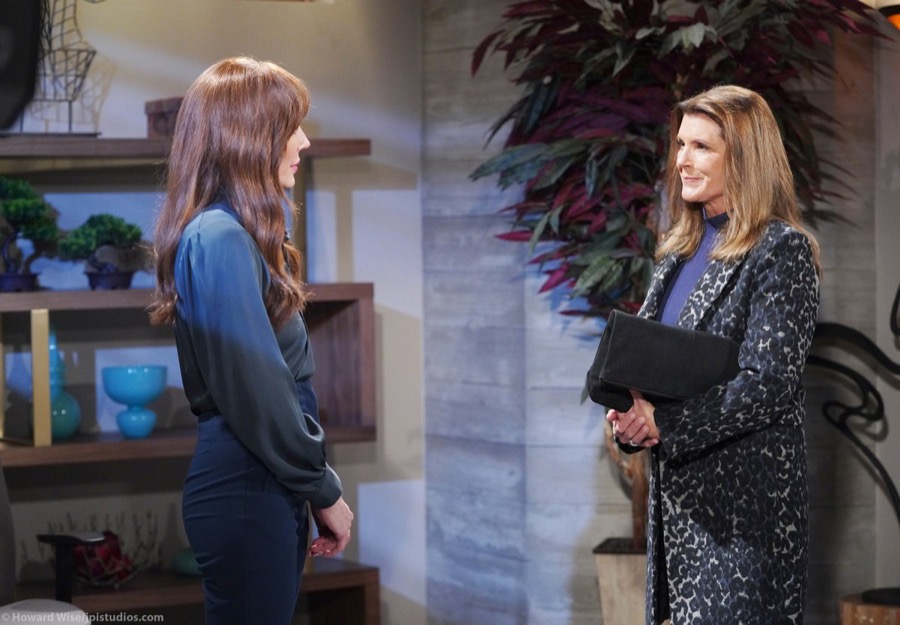 The Bold and the Beautiful (B&B) spoilers for Wednesday, December 29, tease that Sheila Carter's (Kimberlin Brown) ambush will shock Taylor Hayes (Krista Allen) while Brooke Forrester's (Katherine Kelly Lang) rowdy celebration begins. New Year's Eve is sure to bring some big surprises, so let's talk about the buildup and what it means for some crucial characters.
First on Wednesday's B&B episode, Sheila will decide to make an unexpected appearance in Taylor's office. Taylor will apparently get settled into one, but she'll feel far from settled when Sheila pops up out of nowhere!
The Bold and the Beautiful spoilers say Sheila will give Taylor a good scare, but she'll probably apologize for startling her with this unannounced arrival. Sheila may admit she was worried Taylor might not agree to meet – though she'll at least hope things are turning around after that Christmas visit at the cliff house.
Now that Sheila sees Taylor as a potential ally, she'll want to stop by and see where they truly stand following the holidays. Sheila may assume Taylor was trying to evaluate her mental state and figure out if she's as reformed as she claims to be.
Perhaps Sheila will ask what Taylor's verdict is and hope she'll continue to push Steffy Forrester (Jacqueline MacInnes Wood) toward peace with her mother-in-law. Sheila will be grateful for the chance to spend time with John "Finn" Finnegan (Tanner Novlan) and Hayes Forrester Finnegan (Piper Harriot), but she'll want even more time so she can build real relationships.
Of course, Taylor will have to keep her guard up when it comes to Sheila and the tricks she usually has up her sleeve. While Taylor proceeds with caution, Brooke will fall for Sheila's latest plot hook, line and sinker. Sheila will make sure Brooke ends up guzzling a bottle of true Champagne with a nonalcoholic label on it.
As Brooke kicks back for New Year's Eve, she'll consume several glasses of bubbly thinking there's no harm in it. In reality, Brooke will become more intoxicated by the second and break her sobriety in the process.
We'll deliver updates as other news rolls in. The Bold and the Beautiful spoilers say Sheila will play a dangerous game with Brooke's future, so stay tuned! Soap Spoiler where you want to be for exciting B&B spoilers, news and updates, so make us your favorite hotspot.