The Bold and the Beautiful Spoilers: Ridge's Worst Fear Confirmed – Deacon Blamed For Champagne Switch?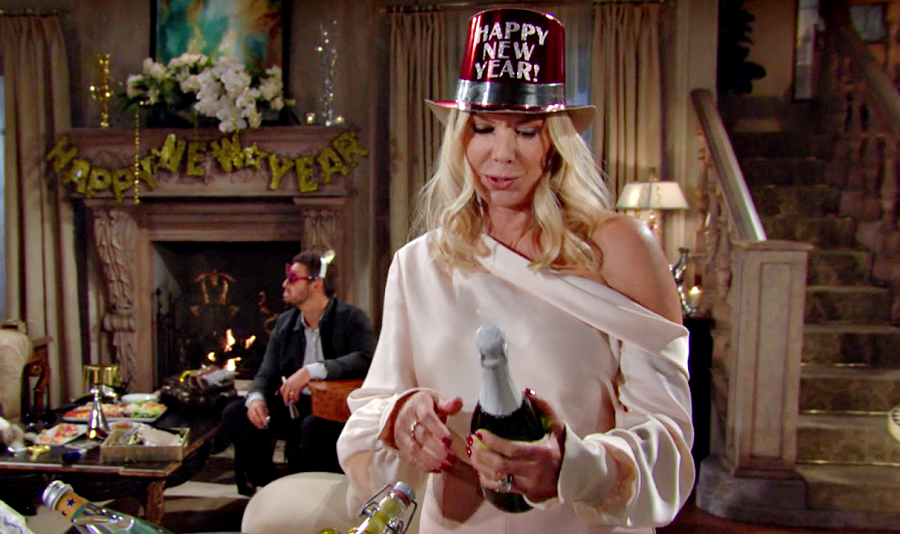 The Bold and the Beautiful spoilers document that Ridge Forrester's (Thorsten Kaye) fear about Deacon Sharpe (Sean Kanan) threatening the stability of his marriage was correct. Brooke Logan Forrester's (Katherine Kelly Lang) initial suspicions about Deacon have reversed, spurned by their daughter's loving support and encouragement.
Hope Spencer's (Annika Noelle) belief in her father's sincerity touched Brooke's heart. Ridge believes that Deacon is using Hope as a tool to manipulate Brooke. That assessment is not apt. However, Deacon has been open with Sheila Carter (Kimberlin Brown) about wanting Brooke back.
Ridge's New Year's Eve return flight timeline was impacted by his plane's mechanical problems and weather issues. That allowed Deacon to be with an unknowingly inebriated Brooke.
Bold And The Beautiful Spoilers – Sheila Carter Does Not Consider Full Implications
Deacon was not Sheila's target. As fans saw, she made a carefully manipulated champagne bottle switch at Il Giordino purely intending to destroy Brooke's sobriety.
Taylor's tell to Sheila about Ridge tipped Brown's character off and provided another gift opportunity. Deacon returned to the Logan compound and found Brooke in her alluring nighttime attire.
As those scenes played out, fans wondered how an eventual reveal, where Deacon is blamed for intentionally providing Brooke with alcohol, may play out. If so, the trust Deacon reestablished with Lang's character would be shattered.
Bold And The Beautiful Spoilers – Brooke Logan Forrester Underestimates Enemy
Brooke severely underestimated Sheila. She retaliated for the humiliation that took place in front of Deacon at Il Giordino just after Christmas in record time.
The elaborate nature of Sheila's champagne bottle label switch was a bit of a stretch. However, that method was used to underscore the lengths that Sheila will take to secure a permanent place in John Finn Finnegan's (Tanner Novlan) life.
Ridge's projected awareness of Brooke's perceived, willing jump off the wagon and personal embrace of Deacon indicates that another separation or divorce is approaching. Ridge does have the option of seeking Taylor's comfort because of the recent recast.
Bold And The Beautiful Spoilers – Deacon Sharpe Pushed Out?
The above could be part of this half-hour steamer dynamic, where some storyline conflicts are resolved faster than hour-long soaps. Alternatively, it could be that Deacon's fate may be sealed far sooner than hoped by Kanan's fans.
B&B's online cast page shows Brown's headshot but not Kanan's. That implies that Kanan is filling a recurring role in what could be a limited-run return. Hopefully, said conjecture is not confirmed shortly, as Deacon is a great character.
This site is a leading source for everything linked to The Bold and the Beautiful. Check back regularly for B&B spoilers and news!