The Bold and the Beautiful Spoilers: Ridge & Taylor Gang Up On Deacon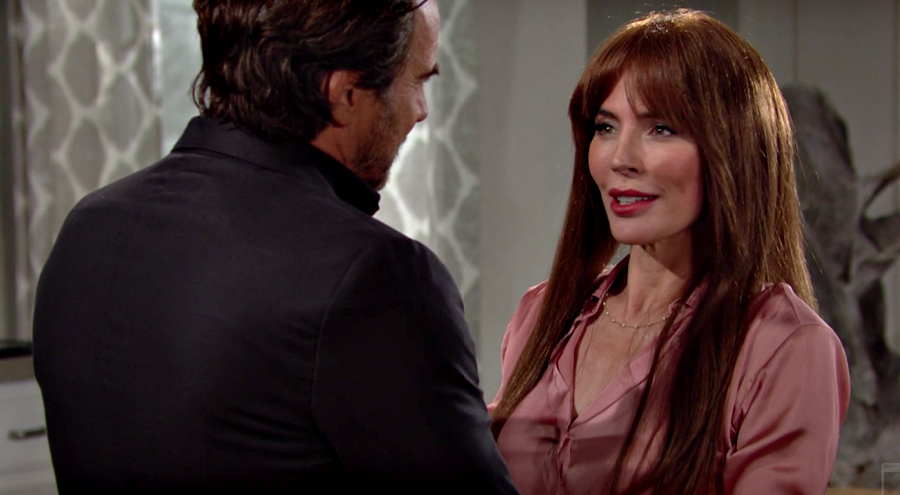 The Bold and the Beautiful spoilers document that Ridge Forrester (Thorsten Kaye) has firmly decided that Deacon Sharpe (Sean Kanan) has to go. He will not budge off his opinion that Hope Spencer's (Annika Noelle) father is a bum.
Brooke Logan Forrester (Katherine Kelly Lang) loves Ridge as she has no other man. But on this issue, as with some others in the past, Bridge disagrees. Brooke backs her daughter now believes that Deacon has changed for the better.
All of the above makes the unexpected return of Taylor Hayes (Krista Allen) important. A Tridge reboot potentially begins with Taylor backing Ridge.
Bold And The Beautiful Spoilers – Hope Spencer Has A Point
Hope is no small child, as she was during periods when Ridge was serving as her full-time stepfather. This grown adult, who is married and is raising two children, has forgiven her biological dad and offered him a second chance.
Ridge's opinion has been heard. If he would have stopped there, rather than making a demand that she move off the property to maintain contact with Deacon, then Hope would likely have no problem with Ridge. But her stepdad went well beyond thoughtfulness.
Noelle's character told Ridge that she appreciates his concerns and admits that it is a risk to trust Deacon. However, she decided that Deacon will be in her life and her children's. Ridge has no decisive say.
Bold And The Beautiful Spoilers – Like Daughter, Like Mother
Where did Hope inherit her strong-stance personality trait? Yes, from Brooke.
Call it confidence or over-confidence, based on individual viewers' opinions, but Brooke rubbed off on Hope through the years. Deacon was not around. So, Ridge shaped Hope's demeanor too.
Brooke finds herself in a spot. She backs her daughter, feels compassion for Deacon, and does not want to alienate Ridge. Brooke is not purposely making a mistake, which Ridge now doubts.
Bold And The Beautiful Spoilers – Taylor Hayes Recognizes An Opening
Brooke took Ridge from Taylor. That is how Allen's character sees it, as does Tridge's children, Steffy Forrester Finnegan (Jacqueline MacInnes Wood) and Thomas Forrester (Matthew Atkinson).
Learning that Ridge is once again experiencing trouble with Brooke provides Taylor with extra incentive to make her stay in Los Angeles, California indefinite. Fans of the classic B&B battles between Brooke and Taylor look forward to witnessing the added on-screen dynamic that the Allen recast will offer as well.
This site is a leading source for everything linked to The Bold and the Beautiful. Check Soap Spoiler for the hottest B&B spoilers and news!