Days of Our Lives Spoilers Next 2 Weeks: Ciara Runs, Kayla Knocked Out, Devil's Flaming Rage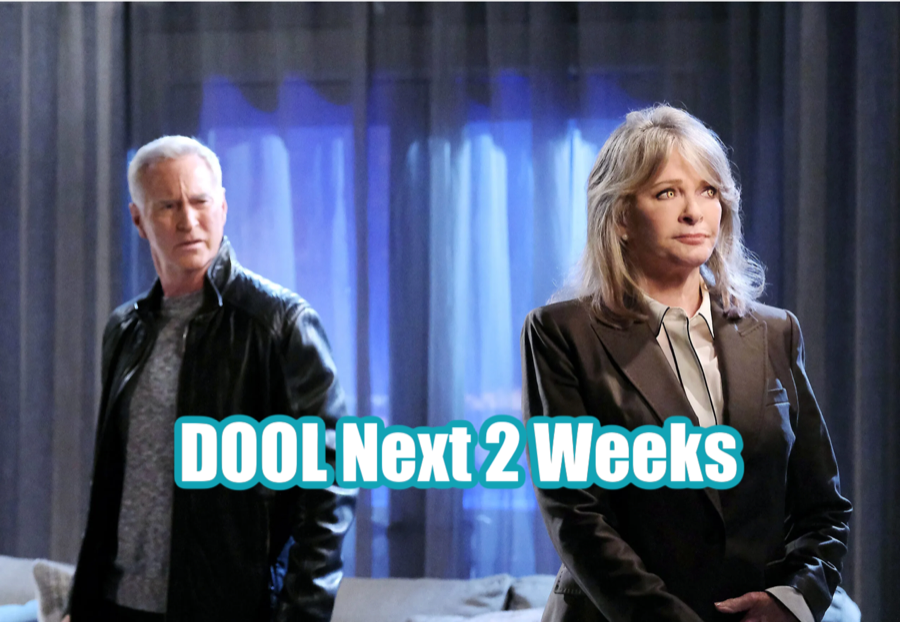 Days of Our Lives (DOOL) spoilers for the next two weeks tease a lot of action is coming up. From December 13 to December 24, Ciara Brady Weston (Victoria Konefal) runs from the devil. Kayla Johnson (Mary Beth Evans) ends up unconscious while the devil goes into a flaming rage… literally. Keep reading to find out what to expect.
Confronting the She-Devil
DOOL spoilers for the week of December 13 reveal that Susan Banks (Stacy Haiduk) will freak out over the devil's plans. However, EJ DiMera (Dan Feuerriegel) will soothe his mother and insist that she has nothing to worry about.
Meanwhile, Marlena Evans aka "MarDevil" (Deidre Hall) will have a "terrifying" showdown. John Black (Drake Hogestyn) finds "MarDevil" at the cabin. However, Ben Weston (Robert Scott Wilson) knocks him out! Once Shawn Brady (Brandon Beemer) arrives, he will tell Ben the truth about Marlena's story. Once Ciara learns that Marlena is really the devil, she makes a break for it.
Days of Our Lives Spoilers: Discoveries and Revelations
Fans can also expect several characters to make discoveries. One is Xander Cook (Paul Telfer), who Gwen Rizczech (Emily O'Brien) is trying to keep from interacting with Rex Brady (Kyle Lowder). However, her scheme ultimately fails and Rex drops a bombshell on Xander regarding Sarah Horton (Linsey Godfrey).
Chloe Lane (Nadia Bjorlin) helps Brady Black (Eric Martsolf) go back to the scene of the crime. It works and Brady remembers a very important detail. However, he will have to prove it! Unfortunately, Brady doesn't have time as Eli Grant (Lamon Archey) shows up and arrests him.
Later, Kate Roberts (Lauren Koslow) will be shocked to see Philip Kiriakis (Jay Kenneth Johnson) alive and well!
Deception, Resentment and Bombshells
Days of Our Lives spoilers for the week of December 20 reveal that Kate will deceive Roman Brady (Josh Taylor). Kate tries to protect Philip but will she really allow Brady to go to prison for a crime he didn't commit? Meanwhile, Lucas Horton (Bryan Dattilo) makes his own shocking discovery.
As for Paulina Price (Jackée Harry) will try to smooth things over with Lani Price-Grant (Sal Stowers). Paulina wishes her daughter a merry Christmas, but gets the look of death in return. Paulina's other daughter, Chanel Dupree (Raven Bowens) returns from Italy. It is teased that Chanel and Johnny DiMera (Carson Boatman) have a shocking announcement to make. It is suggested that they are either married or expecting a baby.
Days of Our Lives Spoilers: Chaos and Celebration
During the week of December 20, Kayla will lose consciousness, which might have to do with the flaming torches that magically appear in Marlena's hands. Jan Spears (Heather Lindell) returns and could be part of why Belle Brady (Martha Madison) finds Shawn in bed with her lookalike!
Just in time for Christmas, Jack Deveraux (Matthew Ashford) brings Jennifer Horton (Melissa Reeves) home. Doug Williams (Bill Hayes) will spend quality time with Chad DiMera (Billy Flynn) and Abigail DiMera's (Marci Miller) children. Plus, Ben vows to send the devil back to hell… but could an innocent life he lost in the process?
Be sure to catch up on everything happening with DOOL right now. Come back often for Days of Our Lives spoilers, news and updates.