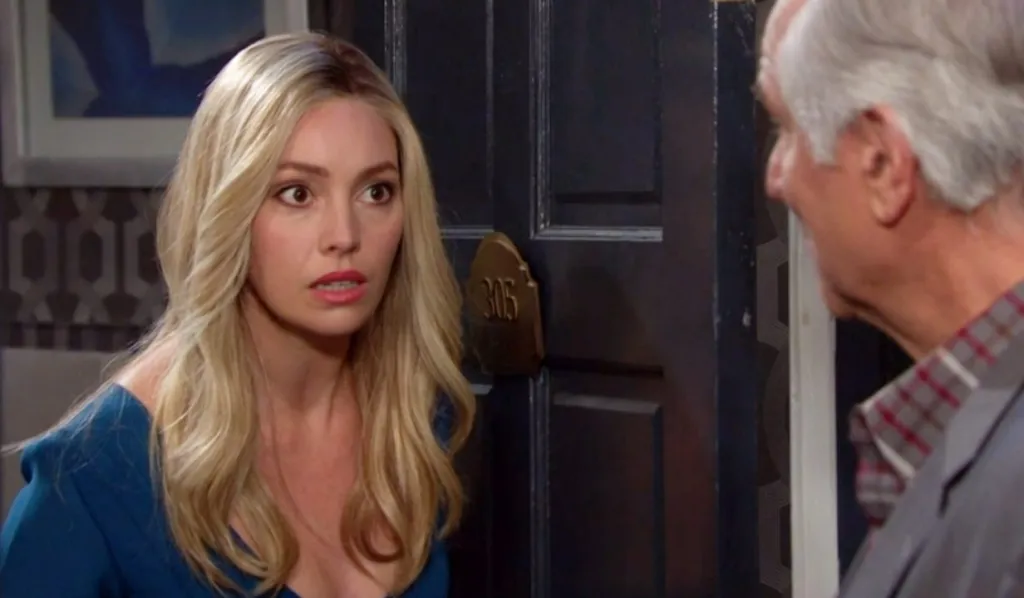 Days of Our Lives spoilers say that Theresa is packing up to move in with Alex when she gets a surprise at the door. It's Konstantin. The two of them had crossed paths when they were in Greece, when she discovered Victor's will. Well now it looks like Kostantin and Thereare are banning together for one common goal. Keep reading below for everything you need to know.
Days of Our Lives Spoilers: Theresa And Konstantin Have A Common Goal
Actor John Kapelos, who plays Konstantin on the hit Peacock soap, recently told Soap Opera Digest in a new interview, "He and Theresa are after similar aims. They are both seeking fortunes, so there's a duplicity, a common goal there. Konstantin seems to be the more dominant force in that, the more manipulative one, and seems to be driving the bus, so to speak. I don't think she will give up the ghost on Konstantin because she's sinking her own ship at the same time, so there's an unholy alliance there for certain and it's based on t heir common goal of greed."
Days of Our Lives spoilers say that it also looks like Konstantin has some big plans for his stay in Salem, too. The actor added, "Kostantin opens himself up like a somewhat disturbed flower, and I think that they should watch him like a hawk. They should be very careful to not be too charmed by him and to realize that he thinks he's cleverer than he is. Sometimes he gets caught up in things without thinking about it because there's an emotional aspect to him, where the other folks in Salem seem to be a little bit cooler. I have to say, there's a lot of stuff for me to do. There's never a dull moment."
Days of Our Lives Spoilers: What's Next For Konstantin?
Watch this space as we have a feeling there is more to come. It goes without saying that Days of Our Lives fans will have to tune in for all of the action. In the meantime, let us know what you think by leaving us a line with your thoughts in our comments section below. Days of Our Lives airs weekdays on the Peacock network. Check your local listings for times.
Be sure to catch up with everything on DOOL right now. Come back here often for Days of Our Lives spoilers, news and updates.