The Bold And The Beautiful Spoilers Wednesday, September 20: Sheila Needs To Go, Deacon Almost Busted, Thomas' Desires
The Bold And The Beautiful spoilers for Wednesday, September 20 reveal that Sheila Carter (Kimberlin Brown) has been nothing but trouble since she came to town. Li Finnegan (Naomi Matsuda) will insist that John Finnegan (Tanner Novlin) needs to get rid of Sheila immediately.
Hope Logan (Annika Noelle) almost busts Deacon Sharpe (Sean Kanan) with Sheila. Thomas Forrester (Matthew Atkinson) will have a long talk with Douglas Forrester (Henry Joseph Samiri).
Bold and the Beautiful Spoilers Highlights
The Bold and The Beautiful spoilers reveal that Li believes that Finn needs to stop playing around and get rid of Sheila as soon as humanly possible.
Steffy Forrester (Jacqueline MacInnes Wood) has already taken the children and left town. Steffy cannot be with Finn unless Sheila is gone out of his life and away from him permanently.
Li cannot see how Finn hasn't already gotten Sheila out of his life by now. Li is not giving Finn an option to even consider keeping Sheila around.
Does Finn want to live the rest of his life without his wife and kids? Is Finn ready to get rid of Sheila once and for all? Will Finn finally step up and take his mother down?
B&B Spoilers:  Hope Logan Almost Busts Deacon Sharpe
Deacon has been hiding Sheila out at his apartment ever since she got out of prison. Deacon tends to hide Sheila when anyone comes by the apartment.
However, Hope often drops by unannounced and will come close to catching Sheila and Deacon together. Hope caught Sheila there once before but didn't recognize her because of her disguise. Will Hope see her this time?
Deacon knows that Hope or Brooke would never forgive him for having a relationship with Sheila but he cannot bring himself to break it off.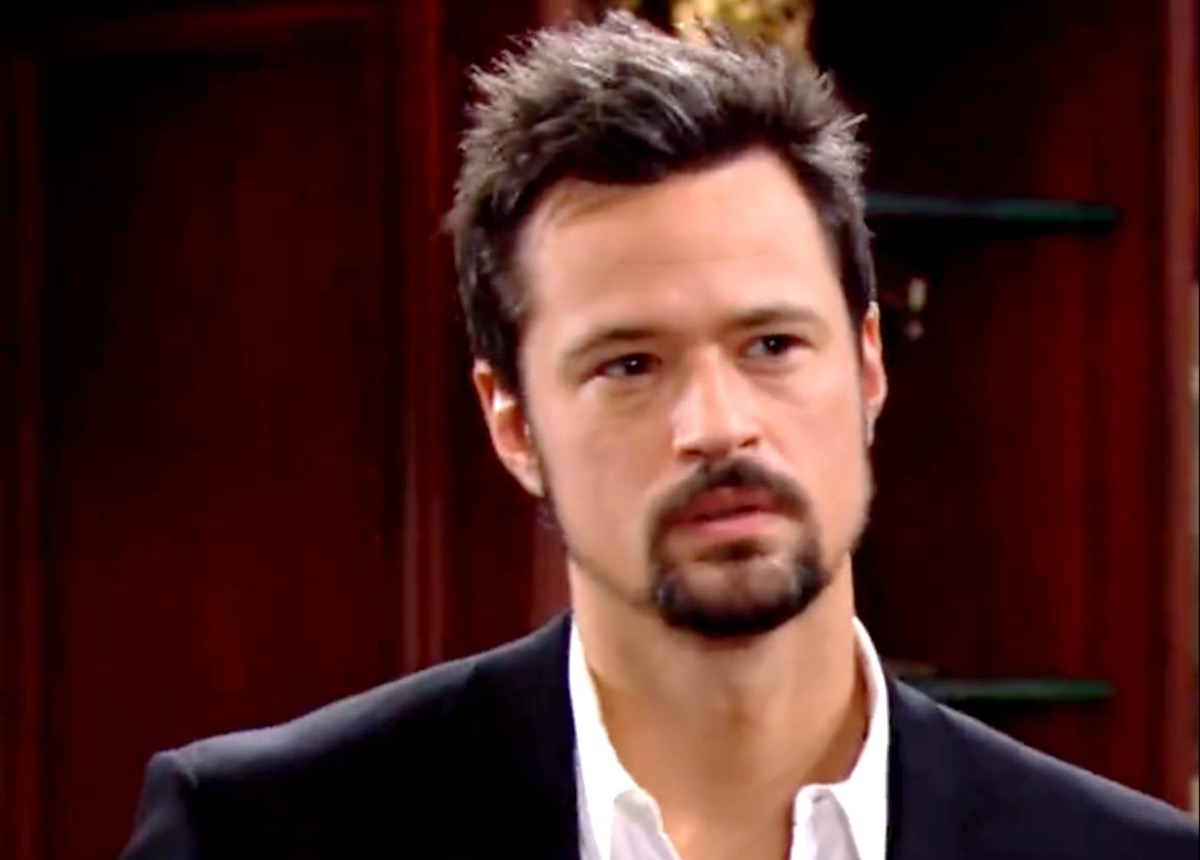 It is only a matter of time before Sheila is caught there, the question is, who will be the first person to find Sheila? Ridge has been keeping tabs on Deacon for some time. Will Ridge be the one who finds Sheila and Deacon together?
The Bold And The Beautiful: Thomas Forrester Has A Talk With His Son
Douglas has expressed to Hope that he thought she should give his dad another chance. Douglas knows that Hope has been said and he thinks she deserves better.
However, Thomas may believe that Douglas should allow them to handle the adult issues. After all, Douglas is just a child and he doesn't need to concern himself with their love life.
Thomas loves Hope and he will wait as long as he has to go see if she returns his feelings. Hope is far from being in love with Thomas even though she is sleeping with him. Hopes fantasies were enough to cause her to finally give in and sleep with Thomas. They have started this new relationship, but can it last?
Be sure to catch up on everything happening with B&B right now. Come back here often for The Bold And The Beautiful spoilers, news, and updates.