The Bold And The Beautiful Spoilers UPDATE Monday, August 21: Liam Waffles Again, Steffy Needs Answers
The Bold And The Beautiful spoilers for Monday, August 21 reveal that Liam Spencer (Scott Clifton) has already begun his waffling between Steffy Forrester (Jacqueline MacInnes Wood) and Hope Logan (Annika Noelle).
Liam will continue to try to romance Steffy. Steffy needs informed answers to make a decision.
Liam Spencer Loves Hope Logan?
The Bold and The Beautiful spoilers indicate that for that man who has been confessing his love for Steffy to anyone who will listen, Liam suddenly loves his wife and always will.
Liam has a huge issue with Hope kissing Thomas Forrester (Matthew Atkinson) after everything he has done to their family. Liam cannot understand how Hope could let him touch her.
However, Liam only knows about the kiss in Rome. Lim has no idea that Hope and Thomas have since slept together at his place and were even caught by Brooke Logan (Katherine Kelly Lang).
Liam still believes that it was just a kiss and now may be thinking he can get past that for his daughter's sake. Unfortunately, Hope knows about his feelings for Steffy.
B&B Spoilers: Liam Spencer Continues To Pursue Steffy Forrester
While Liam is getting all gushy with Hope after the birthday party, he is still wanting to be with Steffy as well. Liam may have been caught up in the moment with the family urging him and Hope to reunite.
Liam seems to be trying to see which woman will take him back first since Steffy has told him once to leave.
Steffy still loves her husband but she is beginning to think about the kisses she and Liam have shared too. Will Hope take Liam back or will he and Steffy end up together?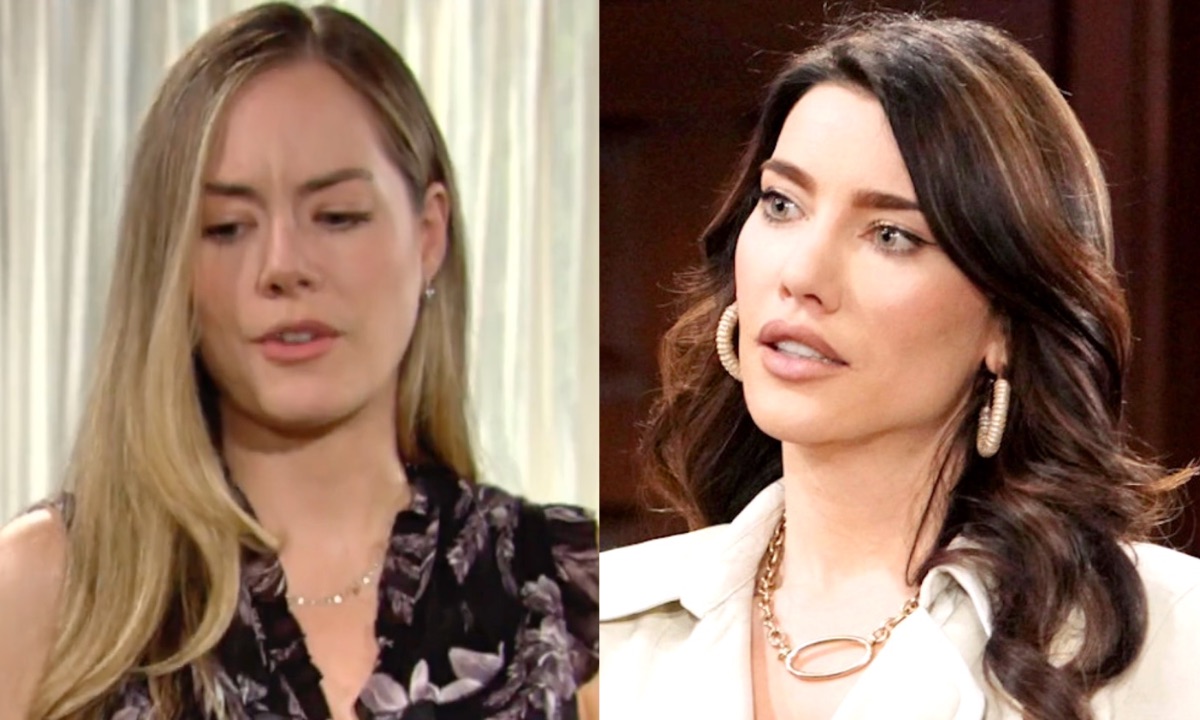 Would Liam ever be able to get past Hope sleeping with Thomas?  Should Liam cut his losses and find another woman and make a fresh start?
The Bold And The Beautiful: Steffy Forrester Needs Answers
Steffy has moved out of her house and into her grandfather's estate for extra security. Steffy is terrified that Sheila Carter (Kimberlin Brown) will find some way to get to her son.
Steffy knows that John "Finn" Finnegan (Tanner Novlan) feels a connection to Sheila but her has vowed to keep her and the children safe.
Before Steffy agrees to go back home she needs to know why Finn feels this connection and if he can truly stay away from Sheila.
Will Steffy suggest that Taylor Hayes (Krista Allen) have a few sessions with Finn to figure out what is going on in his head? Will Finn ever be able to give Steffy the answers that feel safe enough for her to come back home?
Be sure to catch up on everything happening with B&B right now. Come back here often for The Bold And The Beautiful spoilers, news, and updates.