Days of Our Lives Spoilers: Here's What Fans Really Think of Dimitri And Leo's Romp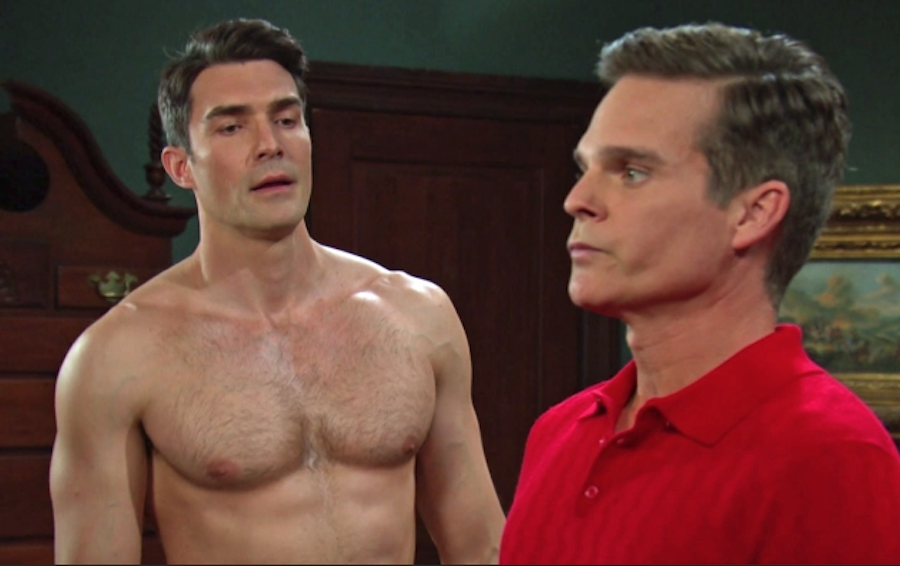 We've got a hot couple alert here! Days of Our Lives fans are absolutely loving the fact that Dimitri and Leo are getting freaky under the sheets, even though they know that they shouldn't be. Keep reading below for everything you need to know.
Days of Our Lives Spoilers: Here's What Fans Really Think of Dimitri And Leo's Romp
In the latest Days of Our Lives episode, Dimitri bed Leo after he promised to marry Gwen. As many fans probably already know, Dimitri only has a few short months to get married in order to cash in on his inheritance. This, of course, complicates his life greatly as Gwen is just a cover up for what he really wants.
Of course, many Days of Our Lives fans sure did take to social media to weigh in on this storyline. Many of them wrote comments such as, "I admit I rewatched the Dimitri/Leo scenes 3 times. Thoroughly enjoyed them and Peter and Greg were fantastic. I realized THIS is the kind of gay story/characters/dialogue I've been dreaming of for too many years on my soaps," along with, "Peter Porte is giving Greg Vaughan a run for his money as my go-to man on Days; Christ Almighty is that man mouthwatering. I'm jealous of Rikaart (as well as Porte's real life hubby)."
Another critic wrote, "Leo has great chem in and out of bed with Dimitri.Their banter was brilliant especially when Leo wondered if it could be man instead of a woman could marry him.Dimitri's reply was so funny asking if Leo was proposing to him.Poor Gwen leaving a voicemail telling Leo how happy she is and there he is ready to marry Dimitri himself.I don't want Rachel to out Dimitri then again that door should have closed."
Days of Our Lives Spoilers: What's Next For Dimitri And Leo And Their Secret Romance?
It goes without saying that Days of Our Lives fans will have to tune in each and every day to find out what will happen next! In the meantime, let us know what you think by leaving us a line with your thoughts in our comments section below. Days of Our Lives airs weekdays on the Peacock network. Check your local listings for times.