Days of Our Lives Spoilers UPDATE Thursday, February 9: Gwen Confronts Jack, Sarah Encounters Rex, Alex And Allie's Compromising Position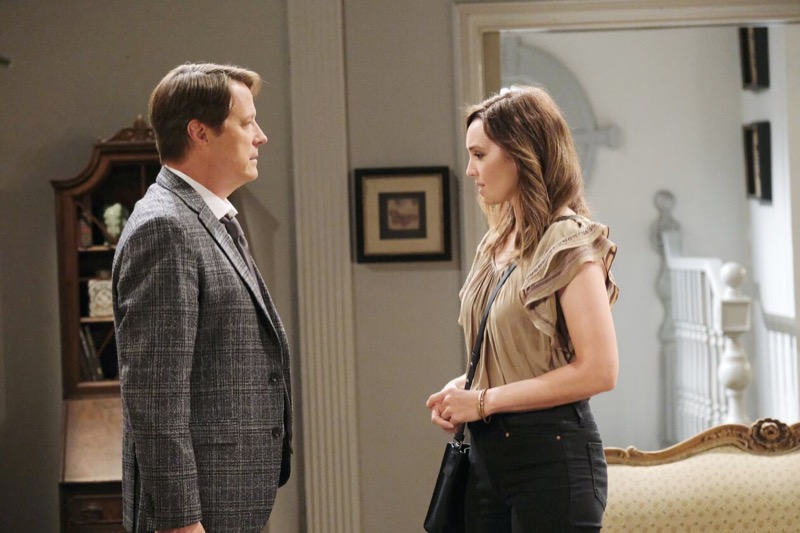 Days of Our Lives spoilers for Thursday, February 9 reveal that Gwen Rizczech (Emily O'Brien) is determined to make Jack Deveraux (Matthew Ashford) regret casting her aside. Sarah Horton (Linsey Godfrey) runs into Rex Brady (Kyle Lowder). Johnny Dimera (Carson Boatman) and Chanel Dupree (Raven Bowens) make a discovery and more.
Gwen Rizczech Confronts Jack Deveraux
Days Of Our Lives spoilers reveal that Gwen and Xander Cook (Paul Telfer) are determined to make Jack regret disowning her. Jack gave Gwen an ultimatum, testify against Xander, or else. Gwen chose Xander and now the two of them plan to make Jack pay. After all, if Jack had given Xander a job, he wouldn't have gone to work for Ava Vitali (ex-Tamara Braun).
Gwen and Xander have plans for Jack. However, Gwen and Xander may not be prepared for the consequences of going after Jack. Jennifer Deveraux (Cady McClain) will soon be home to help Jack handle this attack. Are Gwen and Xander ready for the fallout? Will Gwen and Xander take the baby away from Jack?
DOOL Spoilers: Sarah Horton Encounters Rex Brady
Sarah has recently broke up with Xander but she certainly isn't pining for her conniving ex. Xander jumped into bed with another woman before the ink dried on their divorce papers. Sarah is done with Xander and ready to move on. Sarah will run into Rex and could pull him in to make Xander jealous. Will Sarah and Rex reunite after this?
Meanwhile, Johnny and Chanel will come upon a drunken Alex Kiriakis (Robert Scott Wilson) and Allie Horton (Lindsey Arnold). Allie and Alex are sharing a lime slice and it looks like they are about to kiss. Allie and Chanel will no doubt have yet another argument over their "friendships" with other people. Will Allie take Alex home with her again?
Days of Our Lives Spoilers: Tripp Johnson And Wendy Shin Reconnect
Tripp Johnson (Lucas Adams) and Wendy Shin (Victoria Grace) may have been tricked into this date but they do get along well. Joey Johnson (Tanner Stine) set up this date to distract Tripp. Tripp will explain this to Wendy but that doesn't mean that he's not happy to spend time with her. Tripp enjoys Wendy's company very much.
Who does Wendy want to be with though?  Wendy has been in some sort of relationship with Johnny for a while. However, Wendy believes that Johnny has feelings for Chanel. Tripp may feel that Chanel wants to be with Johnny more than she does him and step aside so she can move on. Will Tripp get the girl in the end?
Be sure to catch up on everything happening with DOOL right now. Come back here often for Days Of Our Lives spoilers, news, and updates.