General Hospital Spoilers: Spencer Angles for Custody — and Gets Nik Locked Up Along the Way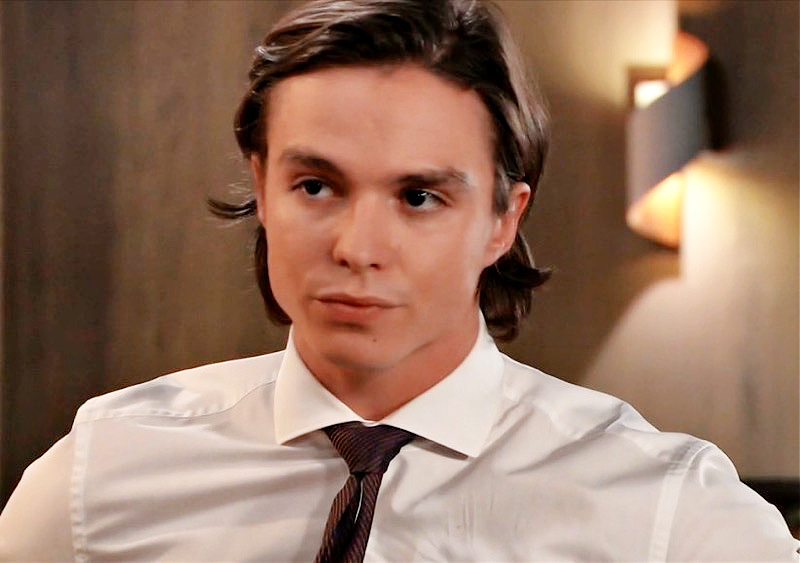 General Hospital spoilers suggest Spencer Cassadine (Nicholas Chavez) wants custody of his brother or sister that is soon to be born to Esme Prince (Avery Kristen Pohl). Everyone knows Spencer has it in for his father, Nikolas Cassadine (Adam Huss), and his loved ones are concerned that his interest in raising his half-sibling has little to do with what is best for the child and everything to do with sticking it to Nikolas.
Spencer is hurt and bitter; he's been abandoned, rejected, and placed last so many times by his dad. He wants Nik to know how it feels to not matter to anyone, even if he has to harm his sibling in the process to make sure Nik pays. Holding his recorded confession over his head was a smart move, but Nikolas isn't backing down. What lies ahead if Nik won't relinquish custody on his own?
General Hospital Spoilers — Nikolas Refuses to Be Blackmailed
Spencer swore to his father that they would never make it to a courtroom. Taunting him by rattling off quotes from his own false confession, Spencer left his father rather unnerved as he laid it all out for him explaining that his dad was going to fork custody of his unborn child over without a fight. The look on Laura Collins' (Genie Francis) face at that moment was of confusion and awe.
What is it Spencer knows that would lead Nik to give up custody of his own child, and why does it look like Nik is actually scared? He should be, but he swore he wasn't going to parent this child while making the same mistakes he has in the past. For Nikolas, that might mean refusing to be blackmailed and instead taking the "hard way" out. When he refuses to comply with Spencer's attempt to blackmail him, he just might end up behind bars.
GH Spoilers Say Calling Spencer's Bluff Isn't Wise
Nikolas taught Spencer to play this game, and he isn't about to take it lying down that Spencer thinks he's going to use it against him now. When Nikolas taunts his son and tells Spencer he knows he won't really turn him in, Spencer will remind him he is not the one who is sending his dad to prison — his dad's actions will do that all on their own.
Nikolas won't have any luck convincing Spencer that the confession was false, nor that Ava Jerome Cassadine (Maura West) had her own malicious intentions when handing it over to him knowing that it wasn't true.
General Hospital Spoilers — Jordan Intervenes
The whole city will be up in arms when Nikolas is arrested for the attempted murder of Esme Prince. Laura will be shocked and won't be able to explain away his confession. Nikolas may come clean with his mother, who could run to Ava curious as to whether Nik is telling the truth.
If Ava is the only person who can clear Nik's name, and it would require throwing herself under the bus, we can be fairly sure we won't see that happen. However, that doesn't mean Spencer won't catch onto Ava and come to regret falling right into her trap. Keep checking back with us for more GH news, updates, and spoilers just ahead to find out what happens next.