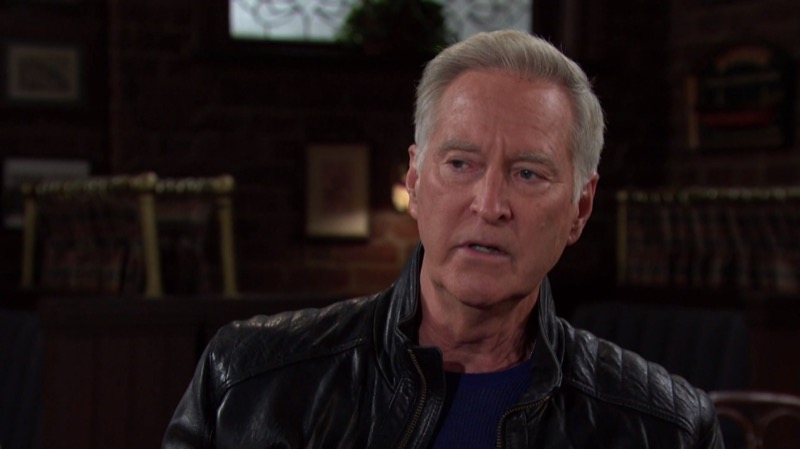 Days of Our Lives spoilers indicate there are three can't-miss moments during the week of February 6-10. John Black (Drake Hogestyn), Roman Brady (Josh Taylor), and Steve Johnson (Stephen Nichols) will finalize plans for Operation Kill Orpheus (George Del Hoyo). Joey Johnson (Tanner Stine) will play cupid with Tripp Johnson (Lucas Adams) and Wendy Shin (Victoria Grace). Sarah Horton (Linsey Godfrey) gives some payback to Xander Cook (Paul Telfer).
Operation Kill Orpheus
Days Of Our Lives spoilers reveal that Steve is determined to make Orpheus pay for killing their wives. Steve wanted to take Orpheus out as soon as he was paroled. Unfortunately, John refused to go along with him. Now there are been three deaths because of Orpheus. John is convinced their wives would still be alive if he had only listened.
Roman was dead set against this idea until John told him they messed up by not getting rid of Orpheus. Now all three men want him gone. It seems that Roman may enlist the help of Lucas Horton (Bryan Dattilo) who is all too eager to make Orpheus pay for killing his mother. Can Lucas resist the liquor that Orpheus keeps pushing his way long enough to help take him down?
DOOL Spoilers: Joey Johnson Plays Cupid
With Valentine's Day growing near, Joey will play cupid with Tripp and his friend Wendy. Of course, Joey knows that Tripp has been attracted to Wendy for some time. However, with Tripp's mom in a catatonic state and Kayla Johnson (Mary Beth Evans) dead, Tripp needs a friend. Joey will try to set Wendy and Tripp up and see where it goes.
Wendy will certainly go to see Tripp when she gets the message, she considers him a good friend. Wendy has offered to be there when Tripp needs her. Of course, Wendy will later find out that it was all a setup by Joey. Since Johnny Dimera (Carson Boatman) is leaning on Chanel Dupree (Raven Bowens) Wendy may as well offer Tripp a shoulder too.
Days of Our Lives Spoilers: Sarah Horton Gets Revenge
Xander was all too thrilled to gloat about sleeping with Gwen Rizczech (Emily O'Brien) right after signing his divorce papers. Now that Sarah knows all about his little tryst, she's up for some revenge of her own. Rex Brady (Kyle Lowder) just happens to be in town and Sarah will use him for a bit of revenge. After all, Xander thought that Sarah had left him for Rex when she was kidnapped ages ago.
Two can play Xander's little game of "rub it in" and Sarah's game. Sarah has threatened to divorce Xander before but she really doesn't want to let him go. Xander has just disappointed her so much that she doesn't know what else to do. How will Xander handle having Rex throw back in his face after gloating about being back with Gwen?
Be sure to catch up on everything happening with DOOL right now. Come back here often for Days Of Our Lives spoilers, news, and updates.