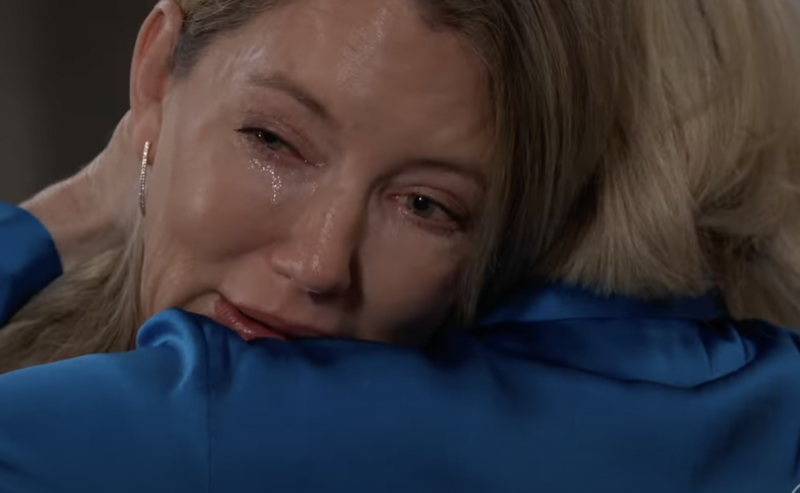 General Hospital spoilers and updates tease tears, fears, and devastation in Port Charles this week. Willow Tait (Katelyn MacMullen) and Nina Reeves (Cynthia Watros) cry, and everyone around them fears Willow's running out of time, and everyone is devastated.
General Hospital Spoilers: Fears
In Willow's hospital room, she lays in her hospital bed, hooked up to monitors and IVs as Michael Corinthos (Chad Duell) sits with her. Willow tells Michael she's scared, because her leukemia seems to be unstoppable and a bone marrow donation is her only option to survive. She's eight months along and still was torn between waiting until the baby girl was born and having a cesarean section a month early.
The baby must be delivered before Willow can have the bone marrow transplant but a matching donor is not absolutely guaranteed even from a close relative. Nina has been tested and so far is a potential match, but physical conditions she may not know she has may stop her from donating.
GH Spoilers: Hope
Out in the hallway, Sasha Gilmore (Sofia Mattsson) tries to encourage Michael, and may be trying to encourage herself as well when she says they can't give up hope. Just about everyone Michael and Willow knows is being tested to see if they can donate to save Willow's life, and those who aren't are praying. It's a fearful situation for all concerned, and they can use all the hope they can get. Nina's probably the best bet, being Willow's birth mother, but it's not guaranteed she can donate.
General Hospital Spoilers: Grim News?
Back in Willow's hospital room, Michael has returned to her side and Dr. Terry Randolph (Cassandra James) enters with an update. Michael asks Terry "what now?" as she looks pretty grim, so it may not be good news. Willow's leukemia could have progressed further, Nina's test may have excluded her from donating, just about anything could have happened.
Hopefully the baby girl is still okay but with this kind of a situation no one ever knows what to expect. They may need to operate right away to save the baby's life, but certainly before Willow can get a transplant.
GH Spoilers: Counsel
Back at the Quartermaine mansion, Olivia Quartermaine (Lisa LoCicero) is talking to a sad looking Drew Cain (Cameron Mathison) in front of the fireplace. She wants to know what he's not telling her, since he looks so upset. He just broke up with Olivia's best friend and former business partner Carly Spencer (Laura Wright) after dating in secret for several months. He was blindsided by Carly's holding back information that could save Willow's life. Drew himself had helped her get Willow's DNA after catching her stealing a glass Nina had drank out of at Charlie's Pub and she lied about them being a match!
General Hospital Spoilers: Tears
Back at the hospital, Brook Lynn Quartermaine (Amanda Setton) sobs to Sasha that devastating things keep happening, as Nina cries on Ava Cassadine's (Maura West) shoulder elsewhere. At Carly's place, she wheels around with an alarmed look on her face, and Drew may make things clear to her that they're not getting back together. That might cause some tears for Carly, who might need to learn a lesson-you can't play god with someone else's life.
Lots of tears, fears and devastation continue for everyone in Michael and Willow's circle. What if they can't find a match for her at all?
GH Spoilers: Devastation
It looks like there may be some devastating news about Nina's ability to donate, as she throws something down in frustration and screams on the roof of the hospital parking deck. Sonny Corinthos (Maurice Benard) tries to comfort Nina but she won't be comforted-perhaps one of Nina's relatives might match. Liesl Obrecht (Kathleen Gati) could be tested, since Wiley Corinthos (Viron Weaver) and James West (Owen and Curtis Rufca) are too young.  Meanwhile, back in Willow's hospital room, she cries on Michael's shoulder.
Be sure to catch up on everything happening with GH right now. Come back here often for General Hospital spoilers, news, and updates.