General Hospital Spoilers Update Wednesday, November 23: Carly Tears Into Nina, Britt Confides in Liesl, Sonny Confronts Drew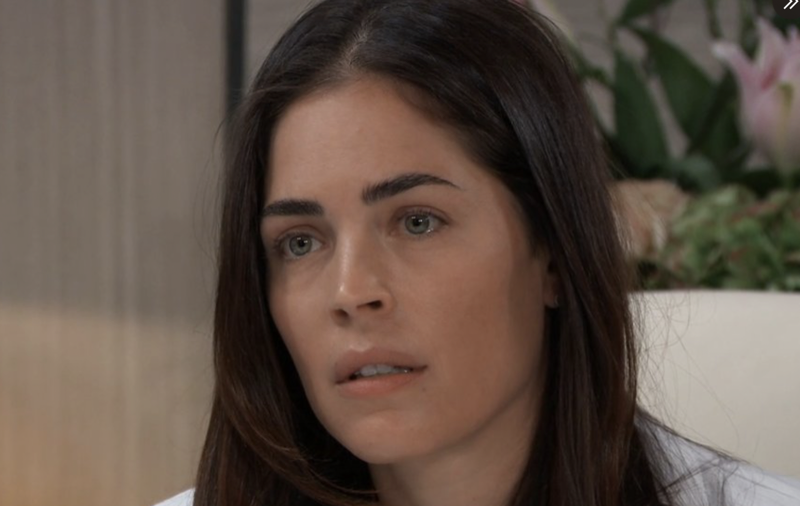 General Hospital spoilers reveal Carly Spencer (Laura Wright) and Nina Reeves (Cynthia Watros) unleash their fury on one another. Britt Westbourne (Kelly Thiebaud) shares her concerns with Liesl Obrecht (Kathleen Gati). Harrison Chase (Josh Swickward) is stunned. Brook Lynn Quartermaine (Amanda Setton) pulls the trigger on a tough decision. Valentin Cassadine (James Patrick Stuart) and Martin 'Marty' Grey (Michael E. Knight) link up. Drew Cain (Cameron Mathison) and Sonny Corinthos (Maurice Benard) might try to clear the air.
General Hospital Spoilers Wednesday, November 23, 2022: Carly and Nina Go Round for Round
Carly is tired of Nina sticking her nose in where it doesn't belong. First Nina was implying that Willow Tait (Katelyn MacMullen) was having an affair with T.J. Ashford (Tajh Bellow). Now she's up to no good running back to Sonny to imply she's sneaking around with his associate, Brick (Stephen A. Smith). When will Nina learn? Perhaps when Carly sinks her teeth into her one more time?
General Hospital Spoilers Say Britt Confides in Her Mom
Liesl's biggest weakness might be her daughter. So when Britt reveals the truth to her about her prognosis and how much faster Huntington's Disease has been marching onward in her body than she knew, Liesl isn't going to take time to break down. She'll put her doctor hat on and suggest that between the two of them, they will certainly figure out how to fix it and buy more time. However, Britt is going to make it clear to Liesl that she needs a mother right now, not a doctor.
GH Spoilers — Chase is Floored
Chase is going to discover Brook Lynn has been sabotaging his chances at getting back on the PCPD force, and it's going to break his heart. He never expected this from B.Q., despite how much she was enjoying being his music agent. He's not spending this holiday with Brook Lynn now, but Sasha Gilmore Corbin (Sofia Mattsson) sounds lonely. Elsewhere, Brook Lynn makes a decision that could end very badly as Linc Brown (Dan Buran) makes her an offer she feels like she can't refuse.
General Hospital Spoilers Tease Valentin Finds and Ally in Marty
It's only a matter of time before the police catch up with Anna Devane (Finola Hughes). What makes Marty come around and decide to help Valentin protect her? Could it be finding out Lucy Coe (Lynn Herring) isn't dead?
General Hospital Spoilers — November 23 — Sonny Has Words with Drew
When Drew hits the gym to work out some of his frustrations, Sonny won't skip the opportunity to make small talk. Carly has only just revealed to Sonny that she and Drew are seeing each other, and while he feigned happiness for her benefit, he also made note that it's not easy for him to see her with another man. Some things never change. What will Sonny have to say, and is Drew in the mood to hear it?
Which storyline are you most looking forward to following on GH on Wednesday, November 23rd? Let us know, and keep checking back for more General Hospital news and spoilers.