The Bold and the Beautiful Spoilers: Here's What's Next For Finn And Steffy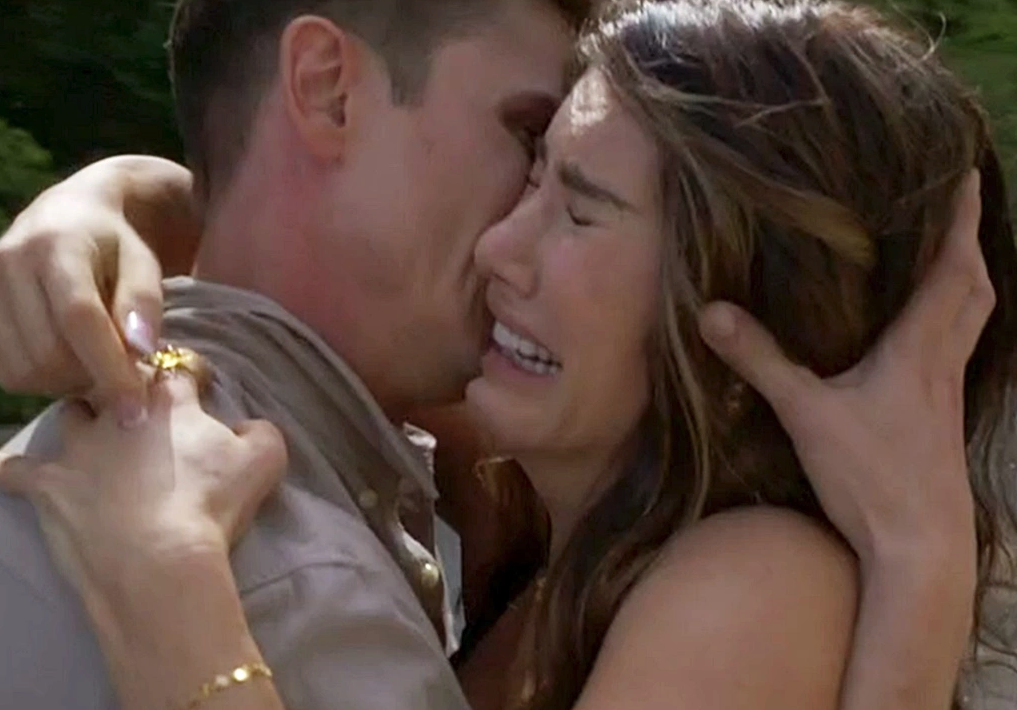 The Bold and the Beautiful spoilers suggest that it looks like Steffy Forrester's (Jacqueline MacInnes Wood) and Finn's (Tanner Novlan) happy ending is going to be a short one, especially if Sheila Carter (Kimberlin Brown) has anything to do with it. Keep reading below for all of the spoilers you need to know.
The Bold and the Beautiful Spoilers: Here's What's Next For Finn And Steffy
The Bold and the Beautiful Executive Producer and Head Writer Bradley Bell recently sat down with Soap Opera Digest and revealed what's in store for the Spencer, Forrester and Logan families in this fictional town of Los Angeles. When asked about Steffy and Finn's future, he said, "Reunited and in love, this young couple has it all. But Sheila, who is getting bolder by the moment, has plans of her own. Having already crossed a line that no one thought she would, Sheila has nothing left to lose and everything to gain, leaving Steffy and Finn in danger."
Now, as far as the love triangle between Brooke, Ridge and Taylor are concerned, Bell said, "Taylor takes Finn and Steffy's miracle as a sign that anything is possible. Brooke, of course, remains insistent that she and Ridge are each other's destiny, and that Taylor is conspiring to destroy her family. Ridge has complex feelings about the two loves of his life and doesn't want to hurt either. This fall, the unexpected happens, which leads our trio to another beautiful remote location, where circumstance causes Ridge to make a choice. The fallout from this changes lives and the dynamics of families forever."
Of course, you can't talk about Brooke and Taylor without mentioning Deacon, right? Well, as far as he's concerned, Bell says, "This fall, things get serious and comedic at the same time as a series of events take place that Deacon must scramble to manage. Deacon's stress level goes from mild to off the charts when Sheila, thinking that her disguise is all she needs, ventures out in public and even over to Steffy and Finn's beach house. Will Sheila reveal herself to the wrong person? Will Deacon get caught harboring a felon? And what of Deacon and Sheila's romantic liaison? You won't want to miss how this story unfolds."
The Bold and the Beautiful Spoilers: What's In Store For Ridge?
Needless to say, The Bold and the Beautiful fans will have to tune in to find out what will happen next! In the meantime, let us know what you think by leaving us a line with your thoughts in our comments section below. The Bold and the Beautiful airs weekdays on the CBS network. Check your local listings for times.
Be sure to catch up with everything on B&B right now. Come back here often for The Bold and the Beautiful spoilers, news and updates.