The Bold and the Beautiful Spoilers: Thomas Asks For A Chance – Hope Prefers Status Quo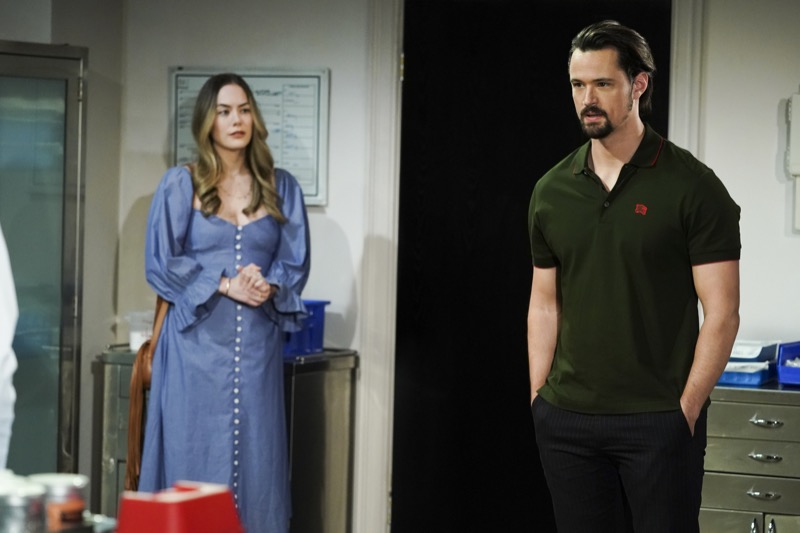 The Bold and the Beautiful spoilers document that Thomas Forrester (Matthew Atkinson) took an honest approach with Hope Spencer (Annika Noelle). That happened when they were alone in the Forrester Creations executive suite, where plenty of personal business is often conducted.
Hope was upset. Tears that formed in her eyes were real. Thomas realizes that Hope fears losing her connection with Douglas Forrester (Django Ferri). She loves her adopted son and considers him to be her own.
Along with the above, Hope has been the perfect mother. She took Douglas into her life. She dealt with Thomas' off-balance, sometimes outright mean behavior and never let that affect her relationship with Douglas.
Bold And The Beautiful Spoilers – Douglas Forrester Is Getting Older
The Douglas character was recently recast, with Henry David Samiri (Douglas) departing the show. He and Atkinson were part of a double recast in 2019.
Thomas' recent scenes with his biological son had them playing catch at the cabin and then enjoying a few-day stayover at the Forrester mansion. Hope had approved an overnight stay, but Thomas took the liberty of extending it, which caused her to confront him.
B&B Spoilers – Hope Spencer's Concerns Are Well-Founded
Thomas developed a relationship with a mannequin that greatly resembled Hope. He was not connected to an inanimate object that looked like anyone else.
Atkinson's character believed the mannequin was an alternate version of the woman he thought he loved but was obsessed with. Based on this plot point alone, Hope would be right to be worried about Thomas' ability to ever handle full-time parental responsibilities.
But hardcore fans know that Thomas also used Zoe Buckingham (Kiara Barnes) to try and make Hope jealous. He went so far as to get engaged to Zoe and stand at the altar with her before Hope and Douglas exposed his cruel plan.
B&B Spoilers – Give Douglas Forrester A Chance
Thomas knows all that he did in the past. His point involves the opportunity to prove himself now.
Asking Hope to come to the mansion, so she can see the boy, who is their legal son, is wise. It also places an emphasis on what Douglas wants, which is an emotional play.
Douglas naturally wants to spend time with his father but does not grasp the many factors in this storyline. So, Hope is being coerced into a likely no-win proposition. She will likely have to give the new living arrangement a chance or pursue legal recourse if her doubts bear soapy fruit.
This site is a leading source for everything linked to The Bold and the Beautiful. Check back regularly for B&B spoilers and news!