The Bold and the Beautiful Spoilers: Sheila Demands A Finn & Hayes Favor From Thomas For Breaking Up Ridge & Brooke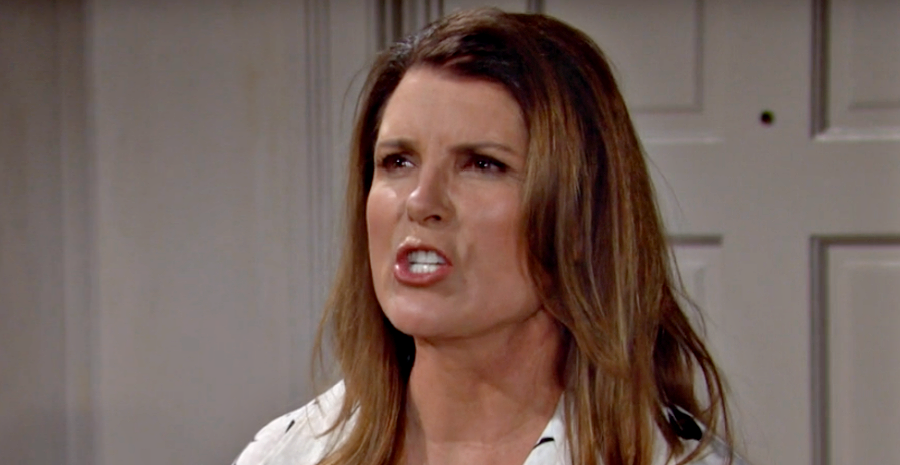 The Bold and the Beautiful spoilers document that Sheila Carter (Kimberlin Brown) is not one to do a favor and expect nothing in return. Her unrequested action has resulted in Taylor Hayes (Krista Allen) and Ridge Forrester (Thorsten Kaye) having an opportunity to rekindle romance.
The above was not in the soapy cards while Ridge was with Brooke Logan Forrester (Katherine Kelly Lang). Sheila has a very negative history with Brooke, as is true of many other people in Los Angeles, California, Genoa City, Wisconsin, and various other spots on the globe.
However, Sheila had no plans to sabotage Brooke's life until just before the end of last year.
Bold And The Beautiful Spoilers – Retrospective Scenes Played Again
Devoted fans and those who may not watch every day have noticed that TPTB have replayed Sheila's wildly successful scheme that created Brooke's New Year's Eve moments with Deacon Sharpe (Sean Kanan) on repeated occasions.
Part of the intent, in seeing so many replays, is to inform the audience about the plot in case anyone missed a moment. Additionally, it is important to reinforce the similarity between Sheila's obsessive thoughts and Brooke's repetitive ones.
Bold And The Beautiful Spoilers – Thomas Forrester On The Receiving End
Sheila did not intend to tell Thomas Forrester (Matthew Atkinson) what she did. But he condescendingly spoke to her when she arrived at the cliff house as an uninvited guest. That poked her fragile emotions, which evoked a fierce response.
It was similar to how Sheila responded after being threatened by Brooke at Il Giardino. With Deacon present, Brooke told Sheila that she would prevent her from being in touch with John Finn Finnegan (Tanner Novlan) and his family. The outrage Sheila felt at Brooke's infinite arrogance led to the New Year's Eve plot.
Thomas' harsh comments, telling Sheila that she was not welcome at the cliff house, made Brown's character mad. But she has no ill will against Thomas and used what she did to inform rather than target him.
Bold And The Beautiful Spoilers – Balance Due For Gift
Sheila was relieved when Thomas came to her hotel suite and, when questioned, said he had not relayed the secret to Ridge. Sheila offered a bit of comic relief when feeling relieved in knowing that one person had a brain, appreciating that he recognized the value of what she did.
But Sheila wants her family reconciliation plan to progress. Thomas has put himself in her grip by going along with Sheila's request.
If Sheila asks Thomas to promote her access to Finn and Hayes Forrester Finnegan (Samantha Worden and Piper Harriet), then he will likely feel compelled to do it. And if he does not, then Sheila's response to him could be Brooke-like.
This site is a leading source for everything linked to The Bold and the Beautiful. Check back regularly for B&B spoilers and news!