The Bold and the Beautiful Spoilers: Hope Perplexed When Deacon's Thrown Out of Brooke's Life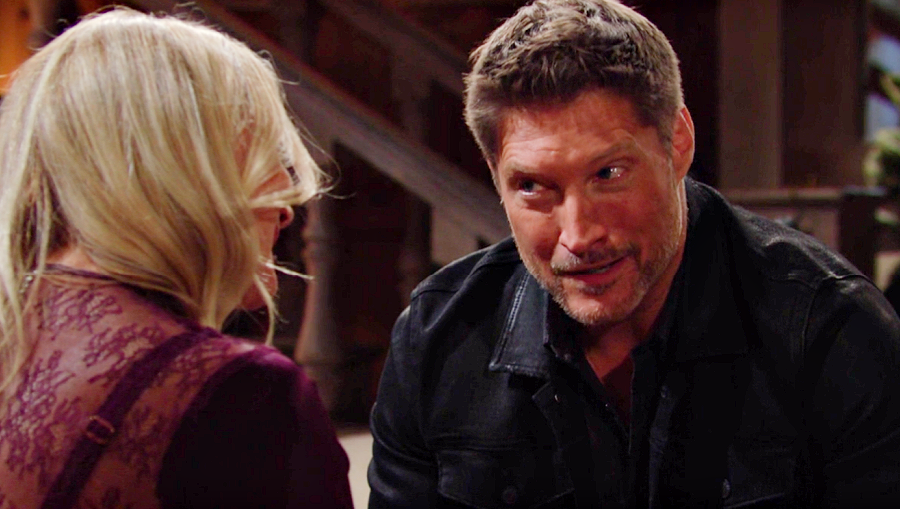 The Bold and the Beautiful spoilers say Deacon Sharpe (Sean Kanan) will know why Brooke Logan Forrester (Katherine Kelly Lang) reacts so strongly. But he will not agree with the severity of her response.
Blocking Deacon from access to her house makes sense, based on the misguided night they shared. Their kissing session was fueled by liquid courage, which wrecked both characters' lives various times in the past.
Hope Spencer (Annika Noelle) is thrown by her mom's sudden, perplexing change of heart. Noelle's character naturally wants to know what went wrong.
Bold And The Beautiful Spoilers – Masking Sheila Carter's Terrible Act
Sheila Carter (Kimberlin Brown) was not going to let Brooke threaten the progress she made with John Finn Finnegan (Tanner Novlan).
Brooke crossed a significant line at Il Giordino when telling Sheila that she would not allow her access to Finn, Steffy Forrester Finnegan (Jacqueline MacInnes Wood), or Hayes Forrester Finnegan (Samantha Worden and Piper Harriet).
It is not Brooke's place to decide if Sheila has a relationship with her biological son and grandson. And Taylor Hayes (Krista Allen) is Steffy's mother, not Brooke.
However, Sheila took a horrible step, pulling from the dark bag of tricks she claimed were shelved.
While Brooke proved Sheila and she had no one to vent to in the empty hotel room, Brown's character was in the wrong when providing her enemy with booze labeled as non-alcoholic.
Bold And The Beautiful Spoilers – Deacon Sharpe In The Wrong Place
Deacon was in the right place on New Year's Eve. Being with Brooke, his daughter, his granddaughter, son-in-law, and Douglas Forrester (Henri Samiri) was a gift.
The years Deacon spent in jail were hard. But he was determined to behave in prison, stay on the straight and narrow, and then seek reconciliation with Hope.
But, somewhat similar to Sheila giving into her flaws, Deacon has spoken with Brooke behind Ridge Forrester's (Thorsten Kaye) back. That put him in the wrong emotional place.
Bold And The Beautiful Spoilers – Hope Spencer Learns The Truth
Brooke felt uncomfortable when hearing Deacon rehash their long-ago romantic connection. But, as fans observed, she did not dismiss what he said.
Hope believes that her parents can get along. Her feelings were furthered by events before New Year's Eve, with Brooke's turnaround appearing to come out of the blue.
Deacon's ouster will feel unjust. But the details about their night of drinking are sure to come out, with Douglas' witness of Brooke's kiss likely playing a role in the reveal.
This site is a leading source for everything linked to The Bold and the Beautiful. Check back regularly for B&B spoilers and news!