The Bold and the Beautiful Spoilers: Taylor Grabs Ridge While Sheila Battles Brooke?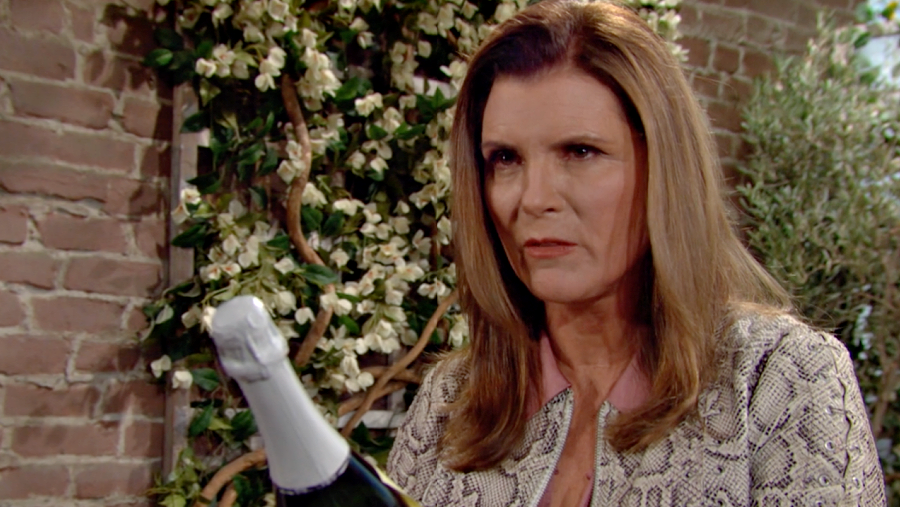 The Bold and the Beautiful spoilers document that Taylor Hayes (Krista Allen) is approaching her return to town with great measure. She's accomplished one anticipated goal and another that is rather surprising.
Taylor is determined not to play Brooke Logan's (Katherine Kelly Lang) games.
Fans noted that the last name Forrester was missing from Brooke's moniker. That was on purpose, as are Taylor's controlled actions and words.
Sheila Carter (Kimberlin Brown) represents a different challenge. Taylor thinks she may represent a lesser threat to her eventual plans of reconstituting Tridge and is the person who can battle with Brooke.
Bold And The Beautiful Spoilers – Ridge Forrester Is Not Married To Sheila Carter
The subject header reflects the clear contrast between what Brooke represents, both in the past and now, and Sheila. Brown's character is not road-blocking Taylor from restoring her desired family.
Forgiving Sheila's actions is possible because of Taylor's professional backstory. As a psychiatrist and someone who has dealt with psychological issues, Taylor gives Sheila some consideration.
Taylor is not naive and will need to see how Sheila behaves over a significant period before determining if she is sincere about pursuing redemption.
Brooke, on the other soapy hand, regrets nothing, is married to Ridge Forrester (Thorsten Kaye) for an incredible eighth time and wants a say in Steffy Forrester Finnegan (Jacqueline MacInnes Wood) and Thomas Forrester's (Matthew Atkinson) lives. They are, of course, Taylor's children with Ridge.
Bold And The Beautiful Spoilers – Brooke Logan Is Incorrigible
Taylor will also be keeping an eye on Brooke as time plays out. Deacon Sharpe's (Sean Kanan) return allows for plenty of juicy drama and moments Taylor will be able to seize on.
Brooke wants everyone to get along and be happy with life in the present. That translates to her having Bridge intact and those connected to that couple doing as she recommends.
Lang's character believes that Taylor will again fly away whenever the going gets tough. But Allen's character is noticeably different than she was in the past, with a purposeful wink toward the recast and Taylor's determination to make steady progress toward her goals.
Bold And The Beautiful Spoilers – Sheila Carter Will Play The Best Angle
An alliance with Taylor will be possible if Sheila does not attack or undermine Steffy. Both ladies do not like Brooke and see her as the shared enemy.
Taylor's intent is to be fully involved with her children and grandchildren. She wants to pursue professional efforts in California. Intending to remarry Ridge is a given.
Sheila wronged Taylor years ago. But if all goes well, this unlikely pairing could combine their parallel redemptive efforts and do more than neutralize Brooke. They can defeat her on B&B.
This site is a leading source for everything linked to The Bold and the Beautiful. Check back on Soap Spoiler for great B&B spoilers and news!