The Bold and the Beautiful Spoilers: Ridge & Sheila Drive Brooke Into Deacon's Waiting Arms?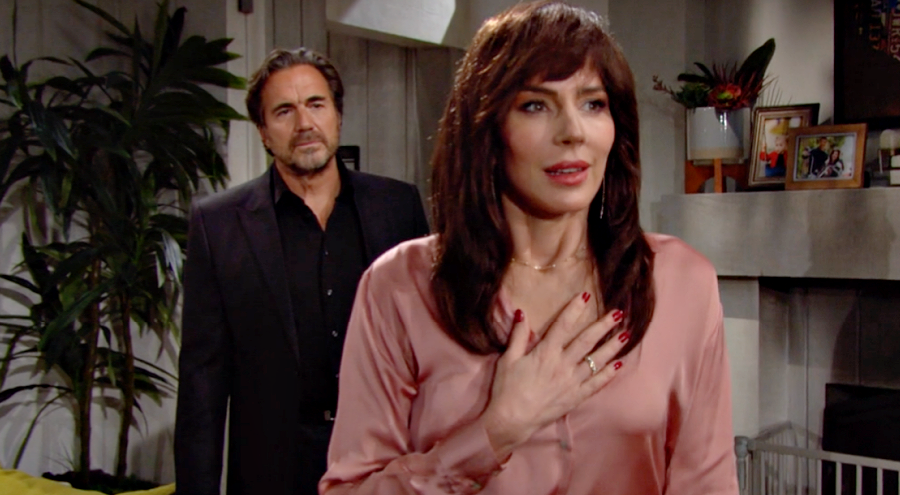 The Bold and the Beautiful spoilers document that Deacon Sharpe (Sean Kanan) is playing safe. He got an honest job after moving out of Sheila Carter's (Kimberlin Brown) hotel room. Deacon has also been avoiding Ridge Forrester (Thorsten Kaye), who is his other poison pill.
Ridge has gone off on Deacon's daughter and intended love interest. Hope Spencer (Annika Noelle) firmly backs her dad. Ridge's wife and Deacon's target, Brooke Logan Forrester (Katherine Kelly Lang), was hesitant to do so at first but is now convinced that Deacon is a changed man.
Bold And The Beautiful Spoilers – Sheila Carter Needs A Friend
Sheila obviously needs a friend. That is what she thought Deacon was. But his rejection of her plan to play a Shecon couple or become that agitated Sheila.
The line was likely already crossed. Deacon accepted Sheila's offer to stay with her at the hotel. She covered his bills for several weeks but did not allow anything romantic to happen.
Brown's character somehow learned the Deacon was living at Il Giordino. She laughed in his face, which reconfirmed that she does not respect him. To date, Deacon is not allowing himself to be used by B&B's greatest-ever viper.
Bold And The Beautiful Spoilers – Ridge Forrester's Reaction Was Mixed
On the one hand, it is understandable that Deacon is outraged. Brooke allows Deacon free reign on the property and contact with her daughter as though the past did not happen?
Fans likely are thinking that Bridget Forrester (Ashley Jones) is primed for reprisal on B&B. Her return would add to Brooke's conflict and give Deacon another challenge to handle.
On the other hand, Ridge can not see that he is making Deacon look like a poor soul. Kanan's character is that but, as viewers know, does intend to maintain his focus on Brooke.
Bold And The Beautiful Spoilers – Deacon Sharpe Has A Chance
Deacon's goal is to let Ridge break Bridge. So far, so good, as there is no visible sign that Brooke and Ridge will soon resolve their differences on this topic. Taylor Hayes' (Krista Allen) return to Los Angeles, California, conveniently positions her in Ridge's proximity as well.
Sheila is the wild card. She is jealous of Deacon's progress with Hope. If some headway is not realized with John Finn Finnegan (Tanner Novlan) shortly, Sheila will likely force Deacon into helping her.
Deacon has Hope's love and support. He has Brooke's support and wants her love, which is not out of the question. But Ridge and Sheila will not exit this equation, either.
This site is a leading source for everything linked to The Bold and the Beautiful. Check back at Soap Spoiler regularly for B&B spoilers and news!