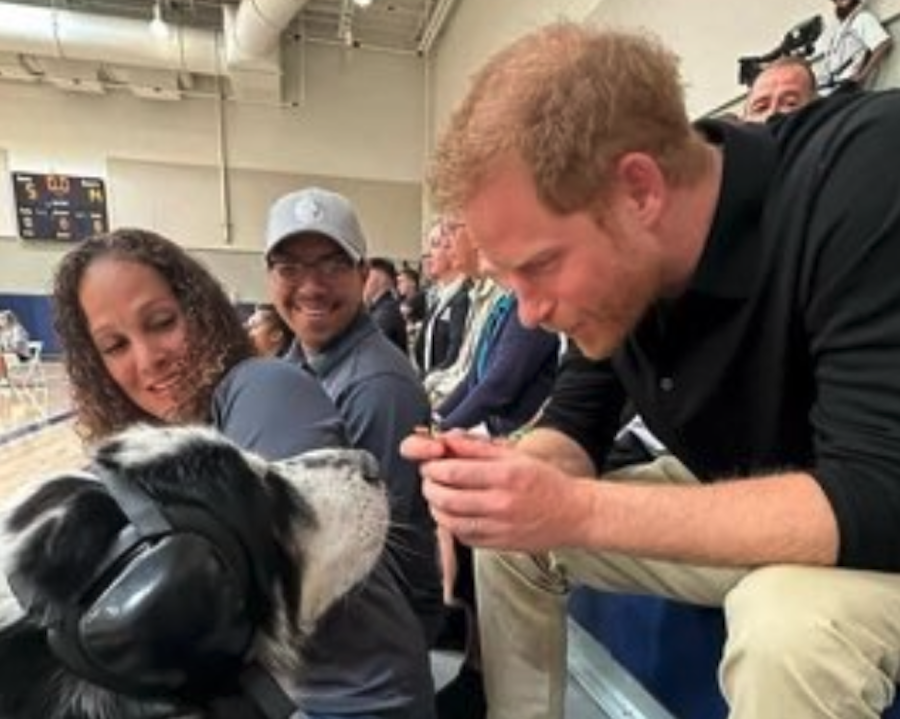 Is this really that much of a big deal? It all depends on who you ask, apparently. A new photo of Prince Harry that was taken at the Warrior Games in San Diego this past week is making the rounds on the internet. And it's not just because the photo is super adorable with Harry playing around with a dog, but also because some people seem to be rather focused on what's on top of his head. Actually, make that what's not on top of his head. Here's what you need to know.
Royal Family Fans Can't Stop Talking About This Photo Of Prince Harry
Royal fans can't stop talking about this photo of the Duke of Sussex because they think that the angle in which he has his head down makes it appear as though his hair loss is starting to show more and more. Many critics have pointed out that in his most recent photos with Meghan Markle, Prince Harry looks like he has thicker, fuller hair. Well, that doesn't really seem to be the case anymore.
Some people have commented on the photo with, "We all need to leave his hair alone Meg luvs it. That is all that matters. Sad when people care more about someone's hair than what's in their heart," along with, "It's actually growing. There was nothing there at one point. The stress almost made  that man completely bald. The fuzz is fuzzing, soon to be hairing. Stand in faith squad."
Another critic wrote, "The front angle is such a catfish but really, who cares? He's a good person and that's the only angle I care about. The man is still fine as you know what."
What's Next For Prince Harry?
Interestingly enough, Harry did point out his brother Prince William's own hair loss in his book. In Spare, Prince Harry talks about William's "alarming hair loss." He said that during Prince Philip's funeral in 2021, "I looked at Willy, really looked at him, perhaps for the first time since we were little," and called his thinning hair "alarming" and "more advanced than mine."
Tell us celebrity gossip fans, how do you feel about this story? Contribute to the buzz by dropping us a line with your thoughts in our comments section below. Also, come back here for all the latest news about your favorite Hollywood and reality television stars right here.