The Young and the Restless Spoilers UPDATE Tuesday, March 14: Victoria Pesters Nate, Sally Can't Quit Adam, Lauren Alarmed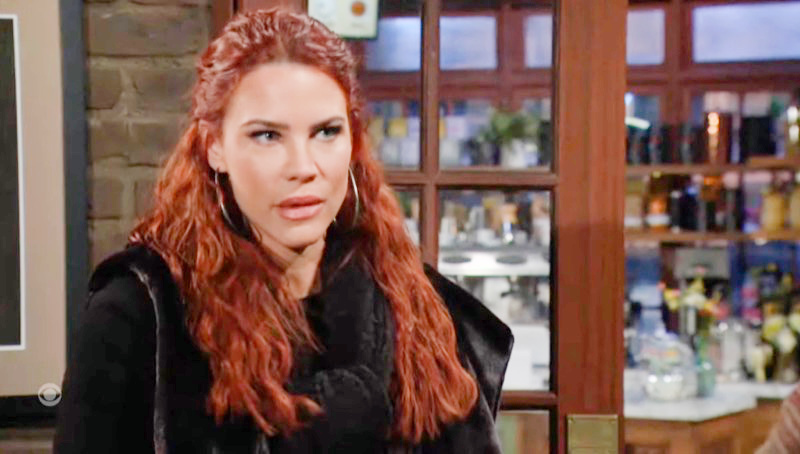 The Young and the Restless spoilers for Tuesday, March 14 show that ghosts from the past, present and future are haunting the snowed-in citizens of Genoa City, Wisconsin. Why does pregnant Sally Spectra (Courtney Hope) find herself haunted by her past?
The Young and the Restless spoilers: Sally's History
Explosive show spoilers tease that the love drama between Adam Newman (Mark Grossman) and Sally Spectra is far from gone and buried. Was it rekindled when angry Summer Newman-Abbott (Allison Lanier) confronted her about being pregnant with Adam's baby while cavorting with Nick Newman (Joshua Morrow)?
Sally made it a point to say that Adam and Sally were like peas and carrots, in her quest to free her dad from Sally's terrible clutches. Summer's diatribe made an impact on Sally whether the redhead wants to admit it or not.
The Young and the Restless spoilers: Adam and Sally Made For Each Other?
Summer told her potential stepmom that Adam was her true love, not Nick. But Adam was not always fair and balanced to Sally; like the time he dumped her for her own good.
No matter how hard Sally protests, Adam is on her mind and possibly in her heart. Summer knows this and goes on a mission to bust Sally and Nick up so as to keep her dad from heartbreak.
The Young and the Restless spoilers: Nick and Sally in Danger?
Meanwhile, mogul Victoria Newman (Amelia Heinle) propositions her new favorite bad boy, Nate Hastings (Sean Dominic). Victoria wants to reel Nate in, but at the same time he is trying to be a good boy—for once.
Nate is determined to keep their relationship professional but he has no idea how ruthless Victoria can be when she wants something.
Last time Victoria stole a kiss from Nate Dawg, will she next score another kiss or could she take her flirt all the way to the bedroom?
The Young and the Restless spoilers: Lauren Suspicious
Elsewhere Lauren Baldwin (Tracey E. Bregman) wants to make certain that drunk Phyllis Summers (Michelle Stafford) has slept it off, taken a cold shower, or otherwise cleaned up her act. It could be that Red lies and tells Lauren that all is good and she has quit her vendetta against Diane Jenkins (Susan Walters).
But Lauren wasn't born yesterday and she calls Phyllis out. In fact, spoilers tease that Lauren is left alarmed by something Phyllis says or does. Behind the scenes expect Phyllis to keep up her alliance with evil Jeremy Stark (James Hyde). Are you shipping this terrible twosome—tell us what you think of Pheremy Y&R fans!
Be sure to catch up on everything happening with Y&R right now. Come back here often for The Young and the Restless spoilers, news, and updates.