General Hospital Spoilers UPDATE Wednesday, February 8: Guilt, Advice, Relief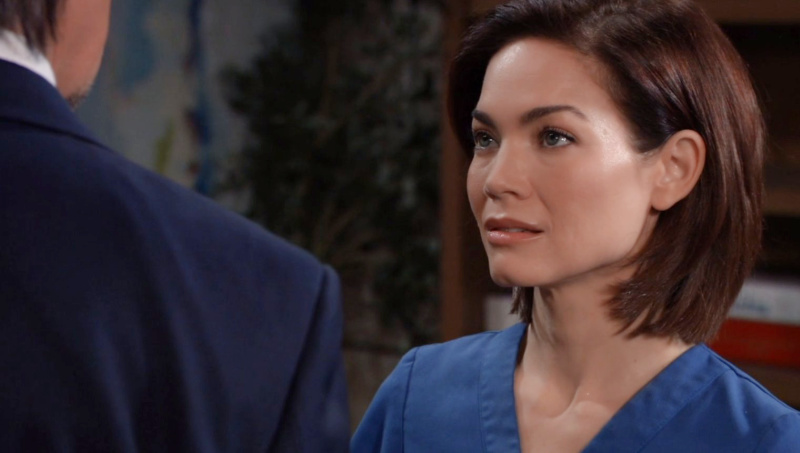 General Hospital spoilers and updates for Wednesday, February 8 tease guilt for some, advice to others and relief for still others. Elizabeth Baldwin (Rebecca Herbst) feels guilty, Hamilton Finn (Michael Easton) asks advice, and Carly Spencer (Laura Wright) feels relief.
Ava Jerome's (Maura West) expression screams fear and panic as she asks someone how they got in there! She and Austin Gatlin-Holt (Roger Howarth) just got done talking about Nikolas Cassadine, (Adam Huss) whose body she dragged into the stable and Austin saw propping up in a closet. Austin had come to Wyndemere out of wanting to protect her from Mason Gatlin, (Nathanyael Grey) his creepy cousin who he knew was headed there.
This is probably Mason, who's gotten into the stable, and the last thing she needs is another witness to Nikolas' murder. He'll probably be the next one to get killed in self-defense, and they'll have two bodies to bury.
GH Spoilers: Guilty Admissions
Elizabeth obviously feels guilty as she admits to Laura Collins (Genie Francis) that she's not as perfect as she thinks she is. She should come clean to Laura as she did to Finn, letting her know that she and Nikolas didn't really sleep together and she didn't have a miscarriage. Laura would be sympathetic considering she was roped into giving Esmé Prince (Avery Kristen Pohl) medical care. But Laura would be upset knowing Nikolas treated Esmé like Stavros Cassadine (Robert Kelker-Kelly) had treated her, so she probably won't.
General Hospital Spoilers: Asking Alexis Davis' Expertise
Finn goes to Alexis Davis (Nancy Lee Grahn) seeking her expertise, and asks her for some hypothetical legal advice, likely referring to Elizabeth's situation. He didn't want Elizabeth turning herself into the police so he would want to see if legally, there would be some kind of an out for her. Elizabeth wasn't exactly forced to help Nikolas with Esmé, but it could be spun that way in court should the opportunity arise.
Elizabeth will update Finn with her decision soon but in the meantime, he hopes it won't come to that. Alexis might ask him more "hypothetical" details to give him the best answer.
Gregory Chase (Gregory Harrison) also has something to talk about with Alexis, and father and son might run into each other at The Invader. Alexis asks Greg if it's possible he might just be over something, maybe some interest he's had in a story. She'll offer him a job at the paper to consider and he'll get back to her. She'll be surprised he doesn't seem more interested.
General Hospital Spoilers: Suspicious Questions
Elsewhere, Nina Reeves (Cynthia Watros) is having a talk with her aunt, Liesl Obrecht (Kathleen Gati). A few days back, Nina had come around a corner at GH and saw Carly and Drew Cain (Cameron Mathison) in a clinch. She remarked about how cozy they looked, and even though she was wrong about her suspicions regarding Willow Tait (Katelyn MacMullen) and TJ Ashford (Tajh Bellow) she's sure she's right now.
She tells Liesl that there is something that Carly is trying to hide, and Liesl looks suspicious too. Liesl will do some snooping for herself and see if she can figure out what's going on.
GH Spoilers: Willow Tait Seems Afraid
In Willow's room at General Hospital, she's finally come to after her harrowing near death experience and she still seems afraid. She's nearly in tears as she pleads with Michael Corinthos, (Chad Duell) saying that they need to see her now. She's likely talking about Baby Girl Tait-Corinthos (Owen and Nathan Ford), whom Michael has seen and held but she hasn't. Willow lost a lot of blood and with stage four leukemia, that wasn't good.
Carly talks to Sonny Corinthos (Maurice Benard) about Willow's upcoming stem cell transplant, using cord and placenta blood from the baby. She is convinced that this time the nightmare will finally be over, referring to Willow's life or death situation with her leukemia. Sonny should agree, remembering back to when Kristina Corinthos-Davis' (Lexi Ainsworth) life was saved via the same method, although unfortunately her donor didn't make it.
The Corinthos, Spencer and Reeves families will all be relieved once Willow's out of the woods. Hopefully there will be no more setbacks. Be sure to catch up on everything happening with GH right now. Come back here often for General Hospital spoilers, news, and updates.