Three Not To Be Missed The Young and The Restless Moments Week Of January 23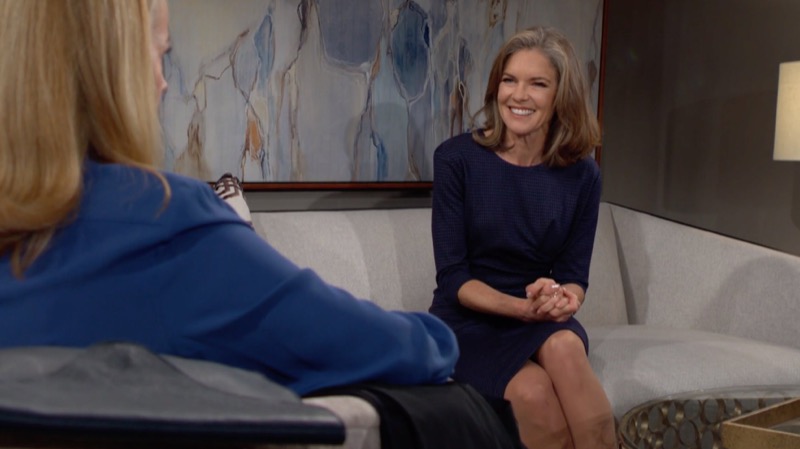 The Young And The Restless spoilers indicate there are three must-see moments during the week of January 23-27. Nikki Newman (Melody Thomas Scott) has figured out Diane Jenkins (Susan Walter). Lily Winters (Christel Khalil) and Devon Hamilton (Bryton James) will struggle to find common ground. Billy Abbott
 Nikki Newman Is Onto Diane Jenkins
The Young and The Restless spoilers indicate that Jack Abbott (Peter Bergman) and Diane may have celebrated too soon. Jack and Diane believe they have gotten rid of Jeremy Stark (James Hyde). Unfortunately, Nikki and Chance Chancellor (Connor Floyd) have doubts about this whole plan. Are they about to bust Jack and Diane?
Nikki has been trying to get Diane out of Genoa City and Jack's life since she came back to town. Nikki knows that Diane is nothing but trouble. Now that Nikki and Chance have talked, will Nikki blackmail Diane into leaving town? Diane certainly puts on the breaks with Jack for some reason. Could Nikki's threat be it?
Y&R spoilers: Lily Winters And Devon Hamilton Struggle
Devon and Lily may be siblings, but they are certainly struggling to find common ground now that Jill refuses to break up the company. Devon wanted his company back instead of going along with this IPO because he smelled a rat. Devon later discovered what Tucker McCall (Trevor St. John) was up to with Audra Charles (Zuleyka Silver).
Lily and Jill have offered to buy out Devon so he could start a new company, but he is not happy about this. However, Abby Newman (Melissa Ordway) may open his eyes to the possibilities that this option would bring. Will Devon even ask Abby to join forces with him in this new adventure? Could the new Hamilton Winters be a family affair?
The Young And The Restless Spoilers: Billy Abbott Makes A Confession
Billy and Chelsea have been growing closer for some time. Lily broke things off with Billy because she feels they have grown apart. However, Billy has been pulled to Chelsea quite a bit lately. Billy may not have realized that his feelings had changed, but Lily did. Will Billy confess his growing feelings to Chelsea?
Billy and Chelsea have been acting a lot like a family, and Chelsea's son is getting used to having Billy around. Does Billy want to rekindle their romance and see where he and Chelsea can go from here? Does Billy wish to make a family with Chelsea, including both children?
Be sure to catch up on everything happening with Y&R right now. Come back here often for The Young  And The Restless spoilers, news, and updates.