Days of Our Lives Spoilers UPDATE Week of January 23: Sarah Races To Save Marlena, E.J. Fires Li, Nicole Is Drugged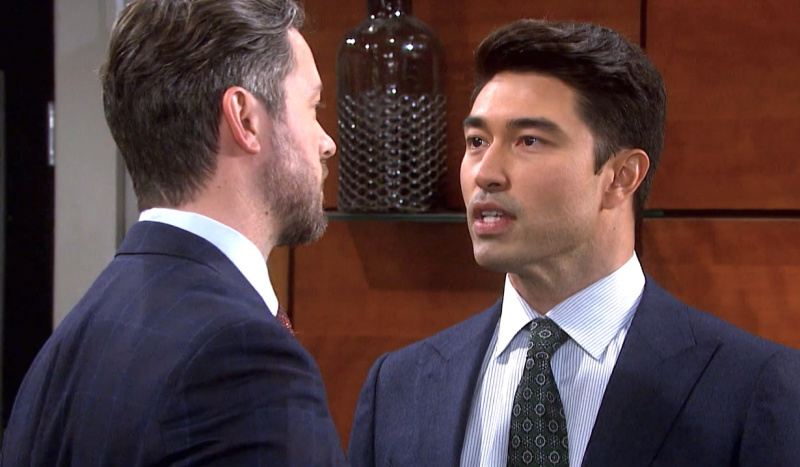 Days of Our Lives spoilers for the week of January 23-27 indicate that Sarah Horton (Linsey Godfrey) races to save Marlena Evans (Deidre Hall). E.J. Dimera (Dan Feuerriegel) stuns Li Shin (Remington Hoffman) when he fires him. Nicole Walker (Arianne Zucker) will accidentally get a drug that Stefan Dimera (Brandon Barash) left for E.J.
Sarah Horton Races To Save Marlena Evans
Days Of Our Lives spoilers reveal that John Black (Drake Hogestyn) will stand by helplessly as Sarah tries to save Marlena. Elsewhere, Marlena's loved ones will pray for a miracle. Allie Horton (Lindsay Arnold) is wrapped up in the fact that Chanel Dupree (Raven Bowens) and Johnny Dimera (Carson Boatman) almost kissed.
Wendy Shin (Victoria Grace), Johnny's maybe girlfriend, comforts her friend, Tripp Johnson (Lucas Adams). Tripp is grieving over the death of Kayla Johnson (Mary Beth Evans) and that his mom, Ava Vitali (ex-Tamara Braun), is locked up in Bayview. Tripp loves both of his mothers and doesn't know what to do without their support.
DOOL Spoilers: E.J. Dimera Fires Li Shin
Marlena will wind up in Heaven, so things don't look good. Will Marlena be welcomed with open arms or encouraged to return to her loved ones? Eric Brady (Greg Vaughan) needs a shoulder to cry on, and Sloan Petersen (Jessica Serfaty) has two good ones. Are these two getting serious? Allie asks for Alex Kiriakis' (Robert Scott Wilson) advice. Nothing could go wrong there.
Paulina Price (Jackee Harry) needs Stephanie Johnson's (Abigail Klein) help with Sloan's new lawsuit. Li loses his job as Wendy begs Gabi Hernandez's (Camila Banus) forgiveness. Allie will demand more answers from Chanel about Johnny. Stefan Dimera (Brandon Barash) puts his revenge plan in motion. Later, Gabi knocks Stefan out and hides his body.
Days of Our Lives Spoilers: Nicole Walker Is Drugged
Nicole and Sloan will get into another tiff before Sloan leaves an awful impression on Roman Brady (Josh Taylor). Gabi plays Li like a fine-tuned fiddle. Never let it be said that Gabi doesn't know how to get what she wants. Nicole will do a 180 and be ready to get E.J. into bed. However, E.J. doesn't realize that Nicole has been drugged.
Allie will be heartbroken when she finds Johnny and Chanel in each other's arms after they discuss their lingering feelings. Do Johnny and Chanel want a second chance at love? Johnny and Chanel's romance was cut short by the devil. Will Johnny and Chanel realize they can't deny their feelings?
Be sure to catch up on everything happening with DOOL right now. Come back here often for Days Of Our Lives spoilers, news, and updates.