Days of Our Lives News: Johnny And Chanel's Wedding News Leads To Major Fallout In Salem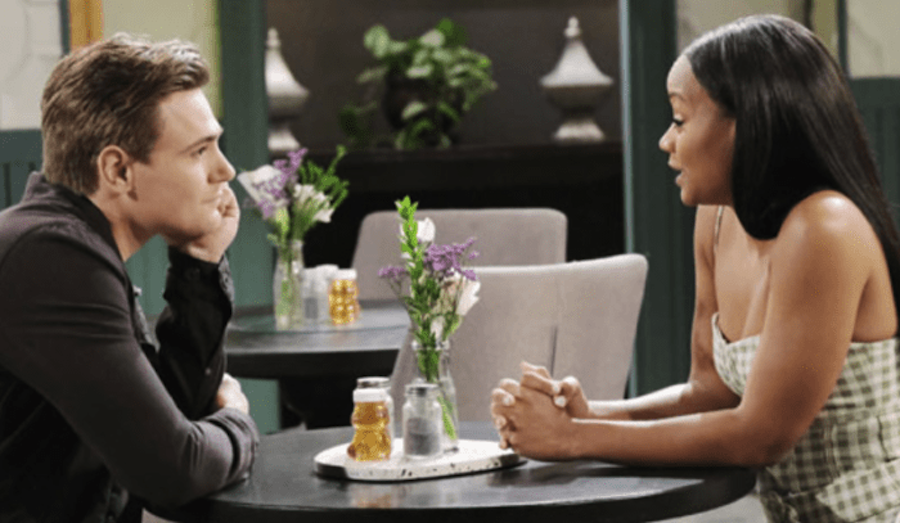 Days of Our Lives spoilers say that Johnny DiMera (Carson Boatman) and Chanel Dupree (Raven Bowens) might both be happily in love, but it seems like there aren't many people in Salem that are sharing that same feeling of love with them. In fact, the newlyweds will be rather disappointed to find out that they have very few supporters after telling their family members that they got hitched while in Italy. Keep reading below for all of the spoilers you need to know.
Days of Our Lives News: Johnny And Chanel's Wedding News Leads To Major Fallout In Salem
DOOL spoilers tease that Johnny especially is shocked to see that his parents don't approve of his marriage to Chanel. Or at least, they don't think he should have hastily gotten married to her in Italy the way that he did. 
Speaking to Soap Hub in a new interview, actor Carson Boatman, who plays Johnny on the hit NBC soap, puts it this way, "Nobody's parents are overly thrilled with the decision of these two kids to go off and elope in Italy. It turns into a big blowout. It's the first time you really see Johnny acknowledge the missteps by EJ [DiMera, Dan Feuerriegel]and Sami [Brady, Alison Sweeney] as parents because they both kind of come at him. And he's like, 'Well, who are you guys to talk? Look at your terrible relationship. You were never there when I was a kid. You set horrible examples for me. No wonder I make rash decisions.' Sami doesn't handle that well, and neither does EJ but they both handle it in different ways."
With that said though, it seems like both Johnny and Chanel are not going to let anyone get in the way of their love or their marriage for that matter. Carson further explained, "They've had a couple of months to be together and to get to know each other. After all the drama [when Chanel revealed Paulina Price was Lani Grant's mother], Johnny was like, 'Let's just get out of here. Let's hop on the DiMera jet and go to Italy, and I'll show you where I grew up.' They're overcome by passion and the magic of Italy. While they're there, Johnny proposes, and Chanel [Raven Bowens] says yes. They got married in a small Italian church and came back as husband and wife."
Days of Our Lives News: What's Next For Johnny And Chanel?
Of course, fans will have to tune in to find out what will happen next. In the meantime, let us know what you think by leaving us a line with your thoughts in our comments section below. Days of Our Lives airs weekdays on the NBC network. Check your local listings for times.
Be sure to catch up with everything on DOOL right now. Come back here often for Days of Our Lives spoilers, news and updates.