General Hospital Spoilers: Brick Tells Sonny That Dex is Lying — and Carly is Involved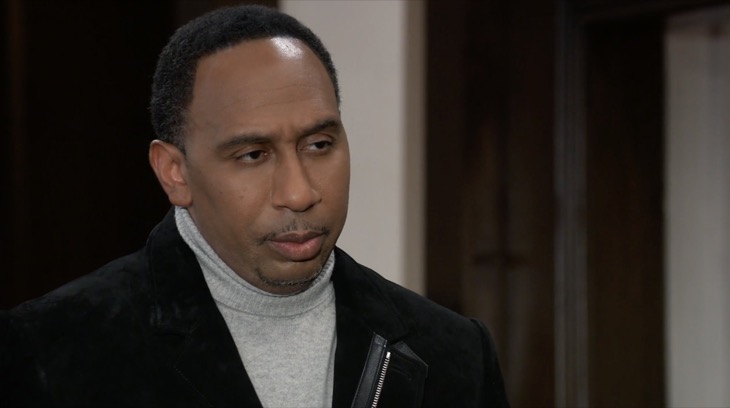 General Hospital spoilers reveals When Brick (Stephen A. Smith) got a call from Carly Spencer (Laura Wright) asking for his help, he was happy to oblige. He even kept their meeting to himself and when Sonny Corinthos (Maurice Benard) found out it happened, he didn't divulge that Carly had asked for antibiotics. Brick is a man who operates by his own moral code though, and when he realizes the person Carly gave the antibiotics to was Dex Heller (Evan Hofer), he's going to feel his loyalty to Sonny obligates him to share what he knows. As expected, Sonny will be furious to hear his ex-wife is somehow in cahoots with his newest henchman.
General Hospital Spoilers — Brick Catches On
Dex might be back in Sonny's service, but that doesn't mean he's back in his good graces. Sonny will still want to know where exactly he was laying low. When Dex shows Sonny his gunshot wound in hopes of proving to him just how injured he was, Sonny will tell him it was a novice move not to come straight to him in case he had an infection. That's when Dex will share that he was able to secure antibiotics from someone else. Brick is going to grow concerned at this point that the antibiotics he gave Carly may have been for Dex, but he knows it's a big leap to make. However, when he happens to catch a glimpse of the bottle, he will know that's exactly what happened, and he won't feel he has any choice but to tell Sonny.
GH Spoilers Tease Brick Reports to Sonny
Previously, when Sonny confronted Brick because he thought something was going on with him and Carly, Brick assured him there was nothing romantic happening on that front. Now, Sonny is going to get his wish. When Brick tells him she merely wanted some antibiotics, he's going to shrug it off and wonder why the secrecy. Brock will assure Sonny he only kept it to himself as a matter of being cordial to Carly, but he's telling him now so Sonny won't get the wrong idea and think Brick knew who Carly was getting the antibiotics for — Dex! Sonny will be livid and more curious than ever to get to the bottom of why Carly is tangled up with his young associate.
General Hospital Spoilers — Sonny Jumps to Conclusions
When Sonny thinks of a man getting involved with Carly, it makes his blood boil, and he can never rationalize to himself that most any man and woman could be involved without being romantic. After all, he ever really pulled that off. So he's going to assume Carly and Dex are seeing one another romantically. This storyline is just heating up. Don't miss the next General Hospital spoiler. Keep checking back as we issue updates all day, every day.