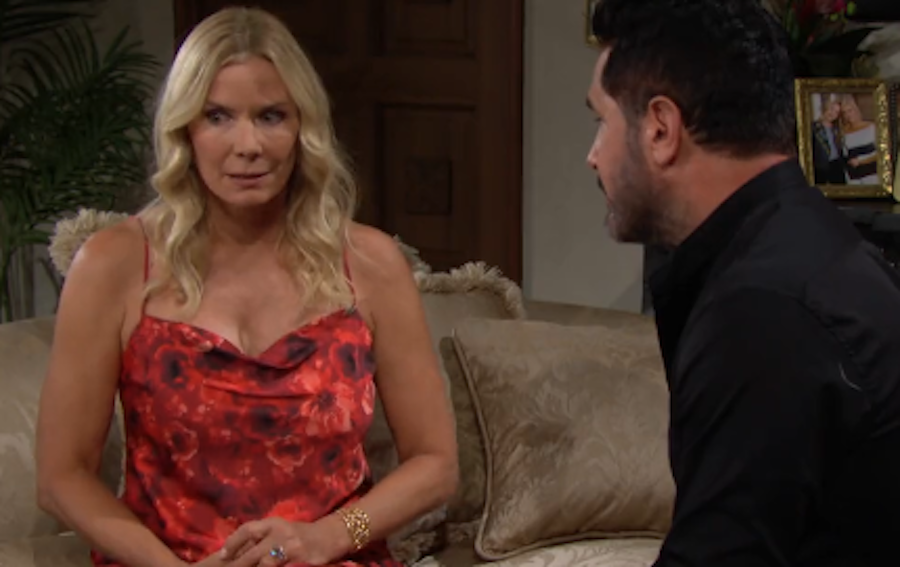 The Bold and the Beautiful spoilers say that if there's anything that we've learned about life in this fictional town of Los Angeles, it seems like people sure love to "waffle" from one person to another, if you know what we mean. Up until this point, it seemed like Liam Spencer was the King of Waffling but it appears as though Brooke Logan might have him beat. That's because she sure has been spending a lot of time with one of her exes, Bill Spencer. Here's what you need to know.
The Bold and the Beautiful POLL: Is Brooke Logan A Waffler?
According to the latest edition of Soap Opera Digest, Brooke spent a lot of time reminiscing about her past with Bill. Even though she should be fighting for her marriage to Ridge, it seems like she prefers the company of her exes, which includes both Bill and Deacon Sharpe.
Of course, many The Bold and the Beautiful fans have weighed in on this potential storyline with some interesting comments. Some had said, "This exactly why Katie wants nothing to do with him everybody goes into default mode or desperate mode wanting Brooke again this storyline is tired. How about a new storyline! At GH they have The Hooker (who is it?). While on Bold more waffle with added Waffler," along with, "You're trying to sell Brill as great love story. Btw several betrayals, driving Katie crazy, a baby who would have been Will's half-brother and cousin, Katie locked in a tower, Katie & booze, ugly & awful moments & not just 1 on Katie & Bill's wedding but twice."
The Bold and the Beautiful POLL: What's Next For Brooke?
Another fan said, "Watching Brooke and Bill today was nice and sweet. It was enjoyable to see Brooke be relaxed and enjoy talking to a friend. Bill treated Brooke so much better.  I miss that. Ridge can be with Taylor.  They can see who is the biggest hypocrite on any given day."
And then there was this comment, "Calm down Brill haters. This was only done to push the Tridge agenda. After Tay kept saying, "she, Brooke, will only cheat on you again", walking in on an innocent hug, had to happen."
Needless to say, The Bold and the Beautiful fans will have to tune in to find out what will happen next! In the meantime, let us know what you think by leaving us a line with your thoughts in our comments section below. The Bold and the Beautiful airs weekdays on the CBS network. Check your local listings for times.
Be sure to catch up with everything on B&B right now. Come back here often for The Bold and the Beautiful spoilers, news and updates.