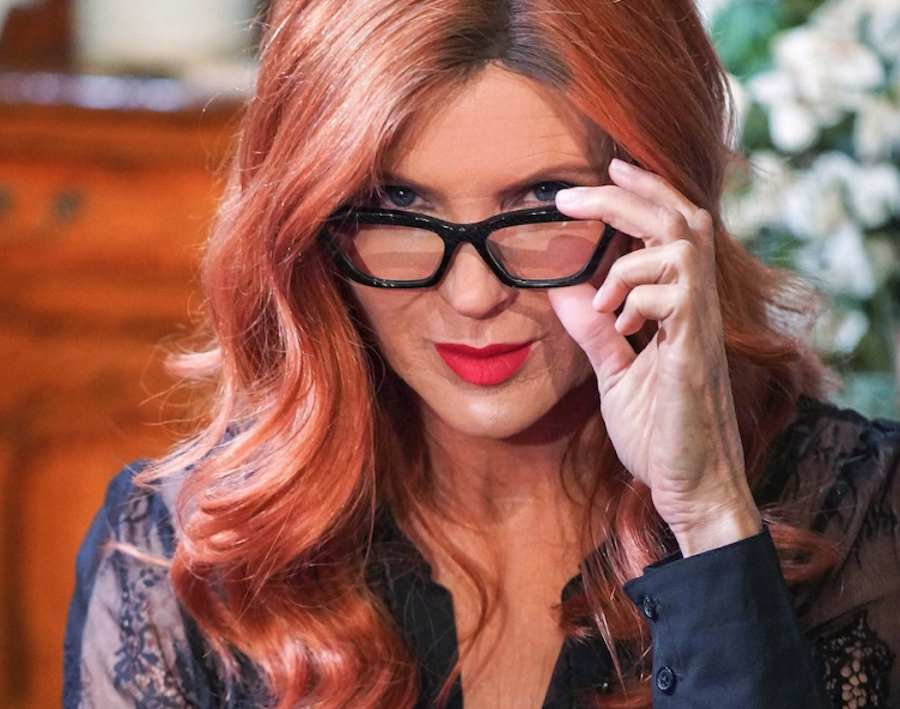 The Bold and the Beautiful spoilers say that Sheila Carter (Kimberlin Brown) will finally get a hold of her grandson Hayes, but it's not exactly what you think. Because she is so desperate to see her son Finn and her grandson, she gets more brazen in her attempts to get close to them. Keep reading below for all of the spoilers you need to know.
The Bold and the Beautiful Spoilers: Sheila Gets A Hold Of Hayes
According to the latest edition of Soap Opera Digest, when Deacon catches wind of what Sheila is up to, he races to the Cliff House to prevent her from getting caught. Kimberlin Brown, who plays Sheila on the hit CBS soap, tells the publication, "That was why she came back to town – to get to know Finn and Hayes. BUt she can't resist going back to the house and taking a peek through the window. Deacon arrives to stop her and tells her not to go back. If Sheila had stayed even a moment longer, she could have been caught by Steffy. It's amazing how Sheila can get so lost in a moment of love that she blocks out major circumstances around her, but where her son and grandson are concerned, she is so blind. She is placing herself at great risk."
The Bold and the Beautiful spoilers say that when Finn takes a phone call in another room, that's when Sheila makes her move to go see Hayes. Kimberlin previews, "Sheila just couldn't stay away. She goes back and sees her son holding her grandbaby and is overcome with emotion. Then, Finn leaves the room and she can't help but herself. To her, the chance to hold Hayes is definitely worth the rish. She has a lot on the line, and Finn is right there. You can hear him on the phone talking in the other room but Sheila throws caution to the wind."
The Bold and the Beautiful Spoilers: What's Next For Sheila?
Kimberlin continues, "Holding that baby means the world to her, and any second it could turn poorly. Any second Finn could see her, and it would cost Sheila her freedom, but she's willing to put it all on the line."
Needless to say, The Bold and the Beautiful fans will have to tune in to find out what will happen next! In the meantime, let us know what you think by leaving us a line with your thoughts in our comments section below. The Bold and the Beautiful airs weekdays on the CBS network. Check your local listings for times.
Be sure to catch up with everything on B&B right now. Come back here often for The Bold and the Beautiful spoilers, news and updates.