British Royal Family POLL: Meghan Markle's White Suite: Love it Or Leave It?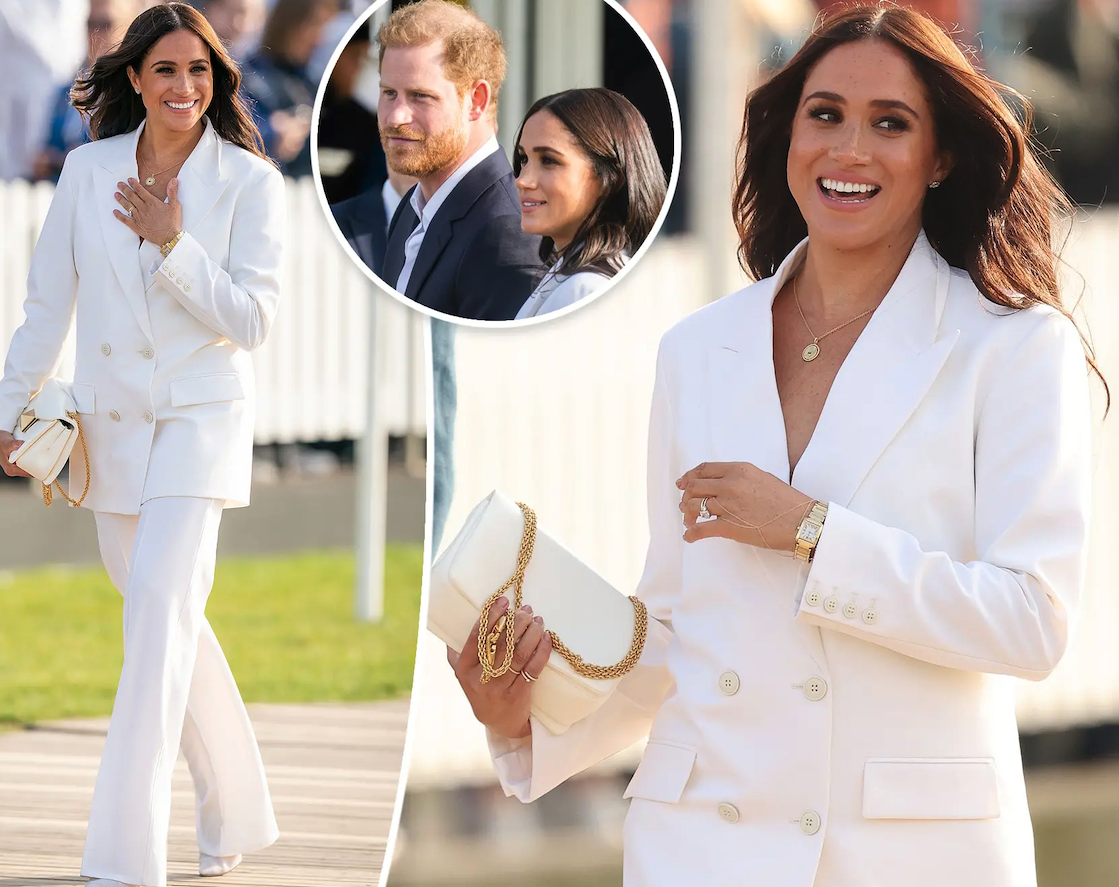 Love it or hate it, there's no denying that everyone is talking about it. Of course, we are talking about Prince Harry and Meghan Markle taking The Netherlands for the 2022 Invictus Games by storm. Everyone is talking about the Duchess of Sussex's wardrobe, including a crisp white Valentino suit that she wore on her first day back in Europe. And while there are plenty of people out there who love it, there are some people who hate it, and for this reason, too. Kee reading below for everything you need to know.
British Royal Family POLL: Meghan Markle's White Suite: Love it Or Leave It?
Harry and Meghan have been having the time of their lives, riding shotgun during a kiddie cars race and bonding with athletes before the Jaguar Land Rover Driving Challenge. The challenge, which was designed to test precision, skill and teamwork, even saw Prince Harry getting in on the action.
And while the spotlight has been on the athletes of the Invictus Games, everyone can't stop talking about Meghan's wardrobe. Needless to say, many royal fans and fashionistas have taken to social media to weigh in on Meghan's outfit. While a lot of people believe that it was sheet perfection, others think that it was tailored wrong. But then again, beauty is in the eye of the beholder, right?
Some comments included, "I love how she dresses so youthful and fresh. Not like the other lady who dresses like shes 75 and shes not even 40 yet. The press over there is mad cause they didn't know she was coming and couldn't spin it and make up lies.. love it," along with, "Not me immediately going to the Valentino website looking at things that I can neither fit nor afford."
British Royal Family POLL: Is Meghan's Tailoring On Point?
And then there was this comment: "The way the hem of her pants hovers above the ground LONGING to kiss the earth, but never does. Exquisite tailoring. Perfection. Meghan Markle you will ALWAYS be famous!" and this as well, "​​Thank you for saying this. Many are saying it is ill fitting. But that is the difference between modern and out of style. It is definitely on point."
In the meantime, let us know what you think with your thoughts in our comments section again. Be sure to catch up with everything on the British Royal Family right now. Come back here often for the British Royal Family news and updates.