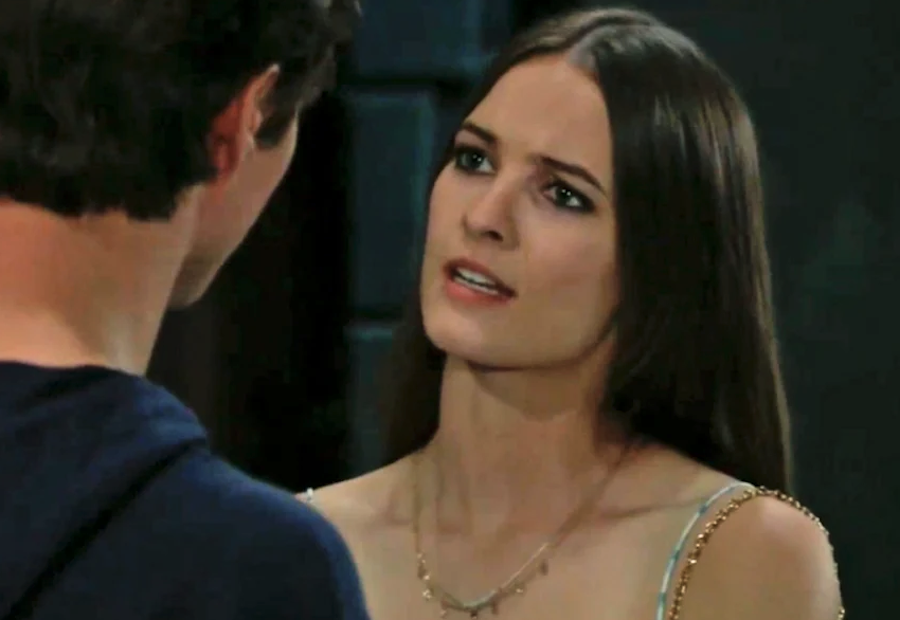 General Hospital spoilers say that Esme (Avery Pohl) has sure got Spencer Cassadine (Nicholas Chavez) exactly where she wants him, and that's wrapped around her little finger. That's because there's a very good possibility that she might be pregnant with his child. And if she is, that means she will most likely use this pregnancy to her advantage and secure a return stay at Wyndermere with him. Here's what you need to know.
General Hospital Spoilers: Is Esme Pregnant With Spencer's Baby?
According to the latest edition of Soap Opera Digest, Esme has both Spencer and Nikolas under the same roof, which couldn't work out any better for her. Avery Pohl, who plays the villainous Esme on the hit ABC soap, puts it this way, "That's a huge win in Esme's book, to be back at Wyndermere, because she has more time to maybe cozy up to Nikolas, more time to try to work her magic on Spencer, and she's no longer living in a room above Kelly's which, for Esme's tastes and standards, I think is definitely a huge bonus!"
General Hospital spoilers say that if there's one person that is unamused by this whole situation, it's Ava Jerome (Maura West). She certainly doesn't like seeing Esme inside her house with her heels kicked up reading books about pregnancies! That said though, Esme still feels terrified for the future and very much alone, seeing how she's an 18 year old kid herself who is about to bring a new life into this world. But then again, if she really is pregnant remains to be seen.
General Hospital Spoilers: What's Next For Esme?
Avery added, "A lot hangs in the balance with what this test says. It's either losing any sort of pull with the Cassadines by not being pregnant, or if she is pregnant, it means a freakin' baby! It means having to be a part of Spencer's life forever, not to mention taking care of a baby, when she can barely take care of herself in a lot of ways."
That said, fans will have to tune in to General Hospital each and every day to find out what's in store for Esme's future. Until then, let us know what you think by leaving us a line with your thoughts in our comments section below. General Hospital airs weekdays on the ABC network. Check your local listings for times.
Be sure to catch up with everything on GH right now. Come back here often for General Hospital spoilers, news and updates.