General Hospital Spoilers: Avery Kristen Pohl Knows The Identity of Esme's Biological Dad?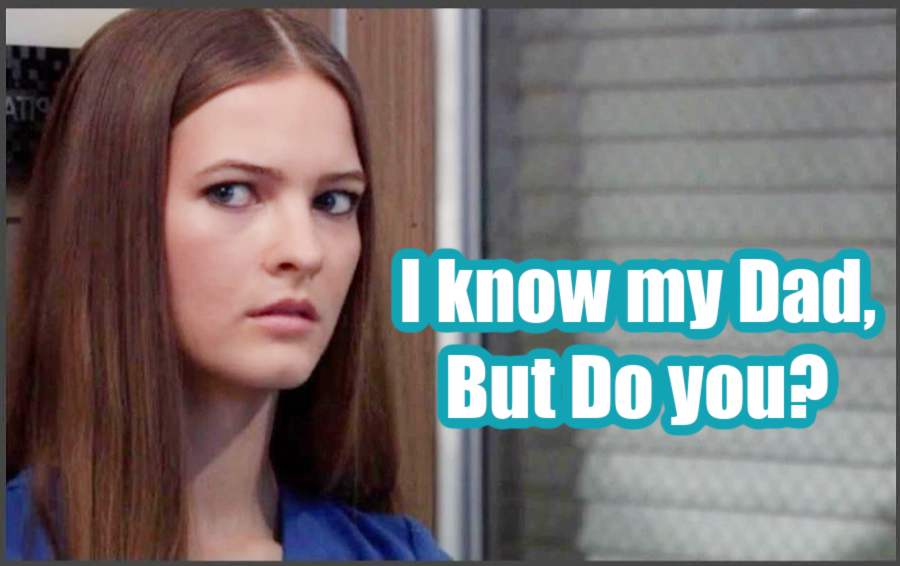 General Hospital (GH) spoilers tease that Avery Kristen Pohl stars as evil vixen Esme Prince–if that is even her real name! Ok, that is probably the character's actual name, but the fans know next to nothing about her and in place of the facts they have been speculating like crazy. Who are the girl's biological parents is a question burning up the rumor mill. The actress recently spoke to The Chat podcast about her character and we have the fascinating deets for you here.
General Hospital spoilers: Avery Pohl Plays Esme Prince
Does Pohl know the answer to the question, who's her daddy? "That's a tough question," she said. "I think that our writers and directors have sort of hinted at who they want Esme's parents to be."
The fans definitely think that Ryan Chamberlain (Jon Lindstrom) is in the running to be her biological dad. That's because Esme has a weird fascination with the psycho killer. To date Esme has taken time out of her busy schedule to interact with Ryan, as limited as his interactions are.
He is in a locked facility, and has locked in syndrome, wherein he cannot communicate. Except that he blinks to say yes or no. Why in the world would a teen girl want to spend time with him?
General Hospital spoilers: Avery Pohl Talks About Esme Prince
Ryan is at Spring Ridge and Esme has gone out of her way to get a position there. "I think Esme knows who her biological dad is," Pohl teased, "but I don't want to actually put any names out there in case I'm incorrect."
That is fair, after all soaps love to string out storylines and this is a juicy one. But the hosts kept asking about Esme's parentage! She was asked to speculate if Esme is the daughter of Ryan or his good twin Kevin. Showing that she knows how to play the game, Pohl refused to be pulled into the rumor mill, "I won't confirm or deny," she replied.
GH spoilers: Who Is Esme's Dad?
Pohl wasn't about to give up the identity of Esme's dad so the topic turned to Esme's mother. "I'm interested," said Pohl, "to see if Esme even knows who her biological mom is."
Some fans have speculated that Heather Webber (Robin Mattson) could be her mom. Heather is Ryan's equal in the unhinged department, so this is definitely a good guess. Could it be that Esme is the spawn of both crazies? Oy vey is all we can say!
Be sure to catch up on everything happening with GH right now. Come back here often for General Hospital spoilers, news, and updates.