General Hospital News: Here's What Ingo Rademacher Has Been Up To Since Filing His Lawsuit Against ABC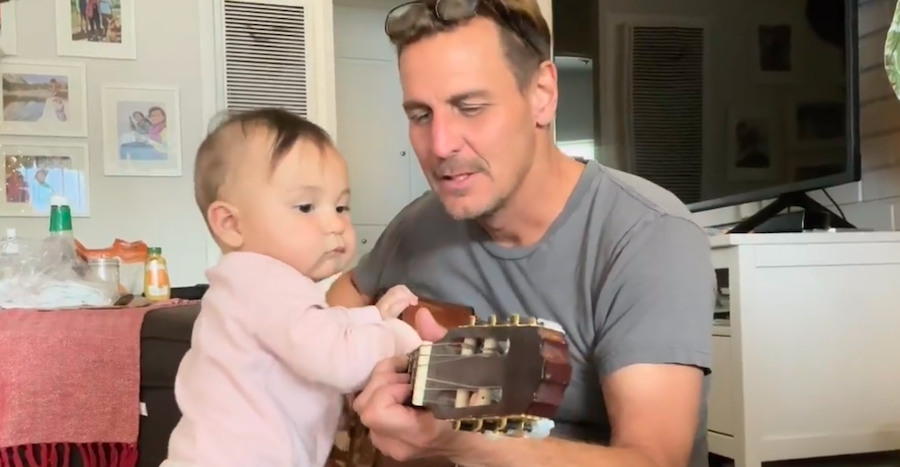 General Hospital news says that when it comes to Ingo Rademacher, fans need not to worry about him. Even though the actor didn't end the year on the highest note, as he was forced out of his job at General Hospital and has since filed a lawsuit against his former employers, it looks like he's spending all of his free time with his family. And that's not such a bad thing at all especially when he gets to sing songs to his family, including his adorable baby daughter Iwa. Here's what you need to know.
General Hospital News: Here's What Ingo Rademacher Has Been Up To Since Filing His Lawsuit Against ABC
Sharing a clip of him getting on the floor with a guitar and singing to Iwa, he captioned the post with, "You bring us closer together" a little song I made up the other night when I was playing guitar to the family before bed about Iwa. She really does bring us closer together. I have to finish this one. I usually just start singing and make it up as i go along. Then I usually forget all the words. So much love for this little one from everyone in the family."
Of course, it didn't take very long for his fans and followers to comment on his photo. Many of them wrote, "I love this! Nothing like a new life to bring hope to this crazy world. I do support you and your family. I happen to be vaccinated as is my family, but that doesn't mean you should lose your job because you chose not to! We all need to do what we feel is tm right for us. Keep fighting for personal freedoms. Miss you and Steve on GH!" along with, "Not only are you one of the best daytime television actors out there, but the best father and family man in the entertainment industry. God Bless you and your wife and kids."
General Hospital News: What's Ingo's Next Move?
As many fans know by now, Ingo filed a lawsuit against Disney-owned ABC for the network's vaccine mandate. Both Ingo and his former co-star Steve Burton (ex-Jason Morgan) were let go from the hit daytime television show for refusing to comply with the vaccine mandate. It's been since reported that Ingo filed documents alleging he had requested a religious exemption, which he was denied. The actor also pointed out that the lockdowns and regulations set forth to help curb the spread of COVID-19 are the "most draconian restrictions in modern history."
Let us know what you think by leaving us a line with your thoughts in our comments section below. General Hospital airs weekdays on the ABC network. Check your local listings for times.
Be sure to catch up with everything on GH right now. Come back here often for General Hospital spoilers, news and updates.